Step back in time at Nikka Whisky Yoichi Distillery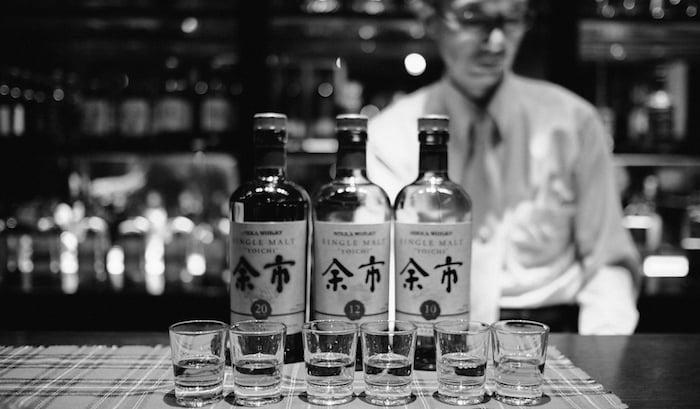 If there's one name in Japanese whisky you should know, it's Masataka Taketsuru. Why, you ask? Taketsuru-san was the first person to bring whisky distilling to Japan from Scotland when he began working for the company now called Suntory. (You know, "For relaxing times, make it Suntory time.")
After establishing the Yamazaki Whisky Distillery for Shinjiro Torii, Taketsuru-san went out on his own, citing a difference of opinion on how to best execute whisky production. In 1934 he founded Nikka Whisky in the coastal town of Yoichi, Hokkaido. The climate and setting were identical to Scotland, something he strongly believed affected the taste of whisky.
Yoichi is about an hour's train ride from Sapporo on the Hakodate JR line, including a transfer at Otaru Station.
Stepping through the stone passageway of Nikka Whisky is like stepping into 19th century Scotland. The only hint that it's 2016 are groups of visitors on guided tours.
Since we don't speak Japanese, my friend and I are encouraged to guide ourselves, so we go in search of the good stuff, aged whisky!
You're immediately greeted with the decommissioned kiln tower that sits among neatly trimmed juniper trees. Its red pagoda roof contrasts against the stone walls and would look stunning in winter snow.
One of my favorite stops is warehouse one, the first warehouse constructed to store and age whisky barrels.
Another stop you should make is the Nikka Whisky museum, a converted warehouse that houses one of the original copper stills and very rare aged products among whisky barrels. Unless you're fluent in Nihongo, you'll have a hard time reading the descriptions.
Once you've made your way through most of the museum, you'll find yourself at the Whisky Club, mandatory for connoisseurs of aged whisky. Here, you'll be able to taste the some of Nikka's most coveted malts and vintages alongside each other.
If I had my way, I'd have pulled up an old leather armchair, spread out a plaid blanket and tasted whisky in front of a crackling fire.
If you haven't had your fill of whisky yet, you can always stumble over to the bigger tasting hall above the distillery restaurant.
As a newbie to whisky, I felt it was necessary to visit a working distillery to see how this stuff is made. The attention to detail, from when you're greeted at the gate to your tastings to checkout at the gift shop, is impeccable. It's something I had expected, but I was still wowed by the story of how Nikka came to be and what it stands for today. If I had the chance, I would go back … straight to the whisky club to try more!
Nikka Whisky Yoichi Distillery
7-6 Kurokawa-cho Yoichi-gun
Yoichi-cho 046-0003, Hokkaido