Starts today: The Street Party card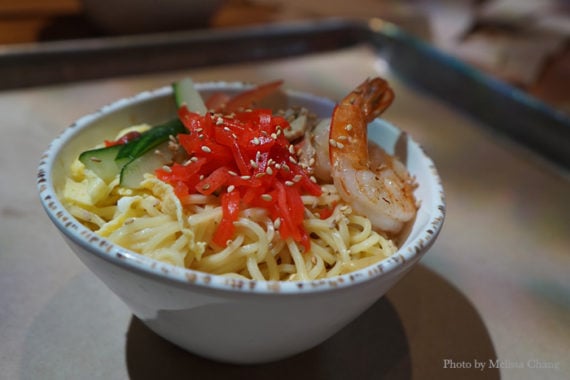 Michael Mina's innovative dining concept, The Street, now offers 13 different food and drink options on the ground floor of the International Marketplace, and the dizzying array of choices can be overwhelming. What do you eat first? What if you want to eat everything?
Well, that's not a problem anymore, since Mina is launching The Street Party card today. You can buy this card at any of the registers in The Street for $38, and it's good for seven select sample-sized items at any of the 13 restaurants. You can use the card all at once or spread your sampling out over the month (it's valid for 30 days from the first use). You can use it at seven different restaurants, or get seven of the same thing if you have a favorite. You can use it for a couple of items, then pass it to a friend to finish.
Each restaurant will have one designated sample for the program, and that item may change each month so you can return to sample more with a new card.
I didn't visit all 13 venues, but tried creating my own lunch from seven restaurants. As you can see, the items aren't tiny samples; they're more like half sizes. (And the shave ice and pina colada seemed like full sizes, so the real thing must be huge.) In fact, I can see myself getting two food items each time and it would make a perfect meal, or getting more items with a friend to share.
This means I have to go back to eat at the other six restaurants that I didn't try! I was pretty impressed with what we got and it's nice that it comes out to about $5 per item — which is very reasonable in or out of Waikiki.
By the way, did you know that this Waikiki location is Mina's first The Street dining concept? The next one is slated to open in Los Angeles. I guess Hawaii can be at the forefront of a trend!
The Street, a Michael Mina Social House • International Marketplace • 2330 Kalakaua Ave. • 808-377-4402