Star Chefs in Hawaii: Dave Newman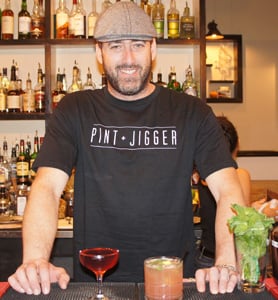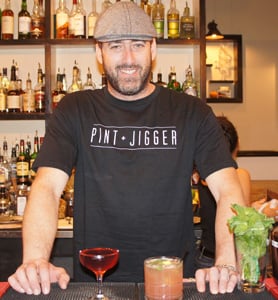 Have you heard of StarChefs.com? I've been following this website for about 20 years (back when I used Hotmail!), watching mainland trends and jobs in restaurants as well as glimpses of new chefs there. I was surprised and thrilled when its editor-in-chief, Antoinette Bruno (@Antoinette_B) started following me on Twitter a few years ago; social media magic gives us a glimpse of where she goes and how she works.
It was a bigger thrill to find out that the site was finally going to feature Hawaii chefs in its "Rising Stars" section, recognizing our local cuisine and the people behind it. (Although it says it's for up-and-coming chefs and mixologists, nominees can be owner/chefs of new establishments, even if they've been in the business for a long time. So Ed Kenney of town, for example, qualifies since his restaurant is just five years old.) Almost a year ago, Bruno came to Hawaii to check out the food scene and meet the chefs, and I got the surreal honor to join her on a tasting at Prima and get to know her a little.
After a year of review, Hawaii's Rising Stars will be recognized by Star Chefs on December 4 at the Halekulani, and I plan to be there to celebrate this milestone with the outstanding people in Hawaii's culinary world … and Bruno. If you want to go, tickets are $95 per person; VIP tickets are $125, including a private reception featuring sparkling wine and Chef Vikram Garg's Petrossian caviar and lemongrass panna cotta. Tickets can be purchased here or by calling 212-966-7575. A portion of the evening's tickets sales will be donated to the charity and culinary school partner, Culinary Institute of the Pacific at Kapiolani Community College.
I'm going to profile two of the Rising Stars, and I believe Ed Morita is going to profile two. If you want to see the winners and the dishes they'll be featuring at the gala, click here. There are 16 dishes, 16 pairings, and one signature cocktail.
Chef Vikram Garg of Halekulani is the host of the event, while Chai Chaowasaree of Chai's Island Bistro serves as a featured guest chef. In addition, other awards will be announced at the gala: the Restaurant of Distinction Award, presented by Steelite International, will recognize the Rising Star chef and restaurant with beautiful plating with singular style. The Mentor Award, presented by Vitamix, will be given to one influential chef who has shaped a new generation of culinary talent, locally. And in StarChefs.com's long-running tradition, guests will have the opportunity to vote for their favorite dish of the night. The Rising Star who gets the most votes will receive a brand new Jade Range 18-inch commercial plancha.
StarChefs.com will also bring together Hawaii's Rising Stars for a candid, informative, and entertaining "How to Make It" panel, presented by HFM Foodservice and moderated by Bruno on Monday, December 3 at 10:30 a.m. at Kapiolani Community College (Ohia Building, Room 118). Students and working professionals will gain insight into the rewards and challenges of the culinary industry, as well as how the Rising Stars ultimately "made it" in the business.
That was a long way to get to today's blog, featuring Rising Star Dave Newman of Pint + Jigger. He's a self-taught mixologist and was best known in the Hawaii scene as the bar manager for Nobu Waikiki. Now that he owns his hot gastropub on King St., his next project includes starting BAR&D, a pop-up bar. At the event on December 4, he'll be featuring a Whiskey Thatcher, which showcases his sous vide method of making cocktails.
Here's the recipe:
"The sous vide boulevardier is basically a negroni made with whiskey," Newman said. "We take toasted Jack Daniel's barrel chips and we add Jim Beam Black whisky, Campari, and Carpano Antica sweet vermouth, vacuum seal them all together and put it in the sous vide machine at 120 degrees for two days. This effectively mellows the cocktail, gives it a more pronounced mouth feel and infuses it with the barrel flavorings. Once ready we simply stir over ice and stain into a coupe glass. Then we express an orange peel and discard it."
1-1/4 oz Jim Beam Black
1-1/4 oz Carpano Antica Sweet Vermouth
1-1/4 oz Campari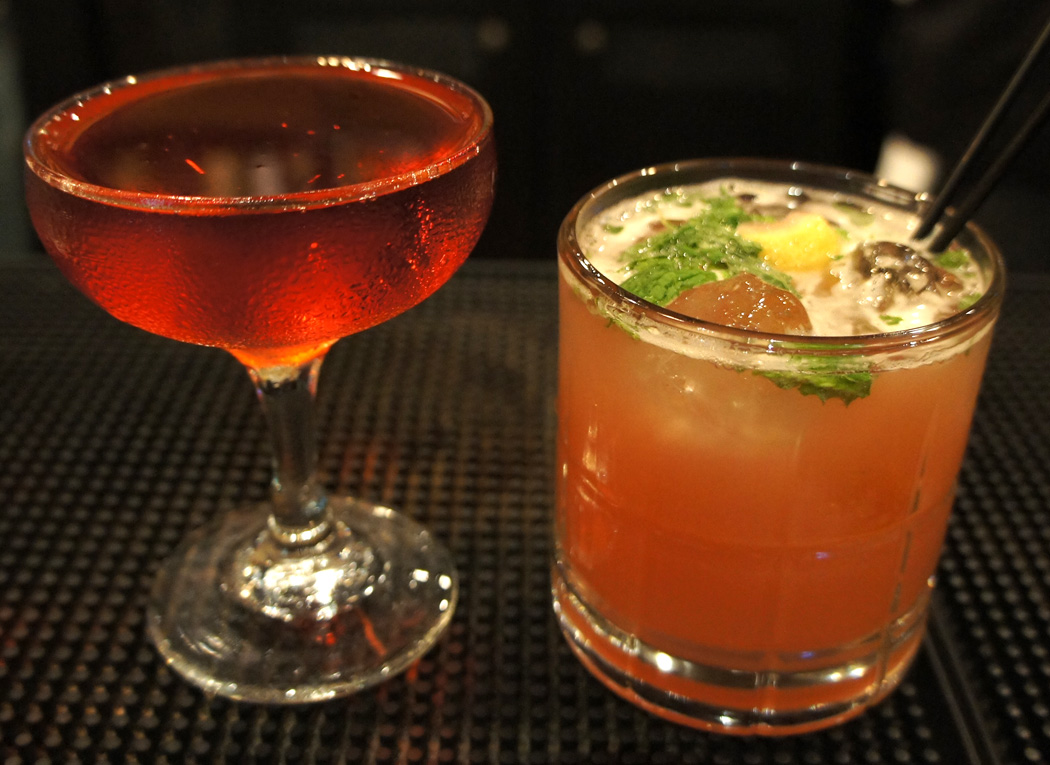 "The Whiskey Thatcher takes a little longer with muddling a lemon peel, five mint leaves, a teaspoon of powdered sugar and 1/4 oz. of Campari together in the bottom of a bucket or Old Fashioned glass," Newman explained. "Then we add 1-1/2 oz Knob Creek Rye, 1/2 oz fresh lime juice, 1/2 oz hibiscus infused simple syrup. This is then shaken and topped with a splash of soda water. We season another glass with a splash of Wild Turkey 101 and Pernod, then light this on fire. By doing this we great great black liquorice aromas but a really light flavor."
Once most of the Pernod and Wild Turkey have burned of we pour the cocktail over this extinguishing the flame, then serve.
1/4oz Campari
1 1/2oz Knob Creek Rye
1/2 oz Fresh Lime Juice
1/2 oz Hibiscus-infused simple syrup
Lemon Peel
5 Mint Leaves
1 teaspoon powdered sugar
Splash soda water
1/4 oz Wild Turkey 101
1/4 oz Pernod