Something to see: Modern Love exhibit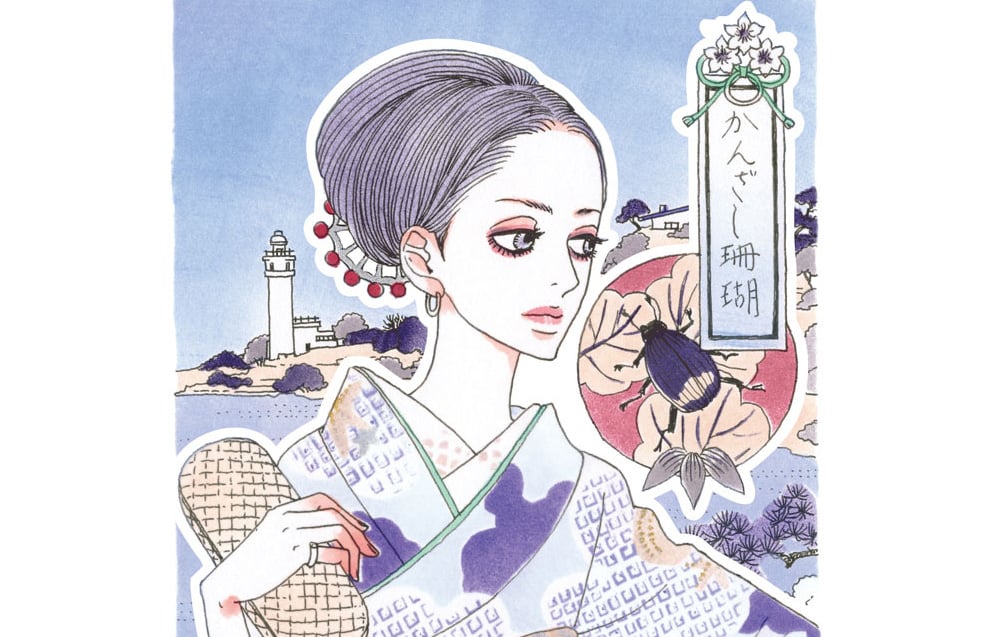 There's an intriguing exhibit now underway at Honolulu Museum of Art focused on modern love, specifically 20th Century Japanese erotic art that includes paintings, prints and even graphic novels otherwise known as manga. The exhibit, which runs until March 15, 2015, explores Japan's sexual culture and reveals the ways modern Japanese artists have depicted sex, gender and sexual orientation.
Recently, I met Yuma Terada, who co-owns a Tokyo-based artist management/literary agency called Cork. Terada (@yumaterada) represents some of Japan's most prominent novelists and manga artists, including Moyoco Anno, whose work is part of the Honolulu Museum of Art show. Interested in how manga became part of a fine art display, I asked Terada to explain the connection and the growing interest in this contemporary art form.
Tell me about Moyoco Anno, her background and her work as a manga artist?
Moyoco Anno is one of the most influential manga artists working today. In a prolific career spanning 25 years, she has created such iconic titles as "Happy Mania," "Sakuran," "Hataraki Man," "Sugar Sugar Rune" and "The Diary of Ochibi." Her most commercially successful title to date, "Sugar Sugar Rune," sold over 1.2 million copies in Japan and has been translated into English, Chinese and French. The manga was also adapted into an animated TV series, which aired not only in Japan but also in the U.S. (Cartoon Networks), France, Italy, Taiwan etc, and to this day inspires cosplayers around the world to replicate Anno's stylish design.
What is she displaying as part of the Modern Love exhibit, and how did her work become part of it?
We are displaying four pieces of genga or original art from the manga, "Sakuran." "Sakuran" tells a story of a Edo-period courtesan, and in 2007 was adapted into a critically acclaimed live-action feature film directed by Mika Ninagawa. Earlier this year, I was approached by the curators at the Honolulu Museum of Art, who were planning the third of a series of exhibits on the development of Japanese erotic art from the 17th century to the present, and we started discussing the possibility of including Anno.
Were you intrigued with the idea of manga melding with fine art as part of this exhibit? Why so?
Very. I think works of certain manga artists have value in the fine arts context. One obvious reason is their aesthetic quality, but more importantly for me, manga is the medium in which some of the most daring criticism in Japan takes place; manga at its best plays a similar role to contemporary art in American and European societies. The curators at the Honolulu Museum of Art thought that "Sakuran," as the first commercially successful work of visual art that describes the Yoshiwara (Edo-period red light district) from a female artist's perspective, has great art historical significance.
Why do you think manga is becoming more and more popular internationally?
I think the core group of international manga and anime fans have always existed, but what I'm seeing now is a growing interest from the cultural mainstream, including art museums, Hollywood producers and high fashion brands. This interest extends beyond manga and anime to Japanese literature, fashion and music. Contemporary Japanese culture is no longer a quirky curiosity, but a serious commercial opportunity, as demonstrated by properties like Hello Kitty, Transformers, Godzilla and "Edge of Tomorrow." I was recently a speaker at the Tokyo International Film Festival and received overwhelming interest in Japanese IPs from film/TV producers from the US, China, Korea, Indonesia etc, for example.
For those interested in seeing more of Moyoco Anno's work, how can they do that?
Quite a few of Anno's works are available in English. Apart from "Sakuran" they are:
"In Clothes Called Fat"
"Insufficient Direction"
"Sugar Sugar Rune"
"Happy Mania"
"Flowers and Bees"
Anno also has two ongoing manga serializations in Japan — "The Diary of Ochibi" and "Memoirs of Amorous Gentlemen" — and we are simultaneously publishing them in English on Crunchyroll. She's also on Instagram.
Here's a preview the first few pages of "The Diary of Ochibi" by Moyoco Anno: