Something to see: Hawaii Shakes' 'The Winter's Tale'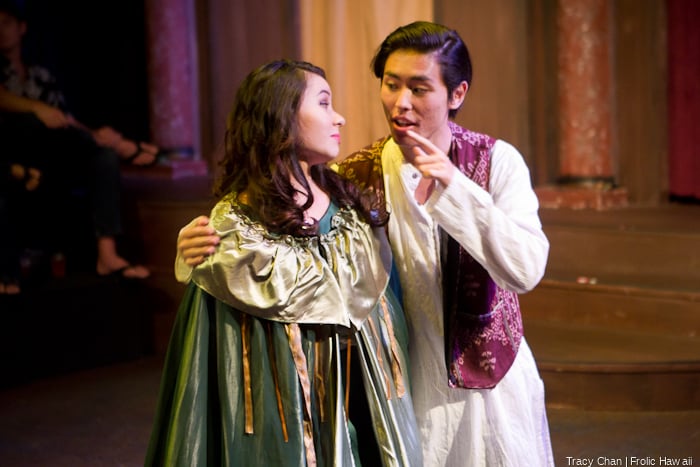 "The Winter's Tale," now playing at The ARTS at Marks Garage, is directed by longtime theater buff and first-time director Eleanor Svaton. It's one of William Shakespeare's lesser-known, but no less complex, plays with all the classic Bard themes — jealousy, betrayal, passion and love, sexual jokes, mistaken identities, supernatural intervention, estrangement and reconciliation. In what's known as a "tragicomedy," this play mixes equal parts absurdity and unreality with dark, dramatic reality.
Svaton's takes on this play with some unconventional tweaks and twists. Rather than the traditional setting, Svaton decided to set the tale in the late 1920s-1940s. To watch Shakespeare's dramatic scenes being carried out in a speakeasy is at once strange and believable. It gives us an appreciation of the timelessness of his topics and the relationships between people, no matter what the era.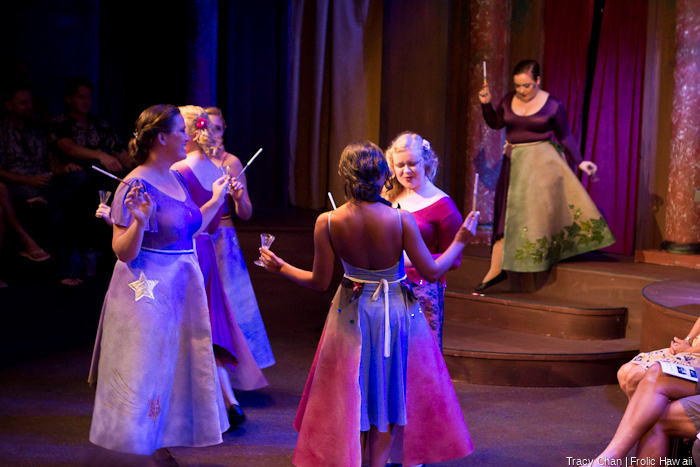 Another thing Svaton added is the all-female chorus. "They're created to enhance the feminine aspect of the play," she said. "There's all these strong and interesting female characters, but whereas the main characters are more realistic and believable, the chorus is magical and mystical, capable of personifying anything… One thing I love about this play is that there are a lot of contrasts to it: Yin/Yang, male/female and country/city."
Taking it up a notch for The ARTS at Marks Garage is a set designed custom for the play by award-winning scene designer Andrew Doan.
If you're not familiar with the plot, or like me, haven't read the play since high school, here's a brief rundown: Two kings, Leontes of Sicilia (played with dramatic intensity by Reb Beau Allen) and Polixenes of Bohemia (played by Joe Abraham) are childhood friends. The trouble starts when Leontes suspects that Polixenes and his wife Hermione (played by Rachael Uyeno) are lovers, and in a fit of jealousy, orders his loyal retainer, Camillo (played by Andrew Chow) to poison the king of Bohemia.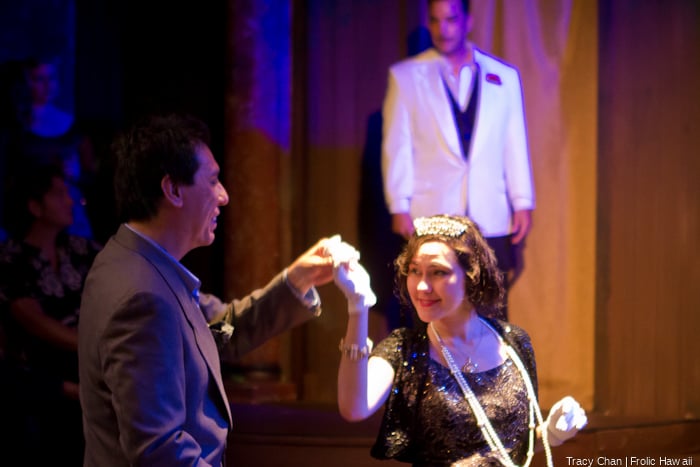 Instead, Camillo, who recognizes the injustice of it all, warns the King of Bohemia and flees with him. Furious, Leontes orders his pregnant wife imprisoned for infidelity, where she gives birth to a daughter. The queen's friend Paulina (played with great attitude and passion by Danielle Zalopany) takes the baby to the king, hoping he will see reason. Instead, he denounces the child as a bastard and orders Paulina's husband, Lord Antigonus (played by William Muray), to take the child and abandon it in the wilderness. Word then comes that Leontes' son has died of an illness, and upon hearing the news, Queen Hermione swoons and we learn from her friend Paulina that she has also died.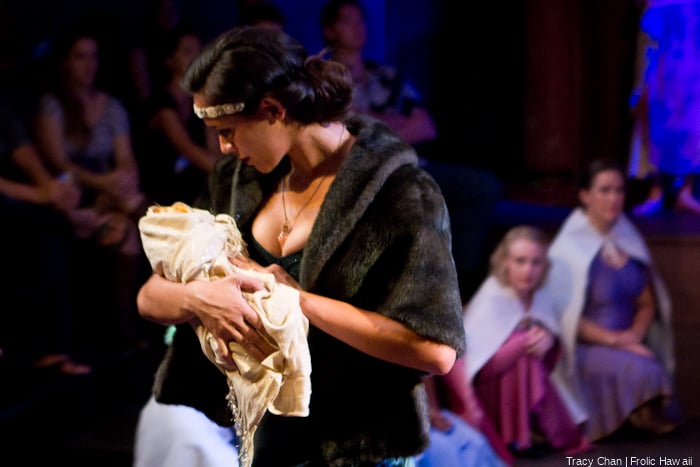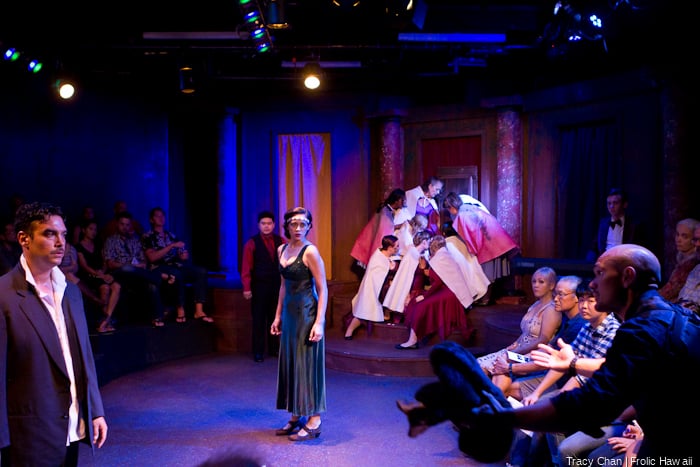 Antigonus takes the baby to Bohemia, where she is found by a shepherd and his son.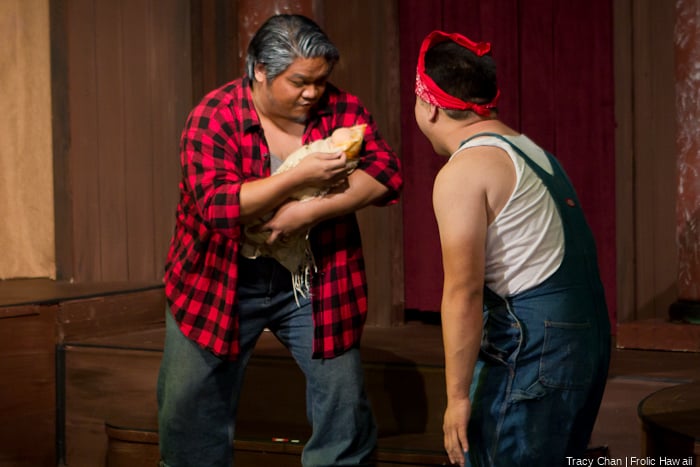 Sixteen years later, the little girl has grown into a beautiful woman, Perdita (Emily Wright), and caught the heart of Prince Florizel (Carson Morneau), son of Polixenes.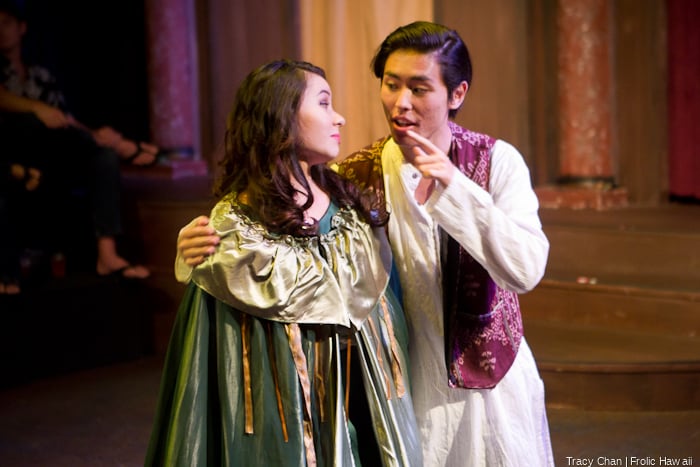 The two lovers intend to be married, but their betrothal is interrupted by the Prince's father in disguise, who cannot condone his son marrying a peasant girl. This sets off a chain of dramatic events that lead the characters through misunderstanding, heartbreak and tomfoolery back to Sicilia and their fate.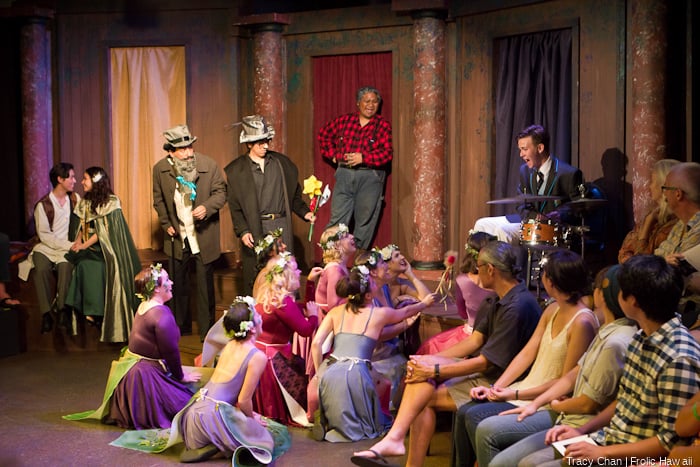 In terms of a local Shakespeare production, "The Winter's Tale" is a must-see. The acting is heartfelt, and for the most part, very well done, especially King Leontes in his tragic antagonist's role. There are small, unexpected delights from the Chorus, interesting substitutes and complex choreography that make this production both eye-catching and magical, yet believable.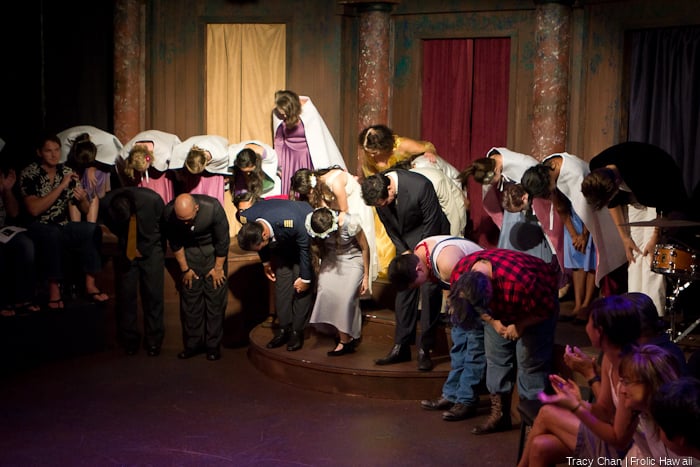 Here are some props from the production.
It was actually the birthday of Emily Wright, who played Perdita.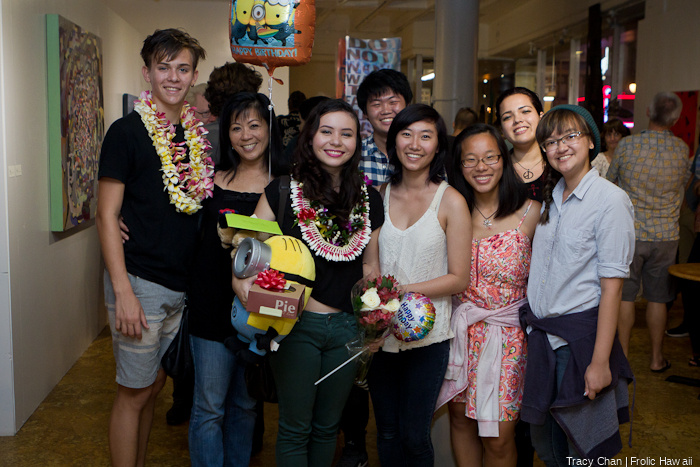 Director Eleanor Svaton.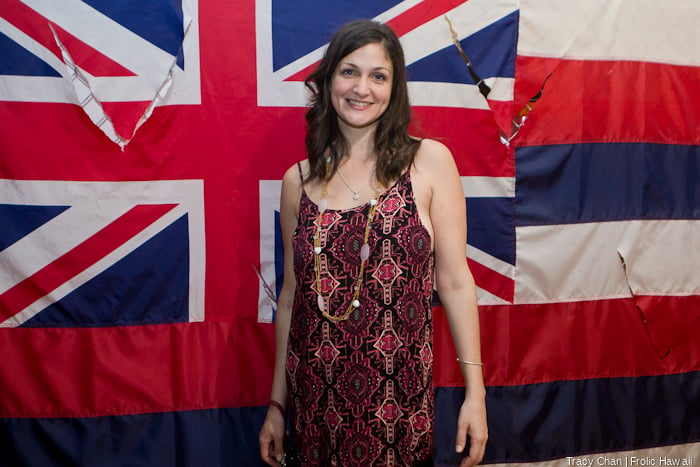 "The Winter's Tale" by William Shakespeare
Directed by Eleanor Svaton
July 24-25, 29 and Aug. 1 at 7:30 p.m.
July 26 and Aug. 2 at 3:30 p.m.
The ARTS at Marks Garage
1159 Nuuanu Ave.
Tickets: $25, available at HawaiiShakes.org or brownpapertickets.com or by calling 800-838-3006