Something to see: D'Arranged Marriage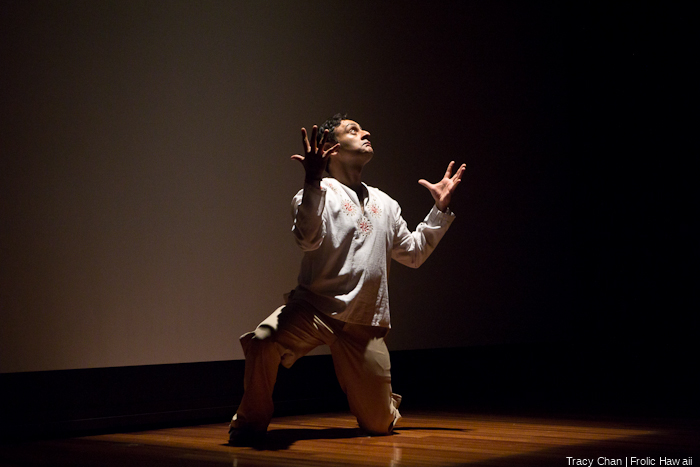 Part stand-up, part parody, part slapstick and part Bollywood, "D'Arranged Marriage" is a one-man performance by Rajeev Varma that plays one more night in Honolulu after 200 performances in eight countries. It revolves around the tribulations and unmarried status of 29-year-old Sanjay Gupta, a young New Zealander who holds a very modern mindset but is unwillingly bound by the traditions of his Indian-born parents — like arranged marriage. It's written by "Those Indian Guys," aka Rajeev and his partner Tarun Mohanbhai.
Tonight is the last night to catch this show, so don't miss out!
D'Arranged Marriage
Doris Duke Theater
Friday, April 10 at 7:30 p.m. (with a post-show discussion)
VIP (front row) seating: $35. GA: $25
Tickets at the door or at http://honolulumuseum.org/events/lectures_performances/14960-darranged_marriage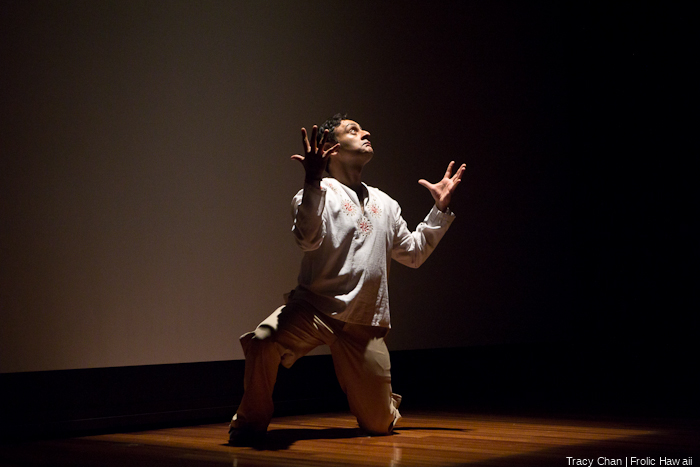 It's hard to pick a favorite character from the eight Rajeev plays. From the disgruntled protagonist who ends up falling head over heels for the girl his parents have arranged for him to marry, to portraying his mother, father, sleazy womanizing friend, love interest and would-be bride's father, Rajeev manages to bring a full cast of characters to life without even changing his outfit.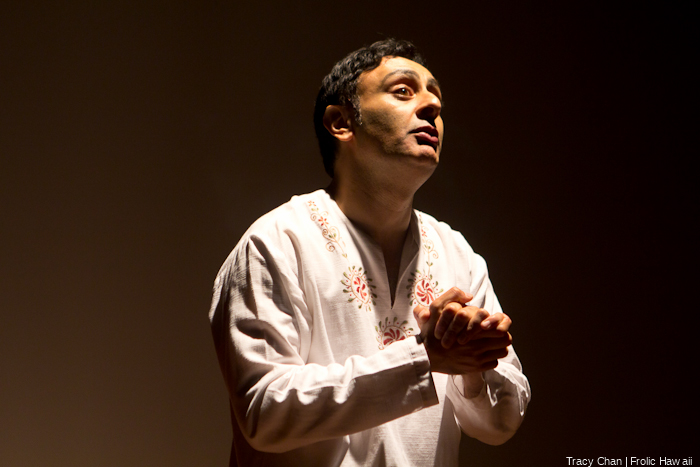 The seemingly spontaneous but perfectly timed Bollywood numbers are one of the things that makes this show so culturally unique and delightfully unexpected. Sure, there might be some jokes that Americans don't get, but we can get the context easily enough. It helps to have a rudimentary knowledge of Indian culture (my brother's god-parents were from India so I could appreciate a lot of the mannerisms he parodies), but that knowledge isn't necessary to enjoy the performance.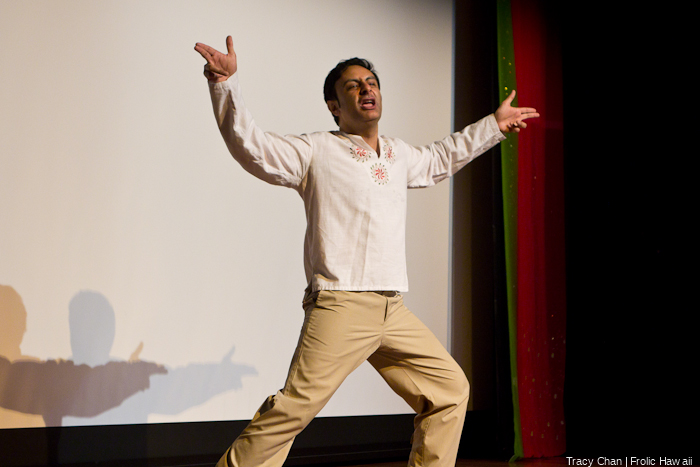 Rajeev's energy and varied talents in physical comedy, song and dance help to carry the show. It's only an hour long, but feels much shorter.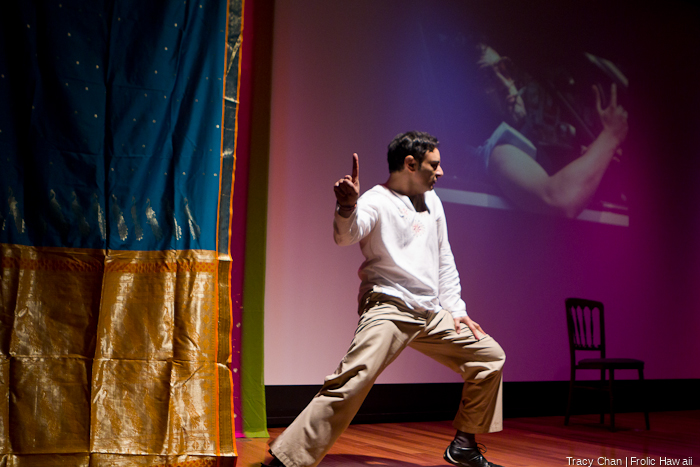 Rajeev's love of theater helps to involve the audience and keep us engaged. It's a performance where it is all right to identify with the emotions, laugh at the outrageousness, applaud when the moment begs for it, and shake one's head at the irony and perfect timing of it all.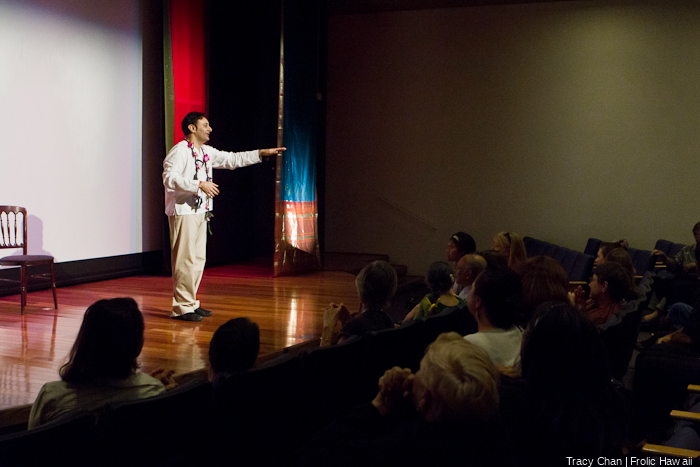 After the show, its star came out to mingle with the audience, greeting each person warmly and making everyone laugh, completely in harmony with his onstage persona.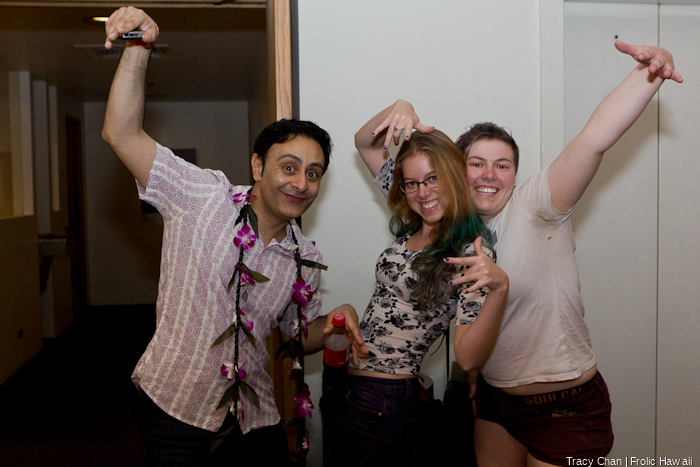 Many members of the audience were either part-Indian or from India.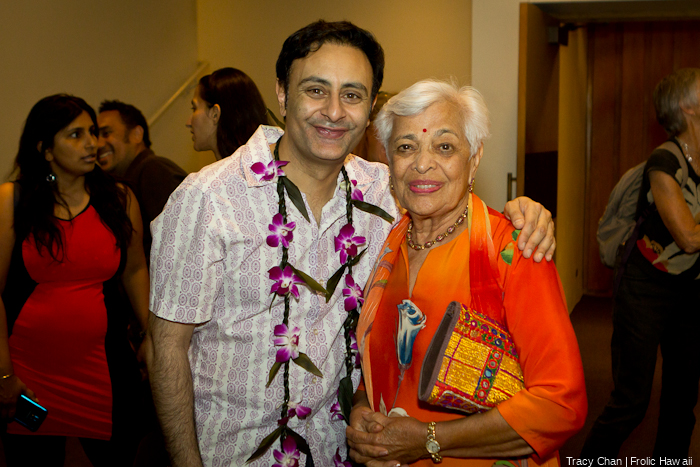 A spontaneous group shot with Rajeev and audience members.