Something new: Yauatcha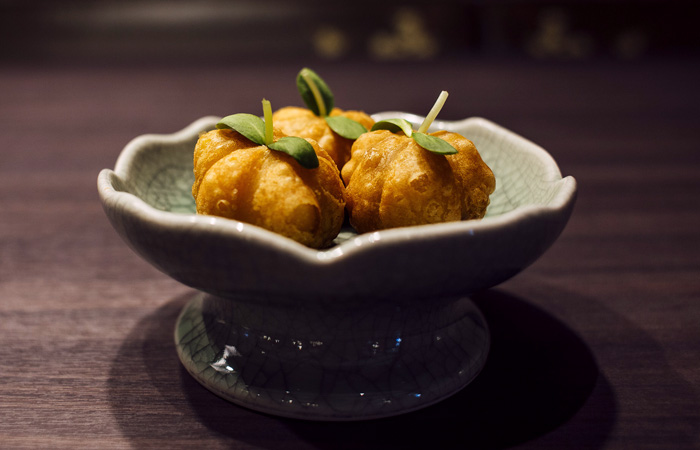 This restaurant has closed.
Sponsored
When you think of dim sum, it's usually a noisy brunch crowd in Chinatown with large carts of steamer baskets lumbering past. But when you bring dim sum from a chain in London, you know it's going to be an elevated, civilized experience.
Yauatcha started in London's Soho district in 2004 by Alan Yau, who was already known there for creating the Japanese Wagamama and Thai Busaba Eathai restaurant chains, in addition to the more high-end Hakkasan restaurant. In 2005, Yauatcha earned (and has retained) a Michelin-star rating. Since then, the restaurant has expanded to Mumbai, Bangalore, Delhi, Kolkata, Saudi Arabia and Houston, with its newest branch now in Waikiki's International Marketplace.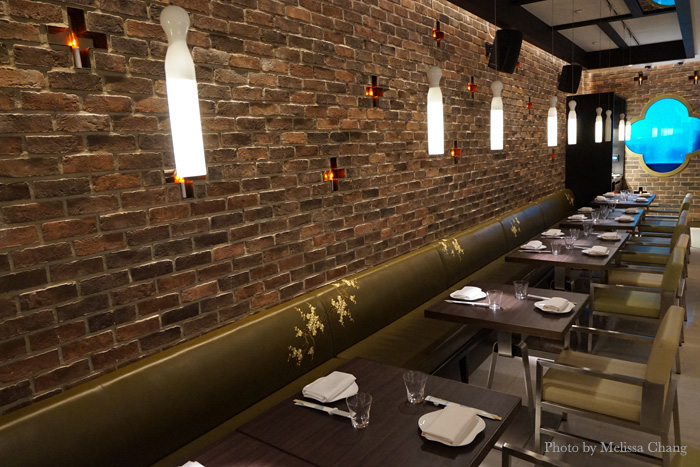 You can get dim sum all day here in a hip, modern (and feng shui appropriate) environment with the chain's signature blue glass throughout the 250-seat restaurant, which has indoor and outdoor seating. If you like, you can have a view of the huge, bright kitchen.
Most of the dim sum is in the $5 to $12 range, except for the splurgy chicken and abalone shumai, which is $28.80. You'll find old favorites like shrimp har gau, mochi rice, and turnip cake, but try some of the contemporary items for a new experience, especially since chef Ho Chee Boon tries to infuse local, seasonal ingredients where he can. Some of our favorites:
One of our favorites was the roasted duck pumpkin puff, which was a crispy, fried ball shaped like a pumpkin and filled with … well, minced roast duck. You might also try the venison puff, pictured above, which has a sweet, flaky crust and a meaty filling that isn't gamey.
You usually find morels in European dishes, but here it is part of a nice vegetarian dumpling.
The phoenix tail shrimp shumai features whole shrimp with the tail left on, then dotted with chili sauce.
Cheung fun is a staple at most dim sum feasts, and Yauatcha offers the normal char siu or shrimp. But you can also get a three-mushroom cheung fun for the vegetarians, or add texture with this one containing prawns and a fried cruller.
If you're still hungry after round one, there are entrees, like the aromatic duck served with hoisin and pancakes; kung pao chicken; crispy soft-shell crab with chili and almonds; an assortment of salads, and much more. If you're feeling a bit spendy, you might even indulge in black truffle roasted duck ($68) or the Peking duck with Tsar Nicoulai 'Reserve' caviar ($238).
Don't fill up too much on the savories, because you'll want to save room for sweets. Yauatcha is known for their gorgeous and unique macarons, in flavors like rose, pandan, apple custard, and popcorn, to name a few — all of which you can box to go. Our group split a few desserts to get a taste of Executive Pastry Chef Graham Hornigold's talent.
You can order wine, beer, sake, or shochu; they also offer a variety of unique, handcrafted cocktails. If you're more into nonalcoholic beverages, they offer tea coolers or 30 kinds of teas.
As one might expect, Yauatcha is more expensive than the dim sum that we are used to, but it's also a much different experience all around. They do validate parking, which is free for the first hour and $2 per hour for the next two hours.
Yauatcha Waikiki
International Marketplace, Third Level
808-739-9318
Open 11:30 a.m. to 11 p.m. Sunday through Wednesday; 11 a.m. to 11:30 p.m. Thursday through Saturday, .