Something new: Urban Bistro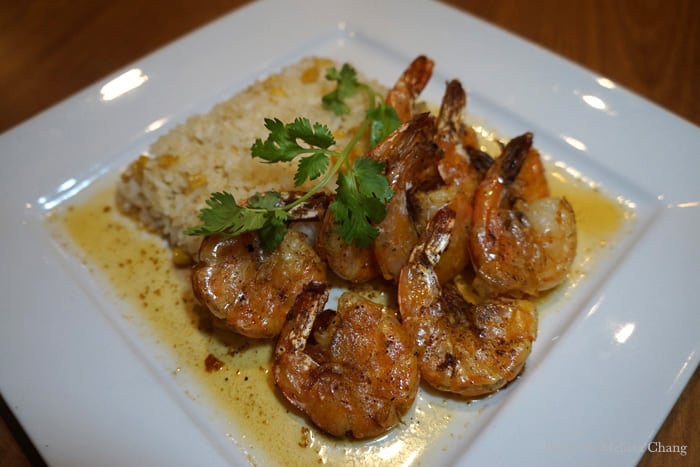 I've been waiting to see what that new building on the corner of Rycroft and Sheridan (behind Walmart) would turn into since they started building it last year. Recently, two hair salons have opened in there, and last week, the first of several restaurants turned on their lights for business.
Urban Bistro is owned by Margaret Lin, who owns other restaurants in Waikiki. She brought in Greg Chun, Jr. to develop the menu, and Richard Smith relocated from the Bay Area to manage it. The concept is, well, very urban, with elements from various big cities like the New York subway and a street in Boston.
One of the cool things is that Urban Bistro is a no-tip restaurant, because "it's our pleasure to serve you," said Smith.
This post isn't meant to be a review; as you'll see from the following photos, the menu is still evolving. It's meant to give you an idea of what the dishes and flavors are like, and a peek inside the new venue. Plus, in the spirit of disclosure, the restaurant has since hired my company to do their social media. Prices below are for dinner; lunch is slightly less.
I ordered the Bo'urban wings because Gregg and Shawnee Hammer of Krater 96.3 were there before me and raved about it. These wings are coated in bourbon apple sauce and fried. They're tender and tasty, with a pronounced sweetness. But wait! The menu said there was ranch dressing with it. Turns out, the restaurant was toying with not serving it with the wings. I asked for the ranch, and…
…this was what was missing: Chef Greg has a nine-spice blend, which you'll see on other things. He made his own ranch dressing and added the blend, and when you dip the wings in it, it's like magic. I seriously think he should bottle this stuff. Every time I go in, I'm going to ask for it on the side so I can slather it on everything.
The nine-spice blend is also on his hummus. Most people like hummus, right? But this tastes so different with the spices — there's an added layer of complexity. I guess I could spread this on my sandwiches instead of the ranch sauce.
This is how the sliders started: three to a plate. Tomato, arugula, crisp parmesan, mozzarella and balsamic vinaigrette. This is a nice vegetarian option.
This is how the sliders evolved. Now the plate has two sliders and a side of wedge fries. You know what goes well with the fries? That ranch sauce. The fries, also available as an appetizer, are dusted with the nine-spice blend, as well. These pork sliders are pretty good, but I think at this point all I wanted was the rest of the fries and ranch sauce.
You know what else you want to put that sauce all over? Ladies, please. I'm talking about the tacos. The deconstructed Greek tacos are actually nice with its own mint-tsatziki sauce, since the lamb and beef mixture is seasoned to taste a little like gyros.
But the BLT shrimp tacos are pretty amazing with the ranch sauce. These juicy shrimp are grilled with bacon, the perfect combo.
The escargot boursin is a good intro for people who are squeamish about having snails, and easier to eat. The snails and boursin cheese are mixed into a spread, which works because it's got a richness almost like foie gras. (Please note, I don't mean it tastes like foie.)
The vina dosh ribs are an appetizer, made Portuguese style with red wine vinegar and garlic. I can see this on a plate lunch with rice!
I've been hearing vegetarians say they appreciate the many veg-friendly options, and the salads are some of them. I tried the Rycroft salad, which is Greg's take on a Waldorf. It has romaine, arugula, red onion, candied walnuts, apples and home made ranch dressing (not the nine-spice). It's very light, with a touch of sweetness.
There are several personal-sized pizzas, cut into wedges so you can easily share. I liked the Moroccan pizza, which features the lamb and beef mix seasoned with a special spice blend (the menu doesn't say if it's the nine spices, but I think it is), with bell pepper, and mint-tsatziki sauce. Instead of cheese or tomato sauce, it's a queso and hummus base. I liked that the queso uses a balsamic reduction for sweetness.
Pier 39 is a tomato-based seafood stew of fresh fish, shrimp, calamari, and mussels served with a side of corn pilaf. This was the first time I had ever had corn rice, which apparently a lot of my friends already knew about. I kind of like it! The rest is good, pretty straightforward as far as seafood stew goes.
The bistro shrimp scampi features shrimp in garlic, butter and white wine (I think they also dust it with the nine-spice blend). This is easily a favorite.
I think the chicken and pudding dish will get mixed reviews. When I tried it, I liked it, but it's so unusual that I don't know if the general public will understand it. The chicken breast is grilled, not fried, so it's healthier, and it's served with grilled sweet potato bread pudding. There's a little mix of vegetables drizzled with maple mustard sauce, which I also liked. So far I'm hearing different reactions from my friends who have tried it, mostly positive. Try it with an open mind.
One of the most popular items already is the s'mores pie, an individual serving of rich chocolate pudding baked over a graham cracker crust topped with toasted marshmallow and drizzled with chocolate. It's served with a scoop of ice cream, too! There are other light dessert options on the menu, but so far this is a fan favorite.
The roasted garlic creme brûlée was just a special, but I'm showing it to you in case they make it a regular menu item. It sounds weird, right? But everyone I know who's tried it so far has liked it. Roasting the garlic brings out the sweetness, and when you eat it like this, you don't taste as much garlic, only the creamy and sweet elements. It's definitely something they should enter in some kind of garlic recipe contest.
Also in the works, but still being tweaked: home made ginger ale. Perfect for ending your meal.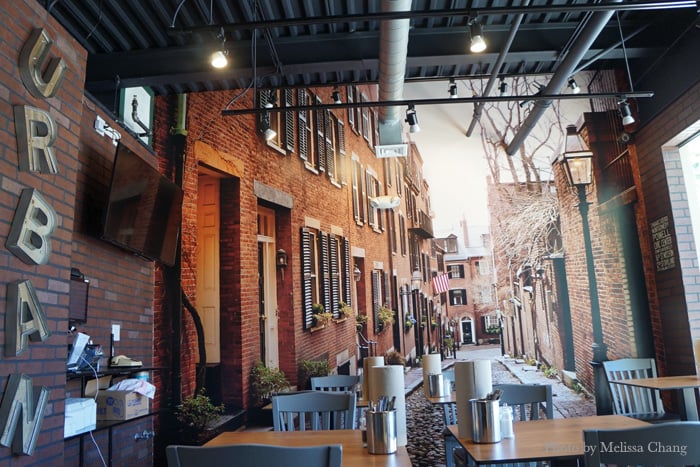 Currently Urban Bistro is open from 11 a.m. to 10 p.m. Sunday through Thursday and 11 a.m. to 11 p.m. Friday and Saturday, but those hours may change as they find their groove in the neighborhood. When the building's parking structure is done, there will be more options, but for now you can park on the street or, ahem, in a nearby lot. As of this writing, it is BYOB until they get their liquor license. For more photos, click here.
Urban Bistro
808 Sheridan St.
808-369-7000