Something new: Tipsy Pig Bar & Grill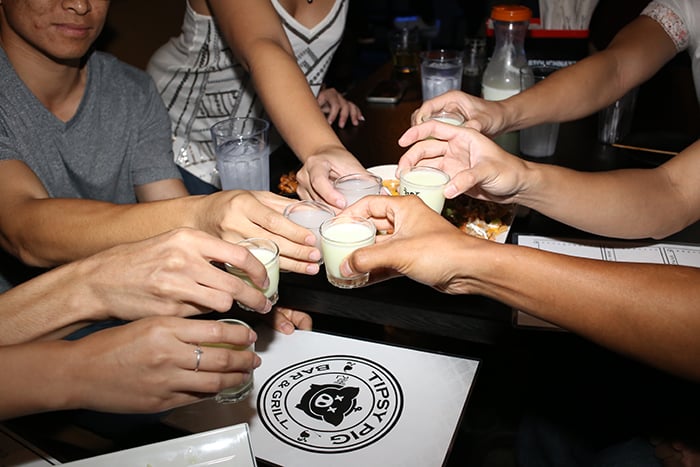 The nightlife scene may be gentrifying along a notorious strip of Kapiolani Boulevard. Open since early June between a nest of buy-me-drinky bars and the adult entertainment store Suzie's, Tipsy Pig Bar and Grill is Honolulu's newest late night bar and karaoke joint.
I drove around the back streets behind Keeaumoku Walmart around 10 p.m. Saturday night, trying to find parking because I didn't want to pay the $5 dollar valet fee. Five dollars would be better spent filling my belly with whatever Tipsy Pig had to offer.
After scoring street parking, I hiked past neon-lit back-door bar entrances guarded by nice-looking ladies with mean-looking bouncers, and arrived at the elevator to Tipsy Pig. There's also a stairway leading up, but I'd recommend the elevator when you leave, if you end up tipsy like the titular pig.
A bouncer greeted me and asked for ID in a courteous manner, as bouncers are known to do. It's always a nice stroke to my ego when I'm carded. Makes me feel young. The interior of Tipsy Pig is a mix of hipster sensibilities with an Asian twist and a dash of sports bar. Video monitors are mounted on the walls, featuring a YouTube playlist of standard club fare. Makes me want to dance and stand around taking space at the same time.
Tipsy Pig Bar and Grill offers a bar and food, obviously. What's not so obvious is that karaoke is also an option. There are six karaoke rooms available for free. Just call in advance to reserve. The rooms are modern and clean, with wireless mics and dollar songs. The song selection consists of the usual English and Korean karaoke staples. Regular rooms hold around 10-12 people, while their largest holds up to 40. It includes tables and electronic dart boards. Although the typical bar food fare is available, like poke and pork belly, their menu is still in development. Expect it to evolve as the weeks go by.
Standing around and trying not to dance makes a man thirsty. The staff were kind enough to give me samples of signature drinks. The Melona soju is made from soju with ice and a flavored Melona bar, your choice. I found it to be refreshing, what I imagine sparkling water to be like, with a light soju taste. As the Melona melts, it creates a creamy goodness. I'd recommend using a straw to suck up the last bits of Melona clinging to the bottom of the glass.
The apple martini is their version of an apple martini, which means they use soju. The manager came up with the idea, let the bar girls run with it and their apple martini was born. I like ordering my martinis shaken, not stirred, since it makes me feel like James Bond. I don't know if mine was shaken or stirred, but it was certainly tasty. Light, fruity, sweet, with a hint of soju. If you like sweet drinks, I'd recommend the Melona soju and apple martini. If not, go ahead and order a beer. And although the drinks may taste light, there's definitely soju.
The crowd consisted of millenial Asians and locals, the type you'd see at District around midnight, leaving Ginza at 2 a.m. and eating at Zippy's around 3 a.m. My kind of people. Definitely a prominent male presence throughout. Not a place to look for ladies, unless you don't mind dealing with their significant others. The bar area started out packed, then thinned when people dispersed to the largest karaoke room. It quickly filled again with the next rush of customers.
As I found myself becoming like a tipsy pig, I decided to say my farewells for the night. I should have taken the elevator. I'll have to remember that the next time I go. Which I plan to do, as Tipsy Pig is a fresh alternative to the buy-me-drinky bar scene in an area that needed it. Nightlife gentrification at work.
Tipsy Pig Bar & Grill
1362 C Kapiolani Blvd
367-8060
Nightly 5:30PM – 2:00AM