Something new: The Friend Cafe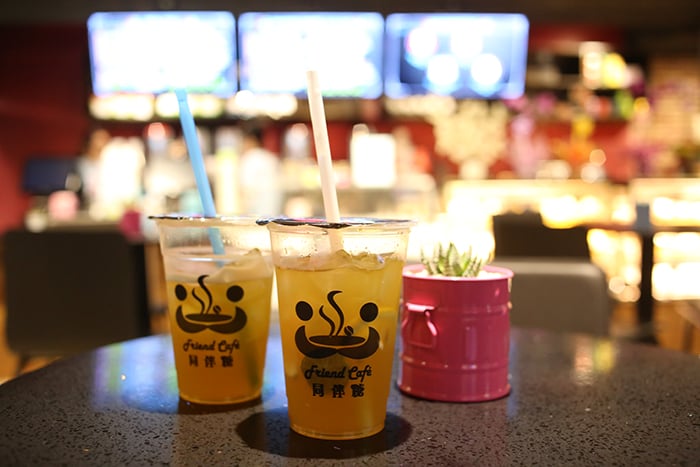 The gentrification of Kapiolani continues. The buy me drinky bars in the area have done nothing to stem the tide of milk tea shops. There's Mister Tea, Taste Tea, Teapresso, Tea Boss. And now there's a new one: The Friend Cafe.
A weekday evening and the babes is hungry. So of course I take her to a milk tea shop. The word on the street is there's a new one that opened a month ago. We find The Friend Cafe directly across from Taste Tea at 1400 Kapiolani.
A few parking stalls are open, since it's evening. I could imagine parking being an issue during the day though. We walk inside and find the place empty, except for the staff and some animated ladies chatting at a side table. The interior is well lit, clean, evoking modern Asia in furniture and design. We get ourselves our own side table. You can't really go wrong with tea, gelato and a pastry. It's fun to have dessert for dinner.
The tea selection is varied enough to be daunting, but familiar enough to be recognizable. In other words, we just ask the staff what the most popular tea is. It's jasmine. You choose from various fruit flavors so I get pineapple, she gets kumquat. Standard toppings are available, like boba and pudding. We opt out: We're trying to cancel our subscriptions to the muffin top and spare tire newsletters.
You choose your sweetness level and I choose regular. My pineapple jasmine tea is sweet. Just a hair shy of being too sweet. The taste is bright, vibrant, refreshing, with a strong pineapple flavor. My keeper tries a sip and suggests that slices of pineapple would be a welcome addition. I agree.
Her kumquat jasmine tea is visually organic, she says, with a natural color. Slices of kumquat float happily in a sea of jasmine. Different layers introduce themselves to her: the tangy zest of the kumquat, then the delicate fragrance of jasmine. She has chosen the regular sweetness level as well. I take a sip and find the sweetness mild compared to my pineapple jasmine tea. Overall, both teas do a stand-up job presenting the fragrance of jasmine and the taste of the partner fruit.
Now we sample the gelato. It's from nearby La Gelateria. I try black sesame on a sampling stick. Then I get more. It's creamy and nutty, all wrapped in a cool package. As the cream melts in your mouth, the nuttiness of the seasame comes to the fore. I draw content from munching on the texture of sesame seeds in velvet cream. She enjoys the true black sesame taste.
The pastries are another import, from Elvin's Bakery. The Friend Cafe staff says the Japanese cheesecake is the most popular. Which works, because I love cheesecake. And was going to order that regardless. We both find it to be fluffy and just plain good. The top and bottom layers are dense, while the center is light. Like eating a cloud. A delicious cloud.
Afterwards, we soak in the ambiance. Which is getting noisy as more customers come in. Free Wi-Fi is available and most of the side tables offer power outlets for when you need to charge your phone or drop political views on social media.
We leave The Friend Cafe refreshed and full of tea, gelato and sugar. She said she was hungry and I delivered the perfect dinner. So why is she saying she's still hungry?
The Friend Cafe
1400 Kapiolani Blvd. Suite A-1
943-0333
facebook.com/TheFriendCafe