Something new: Taps and Apps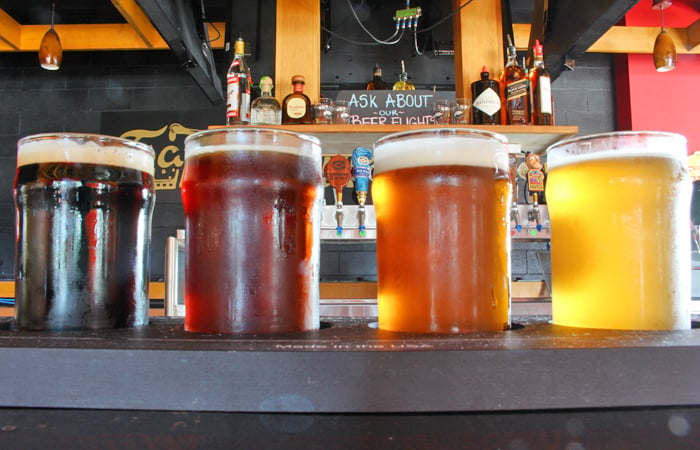 With 36 craft beers on tap and a food menu by Du Vin's former executive chef, Hawaii's newest brewpub opened over the weekend in Mililani Mauka. You'll find a rotating selection of solid brews like Goose Island Matilda, Ballast Pt. Sculpin and Belching Beaver milk stout. And yes, we said brewpub: Taps and Apps will also have homebrews made on premises.
Why Mililani? The story starts with general manager Chris Overton, a food and beverage veteran. He left Hawaii to attend the University of Nevada Las Vegas and stayed in Sin City to work at big name venues like Brooklyn Bowl.
Then he got a call from his parents. Come home, they said. They had found the perfect spot for a bar. Located between Navy Federal Credit Union and Wing Stop, Taps and Apps would be a watering hole for the central Oahu crowd.
Overton, his fiancee and parents built out the site from scratch. From the hand-stained furniture to the decor along the walls, touches throughout are the result of their labor.
Daniel Kawamoto, the executive chef at now-shuttered Brasserie Du Vin, created the food menu. We weren't able to sample anything during our sneak peek last week, but choices include pizza, burgers, escargots, oysters and wings. It's a range of American pub grub classics with a smattering of French dishes.
Beer cocktails caught my eye. There's a take on the Moscow mule called the Taps & Apps mule and a Vegas spin on a bloody mary using Jose Cuervo, a house tomatillo mix, a hit of lime and Sierra Nevada pale ale.
For non-beer drinkers, there are a number of handcrafted cocktails, wines, spirits, juices, coffee and soft drinks. I'm looking forward to going back and trying Overton's two homebrews as well as Kawamoto's dishes.
Taps and Apps
95-1830 Meheula Pkwy Suite C6
626-8277
Daily from 11 a.m. to 2 a.m.
Taps and Apps on Facebook
TapsandAppsBrewpub.com