Something new: Taco Kabana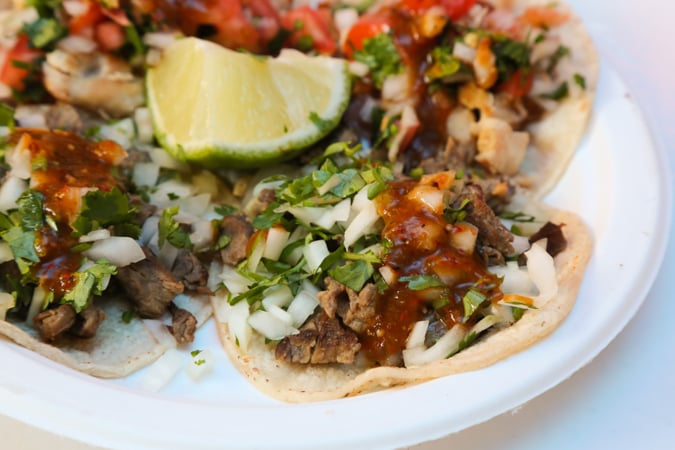 If the name Taco Kabana rings a bell, yes this is the same operation as the food trailer that used to park on Kapiolani across 24 Hour Fitness. They're back! And this time in a more permanent spot.
And yes, you'll find the same $2 street-style tacos on 3-inch corn tortillas, along with burritos and quesadillas, all in your choice of carne asada or chicken.
"We modeled Taco Kabana after In-N-Out: We have three menu items and you pick either chicken or steak and that's it," co-owner Danny Rodriguez says. "We make everything fresh daily and we use high-quality meats."
The whole thing started when Rodriguez met Miguel Angel on a flight from the West Coast. One had a construction job lined up; the other was looking. Rodriguez offered Angel a place to stay and the two, realizing they both missed L.A.-style Mexican food, decided to jump into Honolulu's then-booming taco truck scene with one of their own.
They found a trailer on Craigslist and started working on recipes. Six months later they debuted their fresh, simple menu to a 10 p.m. to midnight crowd. Hours expanded along with their following.
But then came a series of forced moves: to Kapahulu, then the old Hard Rock lot and McKinley Car Wash. Finally they closed and flew back to California to work construction and save up to reopen.
Customers were confused by all the moves and then the shuttering, myself included. We reminisced about the days we'd head over and grab a burrito after the gym or late-night tacos.
Fast-forward to early this year and Rodriguez and Miguel were back. Together with Grant Sato, owner of Edge Bar, they found a new spot on Union Mall and after a month of renovations done by the trio, they quietly re-opened this past Monday. By Tuesday, word had spread and many of their fans were finding their way downtown.
The team is already talking about expanding their hours to accommodate the breakfast and late-night crowds. Be on the lookout for a new breakfast burrito with chorizo, egg, grilled veggies, salsa and cheese and the addition of a fish option for the tacos, quesadillas and burritos. There's a small seating area, so you can dine in or takeout.
Taco Kabana
1121 Union St. Mall
585-8186
10 a.m. – 6 p.m.