Something new: Sweet Creams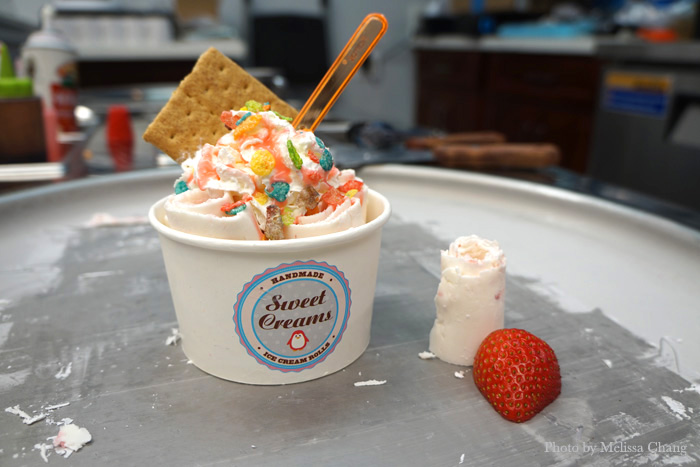 If you haven't been to the ice cream pop ups, you may have at least seen Sweet Creams on social media, where staffers make ice cream from scratch, lay it out in a thin, flat layer on a frozen plate, then use a spatula to quickly make cute ice cream cigar rolls. This Instagram-worthy frozen treat has been a huge hit all over the island, and this Friday it's going to open a permanent home in the old Ailana space on Kona Street.
It all started when Jeffrey Kao was looking for something fun for his daughter's first birthday. He came across the concept in a video shot in Thailand, and liked the idea so much that he brought it to Hawaii. He got together with business partner Bari Caroll, and started doing pop ups to see how people liked the concept while they perfected their recipes. I actually met Kao when he was rolling ice cream at a wedding.
Most people have seen the two original flavors, Strawberry Shortcake and Cookies 'n' Cream; Sweet Creams will now also offer Thank You Very Matcha, Frozen Hot Cocoa, Pineapple 5-0, and Dragon Fruit. There will also be a mix your own option so you can mix flavors. Bowls will be $5.50 and $7; they'll also offer flavored lemonade and iced teas.
If you're one of the few people who've never seen how Sweet Creams makes their ice cream, here's a quick little video:
Sweet Creams
1430 Kona St., #102
808-260-4725
Open noon to 9 p.m. daily