Something new: Stewbum & Stonewall Brewing Co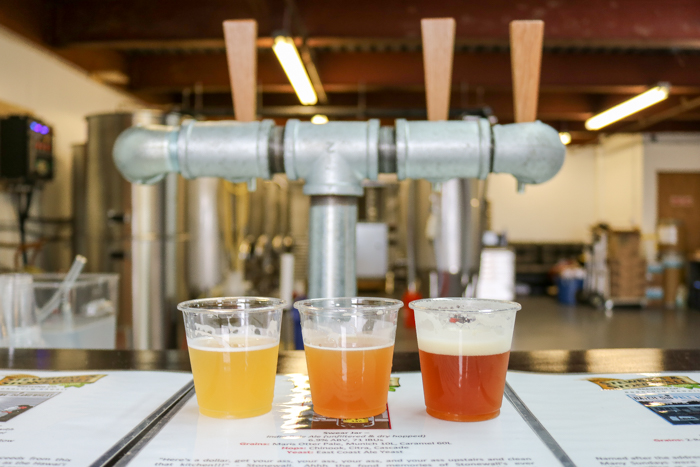 As I sat parched at my desk at 3:30 p.m. on St. Paddy's Day, news of Stewbum & Stonewall Brewing Co.'s new tasting room made it to my Facebook feed via local beer aficionado Mike Watanabe. I looked over at Maka and knew that within five minutes we'd be driving over the Pali to celebrate.
Located on Kahuhipa Street in Kaneohe, Stewbum & Stonewall's four-seat tasting room is open Thursday and Friday from 4 to 9 p.m. and Saturday and Sunday from noon to 6 p.m. You can try free tasters of their three craft brews and purchase 64-ounce growler fills for $14.
Parking on weekdays is free in their lot after 5 p.m. and on weekends. Other times, you'll need to find street parking.
Owner, brewer and jack-of-all-trades Darren Garvey started off as a home brewer and with the help of a $50,000 Kickstarter campaign, opened the craft brewery. He named it in honor of his dad and his brother-in-law's dad, great friends who went by the nicknames Stewbum and Stonewall.
The four-seat counter setup invites conversation with Garvey. If you don't like sampling on an empty stomach, be warned that as a tiny offshoot of a new working brewery, there's no food available here.
The three beers on tap are the Makana Island Wheat, Batch 518 Pale Ale and Swear Jar IPA. In coming weeks, there'll be a Smoking Cannon Imperial Stout. The beers are also available on tap at Lulu's Waikiki, Cheeseburger in Paradise and the Brewseum.
Stewbum & Stonewall produces six to eight barrels per week and plans to add 22-ounce bottles to current offerings of tasters, kegs and growler fills.
Stewbum & Stonewall Brewing Co.
46-174 Kahuhipa St.
664-6684
stewbumandstonewall.com
Thursday and Friday 4 p.m.-9 p.m.
Saturday and Sunday 12 p.m.-6 p.m.