Something new: SKY Waikiki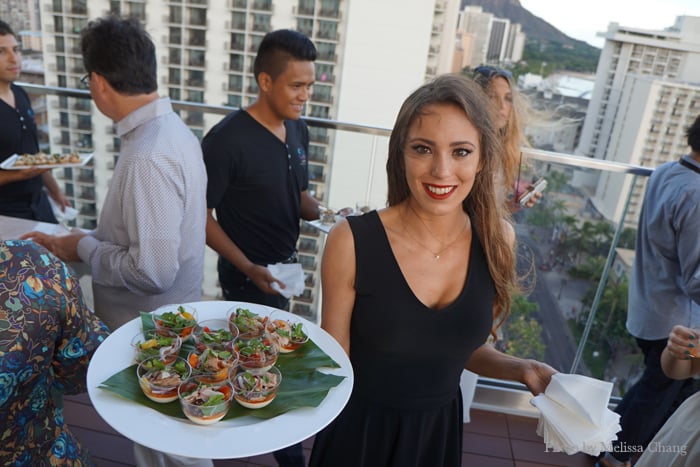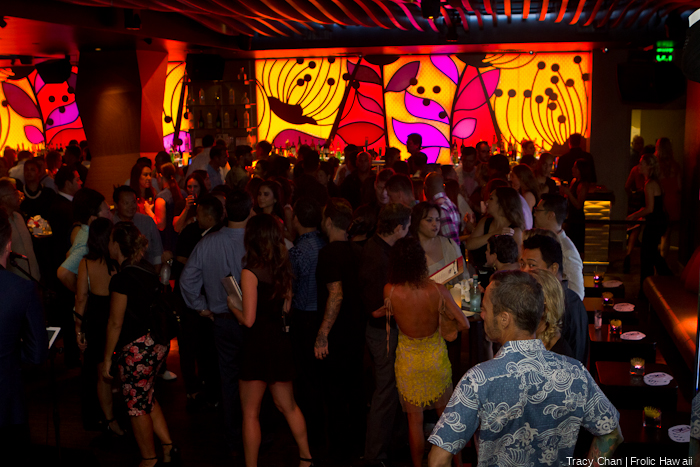 It's been a long time coming, and it's finally here. SKY Waikiki, which originally was set to open September of last year, finally opened its doors on Friday. And like that girlfriend who's late to the party because she spent so long doing her hair and putting an outfit together, our reaction was "the results better be worth it." Is SKY worth the wait? Take a closer look…
Here's the schedule for opening weekend:
SKY Waikiki Grand Opening with Brody Jenner & Devin Lucien
Saturday, Aug. 29 from 9 p.m.-2 a.m.
$10, 21+, Classy clubwear/formal attire recommended
Sunset Sessions with The Green and Afatia Thompson
Sunday, Aug. 30 at 4 p.m.
$10 Cover (Free for kama'aina before 5 p.m.), 21+, Resort Casual Attire, Sundresses recommended
The Construction:
Plans for SKY Waikiki date back to May 2013, when owners/operators Leighton Mau, Alika Mau, Darren Seu and Kainoa Akina announced their goals for a new venue. The four business partners also own and operate the Waikiki Business Plaza, Top of Waikiki and Waikiki Shopping Plaza.
It started with an additional deck, built out below the landmark disc that marks Top of Waikiki. When you see the inside, you'll understand why it took so long to get ready. The inside space is small but lavish, with ambient tropical lighting behind the bar, a huge 30-foot set of screens depicting island scenes at one end, and an open-air deck at the other. While you may initially be surprised that the inside is so small, the outside lanai deck makes up for it, with gorgeous views (about a 320-degree view) of Diamond Head, the Royal Hawaiian Hotel, Waikiki Beach and the mountains.
"It's exciting that everything's come together and it's finally here," said Jovan Andow, managing partner. "We're providing a place that is upscale, yet approachable, with a stunning view, and we want our patrons who are here tonight to feel welcome to back again and again."
Waikiki's second rooftop lounge, SKY, does boast better views than Buho, and while it might be problematic in rainy season or on hot days, the space is versatile, equally able to host events of any kind inside or out. The venue, located on the 19th floor of the Waikiki Business Plaza and two floors below the newly remodeled Top of Waikiki is 7,000-square feet total, and is designed for a max capacity of 400 people, with three full-service bars.
The staff:
Running the restaurant is Executive Chef Lance Kosaka, and in charge of the cocktail menu is Top of Waikiki mixologist Jennifer Ackrill. The team here has been in the biz for a while; Darren Seu's grandfather William Mau is the visionary businessman who developed the Waikiki Shopping Plaza and the Waikiki Business Plaza and opened Top of Waikiki in the 1960s. Although it could be viewed as a family-run business, word from the staff is that the management puts great emphasis on building a team that works well together. Most of the staff went through five weeks of intensive training, and it shows in the way they interact with each other. It's nice to see a bar's employees looking out for each other with genuine care — clearing the way, spotting customers who need help, and many other small gestures that improve the flow in a crowded bar or club.
The drinks: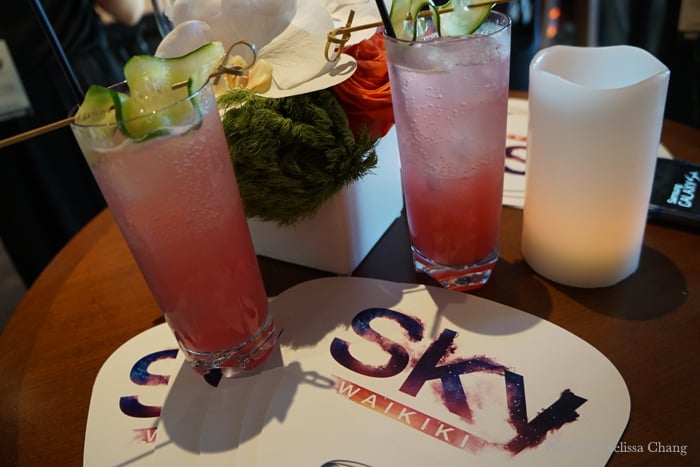 Amanda: "I loved the Iolani Spritz signature cocktail, made with hibiscus-infused organic cucumber vodka with lime juice and a splash of soda."
Tracy: "The Pineapple Gangster, with Belvedere Vodka, Amaro Montenegro, pineapple juice, mole bitters and egg white fizz on top sprinkled with grated cinnamon, was totally my style."
Liquor to SKY is supplied by Southern, but the cocktails are created in house by the Top of Waikiki head mixologist Jen Ackrill from Top of Waikiki, formerly of Rye in San Francisco and very briefly Salt Kaimuki, and her team of experienced bartenders. One thing you'll find here that is worthy of a sophisticated craft bar are the custom syrups and other house-made ingredients. Average cocktail prices aren't cheap, but they're reasonable for craft cocktails, at $11-$13. The bar also offers very limited draft beers on tap for $5 and house wine for $8.
The food: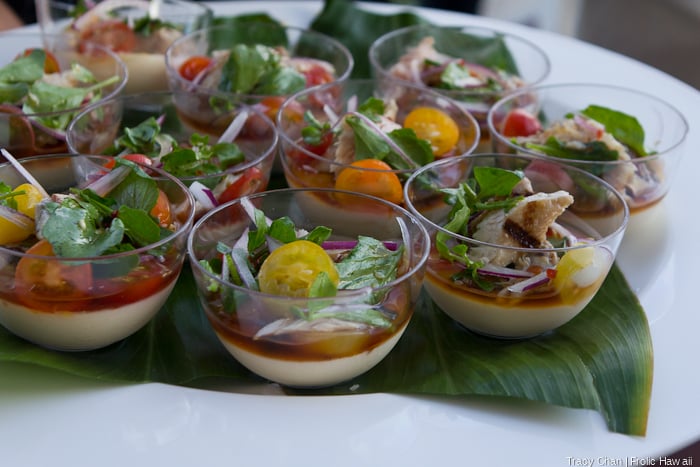 At the soft opening, food was served in bite-sized bits, but it's expected that more substantial dishes will be offered later on. If you've ever dined at Top of Waikiki, expect a small-plate pupu-style menu of the same caliber that includes dishes like truffle flatbread pizza and ahi poke with avocado mousse, popcorn shrimp with real popcorn and the ahi and tofu "panna cotta" salad (pictured).
The programming: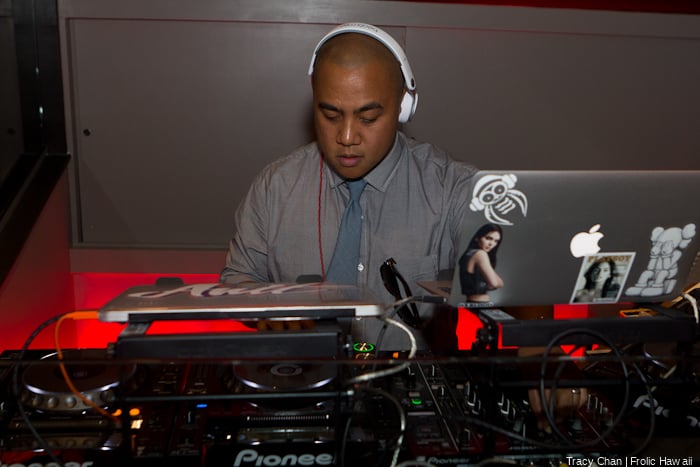 Although its emphasis will be more clublike on Friday and Saturday nights (expect to see lots of celebrity guest DJs here, as well as well-known local Top 40 club DJs like Compose, Anit and Toma), the management is aiming for more of the rooftop bistro lounge vibe. SKY will be open seven days a week, from 4 p.m.-midnight, except for Fridays and Saturdays, when it will be open until 2 a.m.
There will likely be a cover charge on weekend nights, but already SKY is trying to make locals feel welcome, with perks like getting in free for the first hour, something that other upscale Waikiki clubs like Addiction have failed to do.
The crowd:
It's rumored that SKY is aiming to capture locals who currently frequent places like M, Trump and Addiction, as well as out-of-towners looking for an upscale establishment with a great view. As things settle down, it's likely that the lounge will form a solid fan base though, and not just because of aggressive marketing, but because of the merits of a fantastic view, exclusive but comfortable feel, friendly staff and solid food and drink menus.
Here are more photos from the VIP opening Friday night, with celebrities Brody Jenner, Devin Lucien, Victoria Justice and others, a guest appearance by the Red Bull Skydivers and the food and drinks!