Something new: Rua Catering pop-up in Wailuku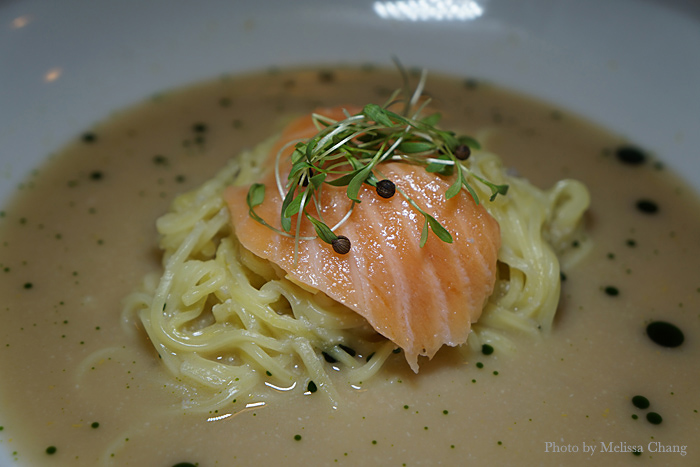 I was excited to try out one of Maui's newest hidden gems last week, a pop-up by two seasoned chefs on the island scene who have been knocking it out of the ballpark. Jayse Sato and Grant Oura, both of whom previously worked together at Nuka, started their own company — Rua Catering — have been popping up once a month for the last three months at Vineyard Food Company in Wailuku. Starting in February, they'll be popping up there every Friday and Saturday night from 5 to 10 p.m.
They're super low-key local guys, but you can taste their talent and expertise in their dishes. Jayse trained under Jeff Ramsey at Momotaro in Chicago, and was at Alan Wong's Amasia. Grant worked for Yuji Okamoto in Seattle, then came home to work for Sam Choy and Alan Wong.
Before there were pop-ups, there were backyard parties. When the guys found themselves with a surplus of fish, they'd throw a party and charge just $1 per piece of nigiri (using the honor system and a bucket). We're not talking Genki … they used, and still use, cuts of fish beyond the usual maguro and hamachi that everyone knows. They wanted to take the opportunity to educate the community about elevated sushi and their creativity. And now, you can taste their talent in a more feasible space on a regular basis.
People who live in East Maui already know about this pop-up. Especially on Fridays, there is a line down the street, all local, all waiting because of word of mouth. They used to take reservations in the beginning, but now it is first come, first served — so go early. And bring a cooler, since it's BYOB. (I saw a lot of beer coming in, and we had wine, but I think a good sake would probably carry you through the whole menu perfectly.)
Jayse does more of the sushi, while Grant takes care of the cooked entrees. The menu thus far has been a different theme each weekend, depending on what they catch or can buy. Here's a look at what we ate at the last pop-up.
Their friend just caught a spiny lobster in Hana that day, so they made ramen broth with the head! They topped the noodles with salmon belly and micro greens, then drizzled basil oil over it. I finished as much of the broth as I could, it was so good — rich but delicate, then rich again with the salmon belly.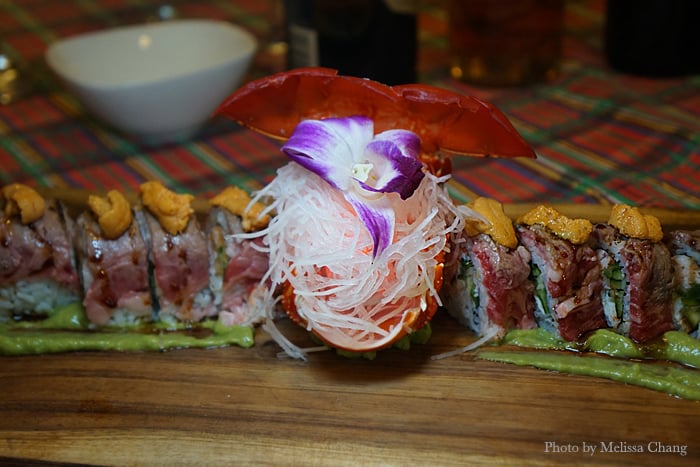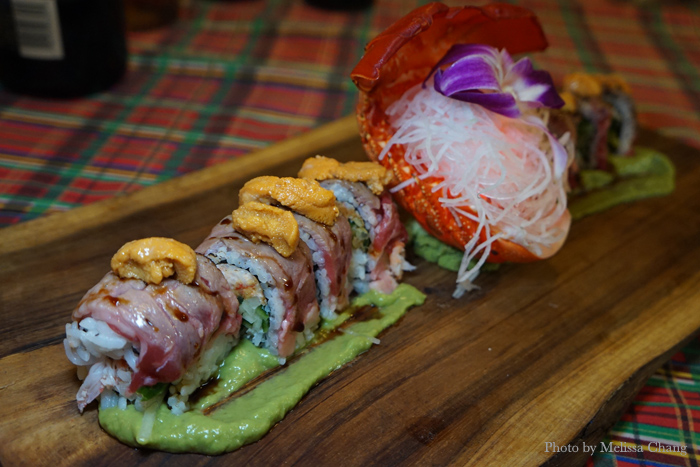 There was no good way to photograph the "surf 'n' turf" roll ($17), which was beautifully presented on a long plate. The center was the lobster tail filled with shredded daikon and a psychedelic light cube. Presentation aside, this was a decadent bite of lobster-ginger roll (with crab, I'm sure) topped with seared ribeye, truffle butter, and kabayaki sauce. I think they substituted a micro basil topping with uni for us. Either way, this was pretty bomb! The avocado puree holds it to the plate, and that's good with it, too.
One of our surprise favorites was the pastele stew roll, which might be good as a bowl by itself. This gandule rice and crab roll is topped with pastele stew and micro cilantro, and is very comforting. If you've never had this, it basically tastes like stew, but has a unique tang and spice with rustic qualities. We would have kept eating this, but we knew we had to eat more items.
At first I thought that was pop rocks atop the shrimp tempura roll! But it's shrimp flakes, brightly colored to give dramatic effect and make you think of the ocean. The roll is stuffed with shrimp tempura and then topped with a spicy tuna and hamachi blend before being covered with the colorful flakes. This was a nice twist on a familiar-looking roll.
I liked the Kobe sliders; they were fun bites of beef topped with bacon jam, tomato, brie and onion cream sauce. The buns were made by Four Sisters Bakery across the street, which added to the whole charm of keeping it local. You know what would have made these burgers better? Being topped with that pastele stew!
They served the sliders with the garlic parmesan truffle fries, which were tossed with oyster mushroom chips. That was a pretty neat concept of adding umami to a snack favorite. I probably would have had more fries, but I knew more food was coming. You know what would have made those fries better? Being topped with that pastele stew!
An oyster shooter is an oyster shooter, unless you get it at Rua Catering. It's served with diced tomato, onion and green onion, with some massage for texture, but the spicy ponzu is what makes theirs unique. Again, keeping it local, super local: one of the local firefighters makes his own chili peppa water and sells it in Patron bottles. Da buggah is spicy, so be careful when you eat this shooter. It's good, but the heat will stab you in the mouth quickly. Save the ponzu, though! Here's why:
The lechon roll is pork belly topped with seasoned tomato and onion. This was good on its own, but when we paired it with a sip of the leftover spicy ponzu, that pulled it all together. Something about that fatty pork and the chili peppa water made it perfect.
The hamachi carpaccio is pretty straightforward, but served in a lovely glass for effect. It's topped with ginger, green onion, garlic, ponzu and micro cilantro.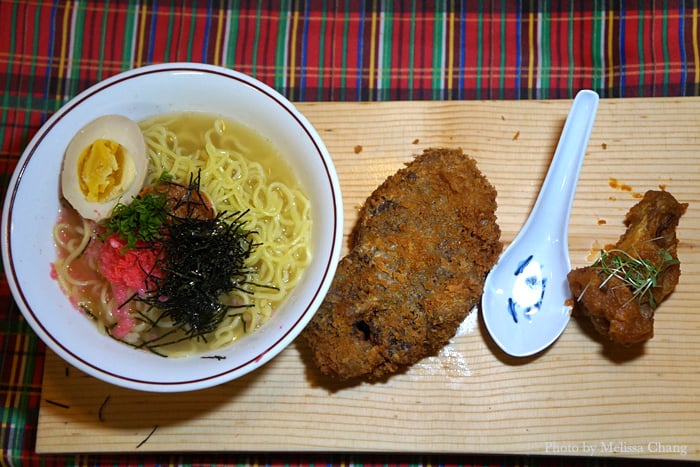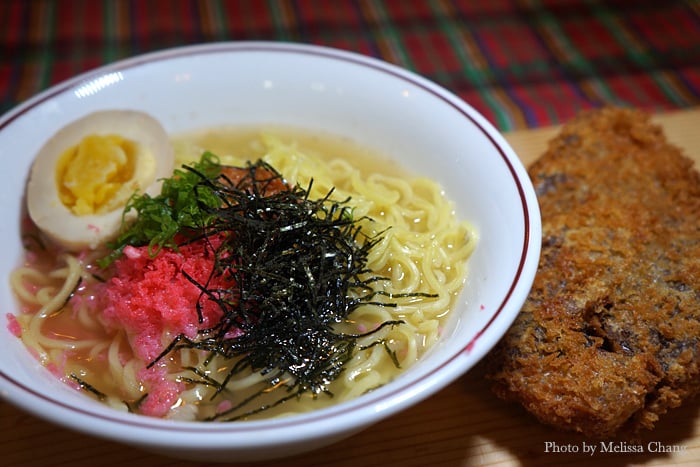 This is a combination of two things: tonkotsu ramen with katsu oxtail ($16) and a miso chicken buffalo wing (usually $10 in a plate). At this point we were too full to eat more than a bite, so I felt bad, but yes, this is a meal in itself. The tonkotsu style ramen is served with spicy miso, but it's not that spicy, don't worry. If they have katsu oxtail, you should get it, because it is so unique — and it's rich, so it will really fill you up. I don't know how they got the meat and bone pounded flat so that it's one uniform size, but there it is (be careful with the bone).
I knew I was going to like the miso chicken buffalo wing, since it looked like it expressed the flavor profile that I tend to prefer. It was spicy and savory, but the sweet-sour taste leaned more to the sweet, which I am into. I could eat a plate of these for lunch with a bowl of rice.
After all that, we still had one more plate of nigiri! The local bigeye tuna belly was brushed with home made shoyu and sprinkled with Hanapepe salt, which was perfect as is. I loved the subtle saltiness and the little crunch.
We dipped one side of the nigiri in the shoyu anyway, because we wanted to taste it. Who the heck makes their own shoyu nowadays? It was good enough that I'd buy a bottle of it if they sold it.
This is how far they go to make things from scratch: home made kinako ice cream! It's not quite as rich as peanut butter ice cream, but you still get the nutty flavor. I also didn't think they needed to turn it into tempura since it's good as is, but I guess it makes a better presentation. This was on a swoosh of home made anko (azuki bean paste). What? Who makes their own anymore?
Here's what we look like at dinner, all the time. Big mahalo to Karey Oura Kapoi for flying us over for dinner, and for dinner itself!
Rua Catering at Vineyard Food Company
1951 E. Vineyard St.
Wailuku, HI 96793