Something new: Roy's Beach House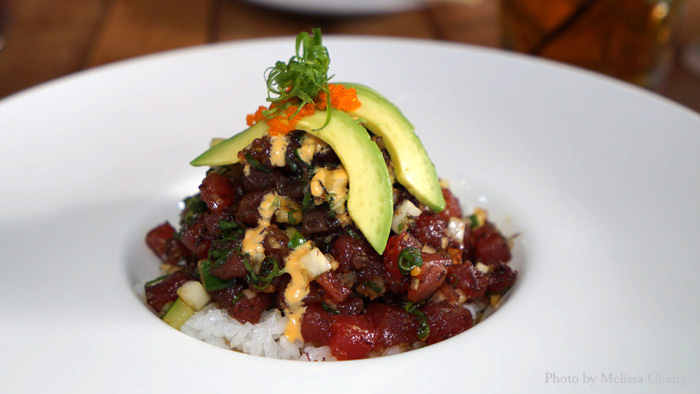 Roy Yamaguchi fans can now find his latest restaurant on Oahu's north shore, in Turtle Bay Resort overlooking the beach. He opened Roy's Beach House this week, offering media and friends a first taste as the staff practiced operating both the front and the back of the house.
This isn't a review — the team was very clear that our dinner was a practice run, and we were our waiter's second table of the week — but I wanted to at least show you what some dishes and drinks look like. Everyone we met was very friendly and excited for the opportunity to be a part of Roy's ohana, so we know there's a lot of potential in this new beachfront venue. Roy's executive chef for the Beach House is Gordon Hopkins, who was his sous chef for his Hawaii Kai restaurant when it opened in 1988.
Scott McCormack, vice president of real estate development for Turtle Bay (Replay Inc.), at the preview dinner with Roy Yamaguchi.
A non-alcoholic spritzer with toasted coconut flakes.
Roy's Beach House is creating some new handcrafted cocktails for the north shore scene, like this "Shogun," which is made with whiskey and homemade green tea syrup, plus a shiso leaf.
Our favorite was "Just Because," a slushy, minty, rum-based cocktail. It looks complicated, but is simply delicious and refreshing … and a little too easy to drink.
We didn't get bread, but every table gets a bowl of spicy edamame as a greeting.
Everyone raved about the Hauula tomato salad ($16), which is topped with Napua's Asian spinach, blue cheese, and a pancetta vinaigrette. I'll have to take their word for it, since the plate was devoured by the time it made it to me! This is an item that is unique to Roy's Beach House.
You can't go wrong with fresh Goose Point oysters ($23), served with jalapeño ponzu, tequila and tabasco mignonette, and wasabi cocktail sauce.
Every Roy's restaurant has some kind of poke bowl, and each chef does their own take on it. Here, Hopkins offers his bowl with sushi rice or brown rice, then tops it with ahi, inamona jus, avocado, onion, masago, and kabayaki ($20).
We liked the spicy garlic ahi roll ($17), which is cut into small pieces so everyone at the table can share. The sushi is filled with cucumber and yama gobo, then topped with spicy ahi, shiso and crispy garlic.
Roy's original blackened ahi ($21) comes with their signature soy mustard butter sauce, and is topped with kiaware sprouts and ginger. The one unique twist here is the addition of nori paste, which is a nice touch.
If you like prime rib ($42), Roy's is done to perfection, crusted with Nalo herbs and served medium rare (you can get a more well done portion if you prefer). It's tender, meaty and nicely spiced, and I loved the asparagus and mushrooms with it. You get horseradish and au jus on the side, of course, with a spicy bowl of horseradish mashed potatoes.
The horseradish mash is also served with the macadamia nut-crusted mahimahi ($36), served with Waialua asparagus and lobster pernod essence.
They do a twist on chicken curry with this Thai chicken ($26), sprinkled with peanuts and served with pineapple chutney. The sticky rice is good, too.
The Tuscan braised lamb shank ($31), served with roasted Hauula tomato lamb jus.
Sorry — the square plates are hard to shoot! This is the surf and turf ($37), with macadamia nut mahi and braised beef short ribs. The portions are smaller than the regular entree so you can get a taste of each without filling up.
Hibachi New Zealand ora king salmon ($35) with cool citrus ponzu and a serving of somen salad.
You can't go wrong with misoyaki butterfish ($38), served with some veggie maki, Kolea Asian greens, and sizzled Ho Farms tomato sauce.
One of our favorite desserts was the pineapple upside down cake, which was just slightly sweet.
We also loved the citrus mousse cake, which is like their take on lemon meringue — featuring yuzu in the mix.
Tiramisu cake, layered with espresso-marscapone mousse. The Luxardo maraschino cherries on the side give it a lovely touch of extra sweetness.
And, of course, no meal at Roy's is complete without their signature dark chocolate souffle.
The restaurant is now open daily for lunch from 11 a.m. to 5 p.m., dinner from 5 to 10 p.m., and the takeout counter from 11 a.m. to 4:30 p.m. You'll find the prices for lunch are more reasonable than dinner, as with any restaurant. To see more photos, including the menu, click here.
Roy's Beach House
Turtle Bay Resort
57-091 Kamehameha Hwy.
808-293-7697