Something new: Rain Honolulu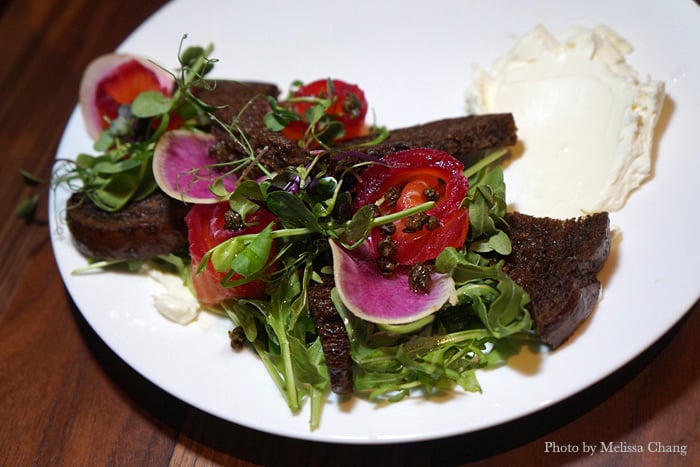 Rain Honolulu quietly opened its doors a couple of weeks ago, just around the corner from its sister bar, Scarlet Honolulu. But make no mistake, people aren't going to be quiet about this place for very long.
The guys who own Rain bring a lot of experience in food and drink. Robb Savvy, Robbie Baldwin and Joey Luna have been a part of the Chicago restaurant scene for many years snd currently own a restaurant there as well as Scarlet Chicago. They met local boy Lanai Tabura on one of his food tours, and now the four of them are partners in Scarlet Honolulu, Passport, and the latest Rain.
The name actually came about because when they met, it was raining, and Tabura had explained the importance of "u'a," or rain, in Hawaiian culture.
Chef Brooks Hart is also from Chicago (he's been here a whole month) and in addition to his experience in the business, he has been on the Food Network's "Cooks vs. Cons" show. Tabura, who is a Food Network "Great Food Truck Race" winner, felt it was fate that his partners brought Hart over, so off they went and created this new American cuisine menu. Hart is the genius behind the food, and Luna is the mastermind behind the cocktails.
Be very careful when you order. The first thing to come out will probably be the asparagus hummus, and it's so good that you will shun everything else. Hart created it because he loves asparagus; it's like regular hummus but smooth, with asparagus pistou, crispy chickpeas, micro greens, parmesan cheese and olive oil. The housemade pita is fried just right, so you get a crun-chewy texture from it. The whole dish is just salty enough to make you keep reaching for more. I'd estimate three or four people can share two orders, it's that good.
This is Hart's take on lox and bagels. You can't really get a great bagel here in Hawaii, though, so he's buttered and fried some pumpernickel and tossed it with arugula, radishes, capers, and a dill vinaigrette. The beet-cured fish (trout or salmon, depending on availability) also has a rich, buttery quality, so after you've spread the whipped marscapone on the bread, you've got butter on butter in your mouth, cut by the arugula and capers. So magical.
The duck fat tater tots are like fancy hash brown sticks, topped with thyme, tomato gastrique, and horseradish aioli. I was bummed out because after we finished the whole thing, Tabura came around and said, "You know what I top those with? That asparagus hummus!" Well played, sir. Now I have to go back and try that combo.
Everyone in America must serve shishito peppers the same way: blistered with salt and olive oil. Here, they do it up different, with anchovy crumb, aioli, and charred lemon. Eating shishito peppers is kind of like Russian roulette, though — most of the peppers are simply tart, maybe with a bit of heat, and there will be one or two that actually impart enough spice to burn your tongue off. On this night, everyone was raving about the anchovy crumb, but I got the hot pepper and was busy dousing myself with whatever I could find!
The cauliflower ceviche is a nice, vegetarian twist on the original, and it has all the flavors you expect: Coconut, Thai chile, and lime. The spiced popcorn is a nice surprise in taste and texture.
The oyster beignets were a little bready for us, but we all agreed it had overall very good flavor. It's topped with calamansi hollandaise, spinach and bacon, so it's good for noshing and absorbing your alcohol.
The overwhelming staff favorite is the brick chicken, which is Hart's nod to his Hungarian grandmother's chicken paprikash. Like the traditional dish, you get doughy buttermilk dumplings, topped with the chicken and a smoky pimenton veloute. What really pulls this dish together, though, is the lemon chips on top. Break off a piece and be sure to get some in each bite.
Who doesn't love butter-roasted scallops? These tender nuggets are served atop a bed of corn puree with some tomatoes and herbs de Provence, then topped with a dramatic display of crispy parsnips. Everyone has had scallops, but not everyone has had that corn puree, which is pure genius.
This one is probably a work in progress. It's actually really good and creative, using orzo instead of rice with fennel kimchi, bacon, green onion, micro greens and a poached egg on top to make Hart's riff on kimchi fried rice. The flavors are really mellow, though, and in the opening weeks they were kind of playing it safe.
They may also be bumping up the saltiness a little on this one. This luxurious take on lechon has thick slices of pork belly with perfectly crispy skin, with a good balance of hearty, moist meat. The white corn polenta makes it a butter bomb in your mouth, but the pickled stone fruit and gremolata help to cut some of the richness.
The Lady Olena was one of our favorites, as it is comprised of Stolichnaya vodka, Barrow's intense ginger liqueur, limoncello and lemon. The ginger, since it's related to turmeric, is an integral element for this drink, and turmeric is "olena" in Hawaiian. Since Olena Heu is Tabura's longtime friend, he named it after her. Take in the aroma of the rosemary as you sip for the full effect. By the way, their martinis all come with a sidecar, which is a nice touch. Luna said it's not to get you drunk, just bring a good value to your cocktail order.
I don't have a price for the Smoky Paloma, as it was still in experimental stages when we had it. They do offer it now, so don't be afraid to order it. Click here for a video on how Luna makes it. The smoky flavor is subtle, but adds to the character of the drink. Another one that we liked was the Fort Street Smash ($10), a ginger beer drink with Old Overholt rye whiskey, pear syrup, lime and basil.
If You Like Pina Coladas is refreshing but is pretty strong, as it is made with Milagro silver tequila, Rumhaven coconut liqueur, macadamia nut liqueur, Domain de Canton ginger liqueur and pineapple. The Pimm's Cup is lighter, with Pimm's No. 1, orangecello, mint liqueur and lime, all poured over a ginger ice cube. (I love that Luna makes his own ice cubes.)
A very popular customer favorite is the cucumber cooler, made with Rain cucumber vodka, lemon, limoncello, and rosemary syrup. It's super refreshing and not too tart.
We love the food and drink here and have already gone back for more. At this writing, Tabura said they get a later crowd — like from 8 p.m. — so if you want to be seated quickly, go early. They're open daily except Sundays from 5 to 11 p.m. For those of you who don't work downtown. park at Kukui Plaza's municipal lot.
Rain Honolulu
1138 Fort St.
808-200-0910