Something new: Pinwheel Hawaii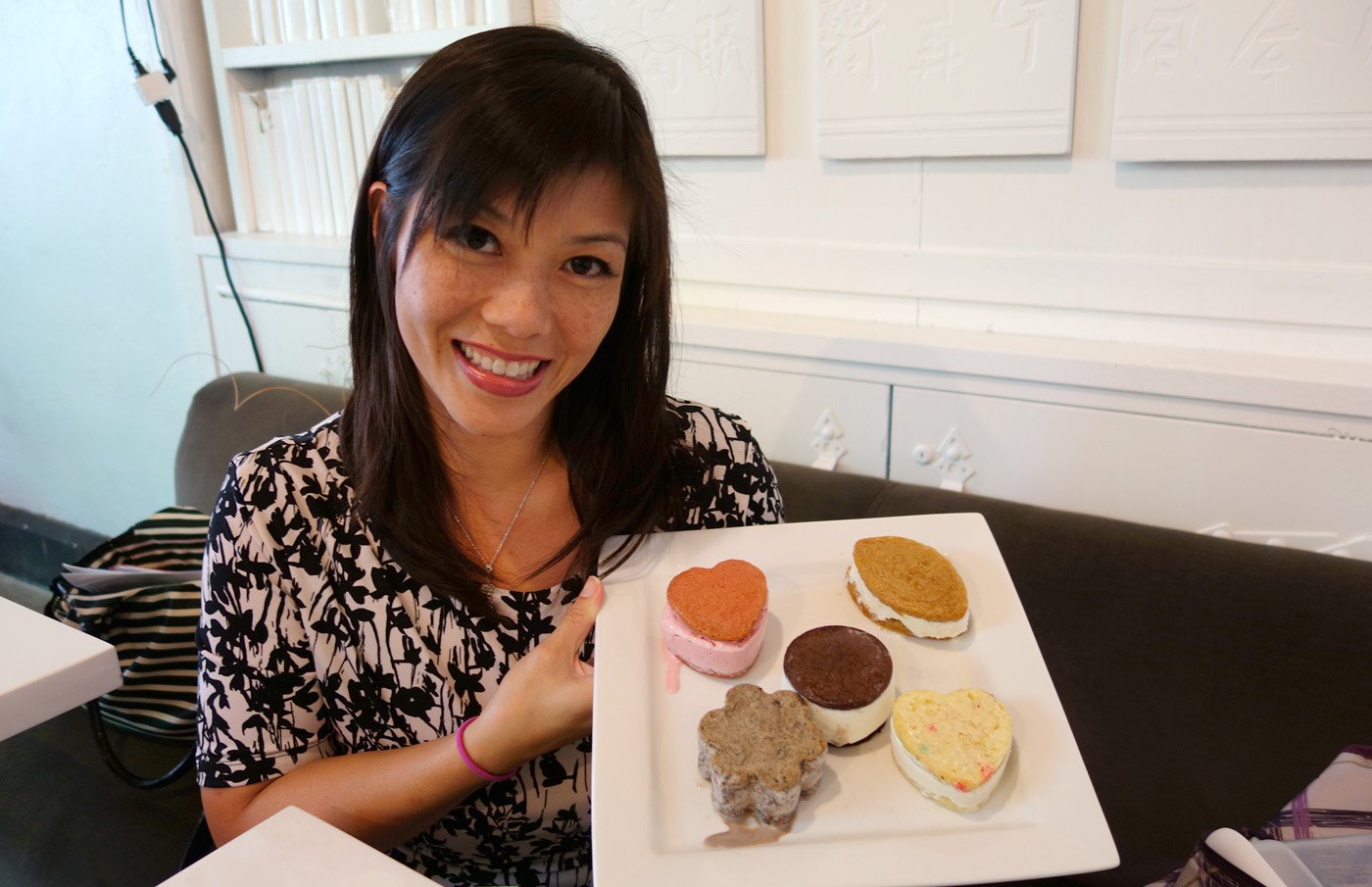 Who doesn't love ice cream sandwiches? Two Punahou grads, Angela Shiraki and Stephanie Nomura, have kicked up our childhood favorite a notch with some unique flavors at their new company, Pinweel Hawaii.
Shiraki is a graduate of Kapiolani Community College's culinary program, and went on to work at Alan Wong's Pineapple Room for a few years. As life would have it, she eventually had a baby and became a stay-at-home mom. She continued practicing her culinary skills on her friends at home, and recently Nomura convinced her it would be a good — no, great — idea to start a handcrafted, homemade ice cream sandwich company using her talents.
The two launched their company online in August and just announced they have their first retail outlet out of Fresh Cafe Downtown. You can buy their sandwiches ($3.50) at the coffee counter or in the restaurant.
"We called it Pinwheel because it evokes feelings of nostalgia," Nomura explained. "The name, and the ice cream sandwiches, remind us of our childhood."
The ice cream sandwich flavors are updated every month, but they can accommodate special orders for previous flavors with enough notice. Each sandwich cookie is carefully matched with the ice cream, and they have perfected the recipe and size to ensure the ice cream doesn't shoot out of the cookie when you bite it (as you probably have experienced with other sandwiches). Each flavor has its own distinct shape — hearts, circles, leaves, etc. — which lends to its homemade appeal.
I took a bite out of five of the sandwiches yesterday to get a taste of what they're doing. I regretted having lunch, because I would have wanted to eat a whole sandwich if I could! The cookies are sweet (but not too sweet) and the ice cream is less sweet to balance it. I liked that the sandwich cookies are a little more like cake, so they are just soft enough to bite while everything is still very frozen.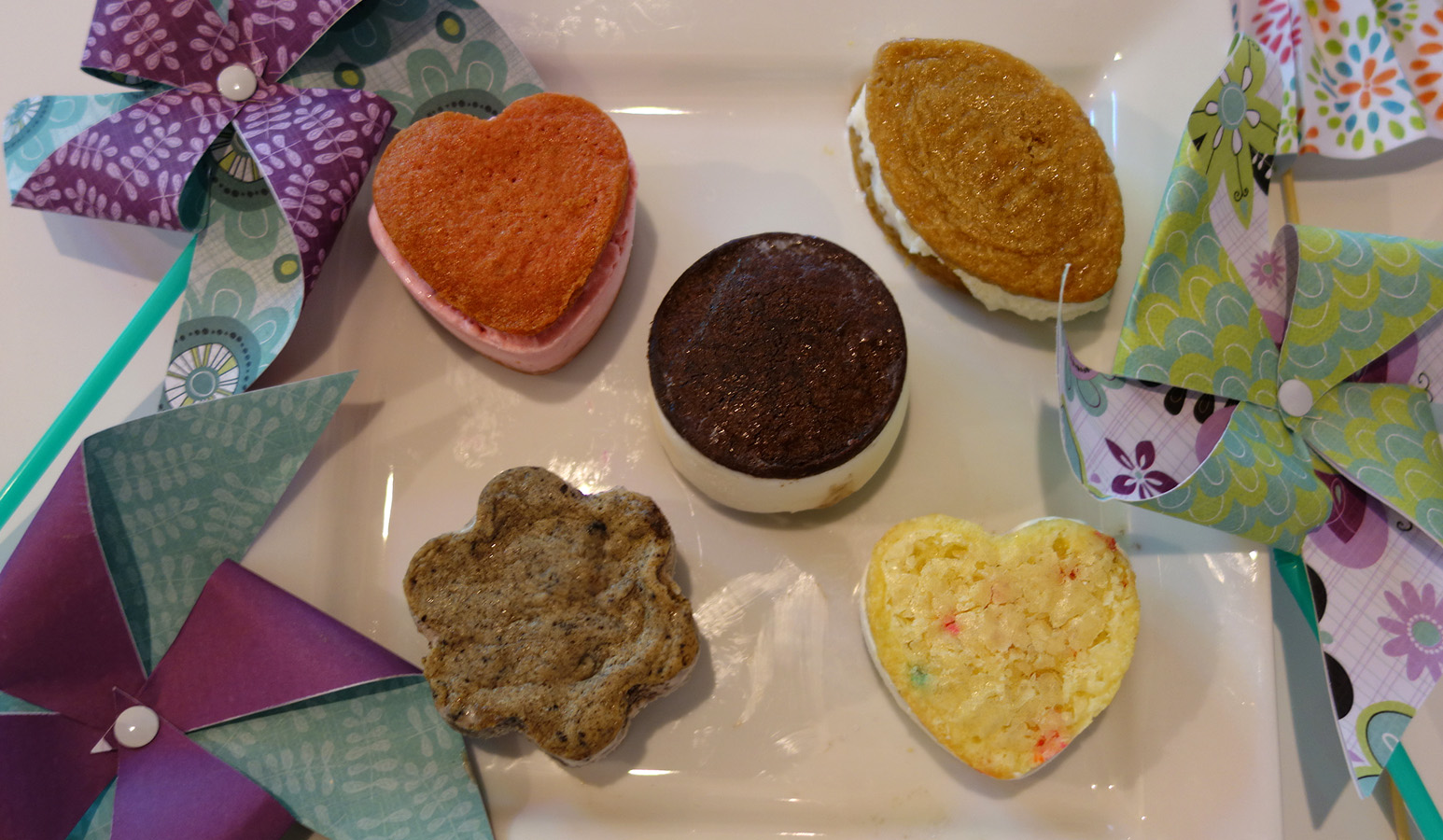 The flavors, clockwise from top left:
Strawberry surprise: a strawberry cake topper with strawberry ice cream, but this has a rich flavor of strawberry milk. Definitely one of my favorites.
Cho-coco: chocolate brownie topper with haupia ice cream. This was good, with local flavor.
Blonde Bombshell: based on Punahou's "caramel cuts," this has a butter caramel blondie topper and vanilla ice cream. Another favorite.
It's Your Birthday: birthday cake topper and cereal milk ice cream. Yes, you can imagine what that tastes like. The flavors were subtle in this one but nice. Very close third place on my taste buds.
Oreo Twist: "cookies n' cream" cookie with mint oreo ice cream. It was nicely chocolatey with a zing of mint. It was good, but not as good as my favorites listed above. I think once I tasted the others, this was just way too familiar!
Nomura said they still take orders through their website and can do large, custom orders for parties or fundraisers.
Pinwheel Hawaii
via Fresh Cafe Downtown
1111 Nuuanu Ave.