Something new: O'bop!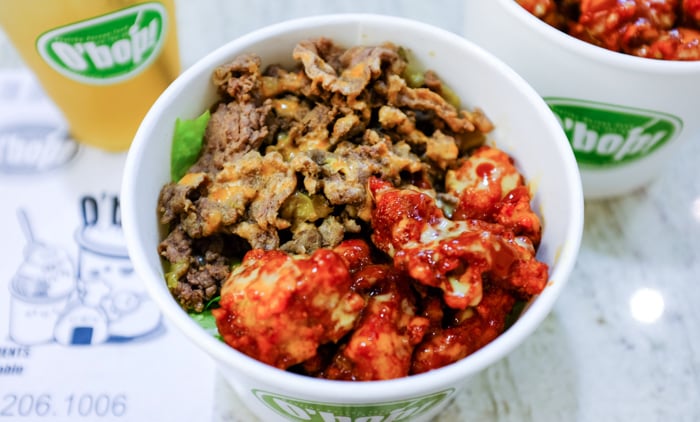 I never realized that K-BBQ in a cup, affectionately known by Koreans as "cupbop," was something we desperately needed in downtown. That is, until Frolic creator Diane Seo tipped me off about this tasty new phenom. Boy am I glad it's here.
"Bop" or "bap" as it's sometimes spelled means rice in Korean; you may be familiar with it in kimbap sushi rolls and sizzling dolsot bibimbap. You'd expect that something like cupbop would come straight from the Seoul of the motherland, but it actually began as a food truck in Provo, Utah and has spread like kochujang to the shores of Oahu.
It's easy to understand why. The process is so simple!
Step 1: Select your bowl size — medium ($5.99) or large ($6.99) — and choose between white, brown or fried rice. The friendly server will ask if you'd like salad and you'll say yes because their honey mustard dressing is the bomb. Plus, you need the veggies.
Step 2: Select your first entree. You can add additional entrees for $1.60 each, so I highly recommend you follow my lead and order two. I've yet to spring for a third, but if I did, it'd be the homemade mandoo. Other selections include spicy pork bulgogi, fried chicken, orange chicken, various vegetable jun, dukkbokki, curry, mapo tofu, fresh veggies and salmon vegetable.
Step 3: Sauce it up! I'm a saucy kind of guy, so when they ask if I want more, I gladly accept. Honey mustard is my favorite by far and goes great on the spicy strips of KFC.
Here's a better look at my cupbop. The bulgogi is well-seasoned and tender. No knives needed here! The chicken is boneless, so there is nothing to worry about.
When you're eating something remotely spicy, you'll want to find refuge in an ice-cold drink. Specialties include plum, raspberry, citron and omija (schisandra) berry iced teas and a fresh lemonade.
If you feel the cupbop you created won't last you through the afternoon, consider a K-bop for $2.40. No, it's not a horrible soundtrack of tone-deaf kids singing contemporary music or a musical genre at all. K-bop are hefty musubi filled with the best things ever, like bulgogi, spicy pork, kimchee bacon, tuna mayo, salmon and ume. When you get two, they'll throw in a cup of hot egg drop soup, perfect for the April showers we've been experiencing.
Another thing I like about O'bop is that they open at 7 a.m. and serve breakfast bowls filled with SPAM, eggs and rice, K-Street veggie omelettes and homemade bulgogi burgers.
Like, O-M-G people, how is this not on every corner of downtown yet?
O'bop
1132 Bishop St.
Monday – Friday 7 a.m. – 3 p.m.
206-1006