Something new: Maui Nui Venison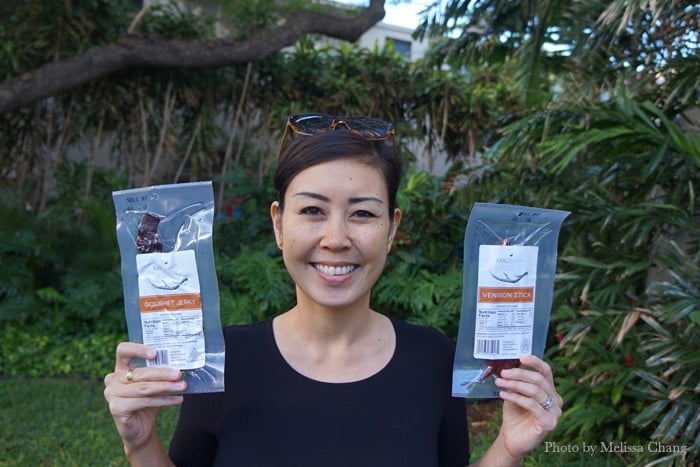 In recent years, more local companies and chefs have been coming up with new ways to bring invasive species to the table in a delicious way, so we all can do our part in population control. The latest is Maui Nui Venison, a company that sources axis deer from Molokai to bring an alternative red meat to the table.
Let's step back a little bit. In 1868, eight axis deer were introduced to the island of Molokai by King Kamehameha V as something he intentionally pursued and considered "desirous to obtain." Back then, they had no idea what invasive species would do to the environment, right? Upon arrival, the King placed a kapu (restriction) on the deer and under his protection their numbers began to grow. Its estimated that there are currently 30,000 to 50,000 axis deer on the island of Molokai. In the 1920s, brothers Frank and Harry Baldwin introduced a dozen deer from Molokai to Lanai. There are now about 10,000 to 15,000 axis deer on Lanai.
Enter Maui Nui Venison, a company founded by Min and Kimo Tuyay, and Jake Muise. They sell the various cuts of meats to restaurants and distributors, serving as a low-fat protein alternative. People are sometimes concerned about gaminess, but axis deer are known to be the least gamey of all venison meat. Axis deer in Hawaii are free to roam until the moment they are harvested, don't deal with the stress of predators or seasons and feed on lush green grass and forage year round, an ideal combination of factors that give their product high-quality taste.
It's a win-win for the environment, as well, as their efforts help control the axis deer population and thus, the adverse effects the invasive species has on the islands.
"Our goal is educate people on the health benefits of eating axis deer venison and how USDA harvesting is serving as a tool to help manage these wild populations. We want to promote eating invasive and eating local," Min said.
They don't sell the raw meats to consumers yet, but as a regular consumer, you can get their jerky.
I randomly got some jerky-loving friends together to try it (including our own Diane Seo). I should warn you, the packages are very secure, so you'll need a knife or scissors to cut them — you can't just rip them open at the notches. And since the venison is super lean, there's no grease in the package to help you slide them out. That's a good thing! But be prepared.
We all liked both jerky types, but I preferred the sticks (about $10; price varies by retailer) because they are softer, moister, and taste a lot like summer sausage. Once you get them out of the package, they're easy to eat on the go. I liked that they were mild and had a tinge of sweetness.
The others all preferred the muscle jerky (about $12; price varies by retailer), even though it took longer to chew. They liked the stronger, peppery taste, which accentuated the meatiness. Diane doesn't usually take snacks home, but she took this, and pretty much demolished the bag. Note that the venison sticks are comprised of shoulder and trim, and the whole muscle jerky is made of leg cuts.
In either case, since there are no preservatives, you need to eat the jerky within a couple of days and keep them in an airtight container so they don't go bad. They didn't last that long, anyway … I think it's safe to say we all ate our leftovers almost as quickly as Diane did.
We were all surprised the jerky didn't have any gamey flavor. Min said they work with the Bakke Brothers, a jerky producer in Portland, who have been making some of the top gourmet jerky in the US for years. The trick wasnt so much in the recipe, but that they are using such premium meat.
If you're interested in trying the jerky, you can get it online or at various retailers around the state: on Oahu, Bev Mart, Fort Ruger Market, Kokua Market; on Maui, Mana Foods, Sporting Club of the Pacific, Tutu's Pantry, Ulupalakua Ranch Store; in Hilo, Abundant Life Natural Foods, The Locavore Store, Island Naturals Market & Deli; and in Kona, Kona Wine Market, Island Naturals Market & Deli (also in Pahoa).