Something new: Matcha Cafe Maiko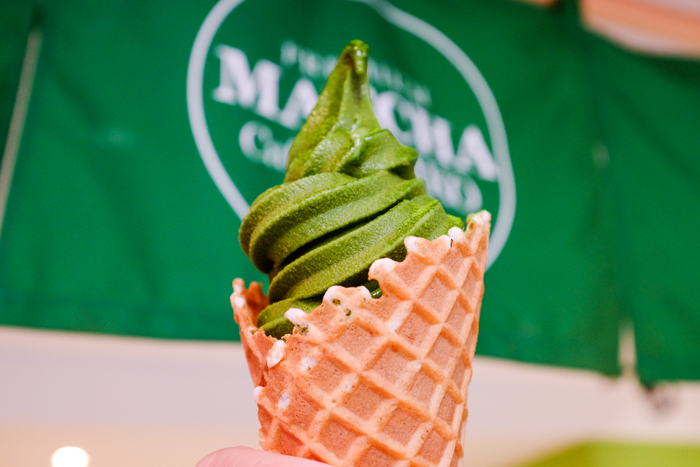 Three words: matcha soft serve. ???
When my Waikiki fixer Dan Chang from Wang Chung's shared a photo of his matcha hojicha float on Facebook, I was all over it like white on rice. Serendipitously, I had a meeting in Waikiki later that day so there was a reason to be in the area — I wasn't about to pay $15 for parking or spar for a spot on Ala Wai just for green tea ice cream. It turns out, the trouble just might be worth it to enjoy a refreshing cone of decadent green tea soft serve at Matcha Cafe Maiko.
Tucked away in the corner of the Kuhio Banyan building, behind the udon temple of Marukame and next to Play Bar Waikiki, Matcha Cafe Maiko quietly opened on July 13 serving premium matcha from Kyoto's Harima Garden in multiple forms. In addition to soft serve, lovers of the grassy green substance made from finely ground tea leaves can get their dose in the form of iced teas, lattes, floats and layered parfaits.
The incredibly relentless heat is enough of an excuse to buy one of everything on the menu, but I resisted and started with a Maiko special with vanilla soft cream ($7.50 for a medium). Japanese-style dessert is otherworldly. This parfait has everything your betsubara craves: kanten jelly, azuki beans, water chestnuts, matcha chiffon cake, cornflakes, mochi and matcha soft serve topped with an extra swirl of vanilla soft cream. Most ingredients are prepared on site if not imported from Japan.
While I really enjoyed the creaminess of the vanilla, the earthy matcha soft serve won me over with it's fine texture and slightly bitter finish. I thought it was closer in texture and taste to a sorbet than a cream, which also probably why it had such an intense green color.
After the parfait, I craved a bit more of the refreshing green stuff so I went back in to order a iced matcha tea ($3.80). It's slightly sweetened so it isn't too grassy, but the drink's silky mouthfeel will to keep you sipping as you stroll along Kuhio Avenue. After tasting this, I can only imagine how sublime the matcha and hojicha (roasted green tea) floats would be on a hot Waikiki day…or any day for that matter.
If your addiction to green powder is as strong as mine, make Matcha Cafe Maiko your first and last stop in Waikiki and all your parking woes will melt away.
Matcha Cafe Maiko
2310 Kuhio Ave
Waikiki
@MATCHAcafe_MAIKO
www.matchacafe-maiko.com/eng