Something new: Koa Cafe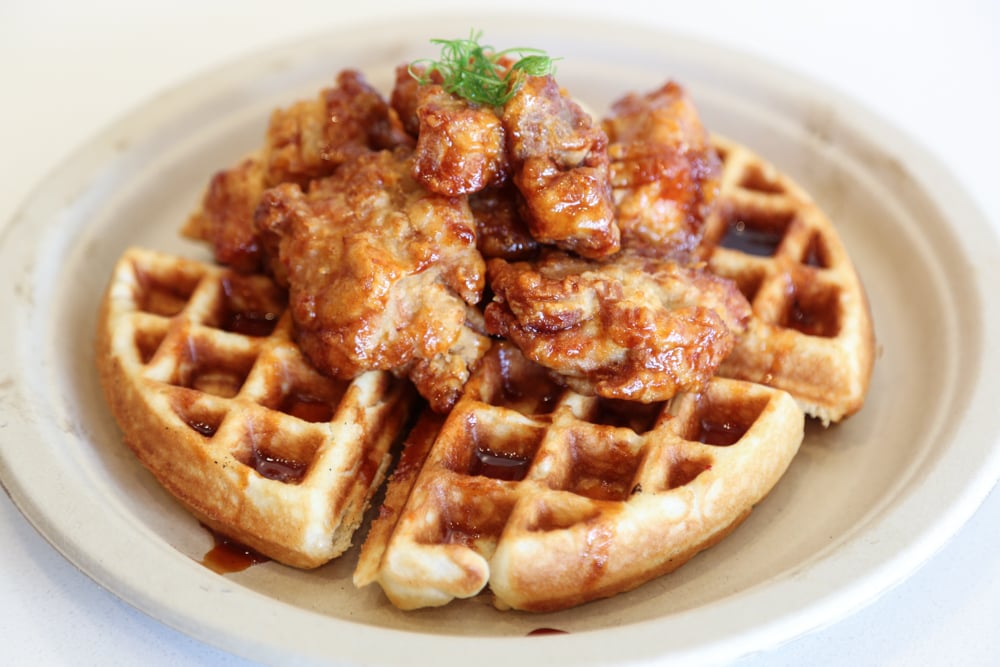 A new brunch cafe opened a couple weeks ago in Moiliili between Glazer's Coffee and Sushi King. Koa Cafe is owned by Juno Chung, whose parents founded the local Koa Pancake House chain. Juno's now taken over operations of both businesses.
So how is Koa Cafe different from Koa Pancake House? While the chain has classic favorite local breakfast and lunch dishes, Koa Cafe is a twist on traditional brunch spots. Its benedicts, fried chicken and waffles, pancakes have lots of updated local spins, often with a Korean sensibility.
"I wanted a breakfast with modern touches, and it has to be quick," Chung explained. Parking in the area can be tight, so you can call ahead to order and have the food brought out to your car.
The menu includes with some best-sellers from Koa Pancake House like kalbi steak and eggs and the succulent vinha d'alhos on the Porky Pork Benedict. Fun riffs on local favorites include the Butter Mochi Pancakes, Guava Lava Mochi Waffle and the Korean fried chicken and kalbi/kimchee benedict with sriracha hollandaise.
One of our favorites is the butter mochi pancakes ($8). It has the exact flavor of sticky butter mochi but the texture of pancakes. We ate ours without syrup (it's served on the side) and kept it that way – mostly out of guilt that we were eating a full stack of butter mochi.
The portions are substantial and the flavors are big and bold. Think hearty comfort dishes with familiar sweet and savory local flavors.
Overall, Koa Cafe is a great add to the brunch scene with delicious offerings at fair prices. We'll be back soon to try more. We've got our eye on the brownie haupia pancakes.
Koa Cafe
2700 S. King St.
941-7778
www.koacafe.com
Open daily from 6:30 a.m. – 2 p.m.