Something new: Jing Du Noodle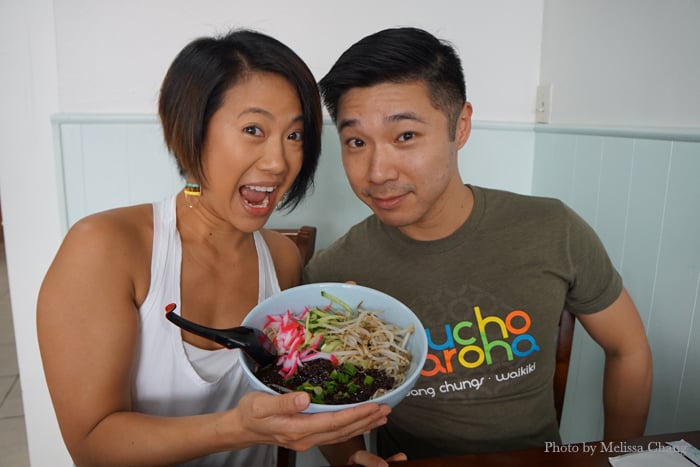 Usually the best discoveries happen on the fly. I had gone to the big festival in Chinatown last Saturday with our Will Chen, Wang Chungs owner Danny Chang and good Chinee girl Jennifer Lieu to see if I could find things that would qualify for my top five Chinese New Year treats without criticizing everything.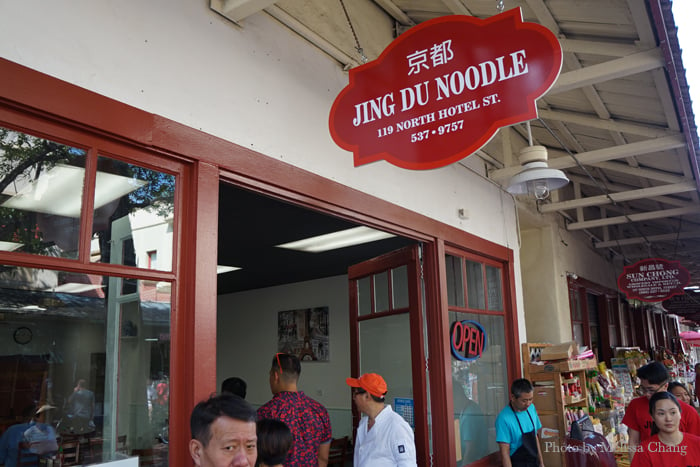 In the process, Danny suggested we try a new spot with handmade noodles called Jing Du Noodle. This got Will excited. Handmade noodles? Shi! Northern Chinese menu? Shi! Mandarin speaking staff? Shi!
"Jing Du" means "capital" in Mandarin, so that's a nice nod to the homeland. This place specializes in shaved noodles, which is common in Mandarin-speaking regions — namely, Northern China and Taiwan.
Jing Du Noodle is owned by the Zhao family, and everyone — dad, mom, daughter Yu Yu — know how to make their unique shaved noodle, since it comes from grandpa's family recipe. They've only been open a month and this is their first restaurant venture, so they're still tweaking the menu as they learn the ropes of operations.
"We've all had some kind of restaurant experience," Yu Yu explained, pointing out that her dad previously worked at a ramen shop in Mililani. "But this is our first time running one on our own."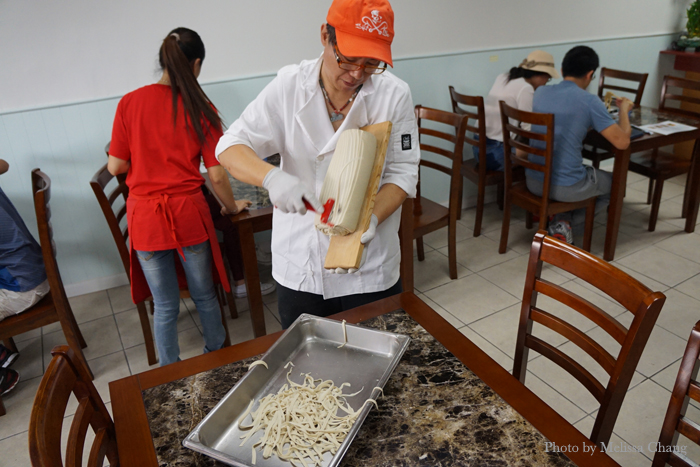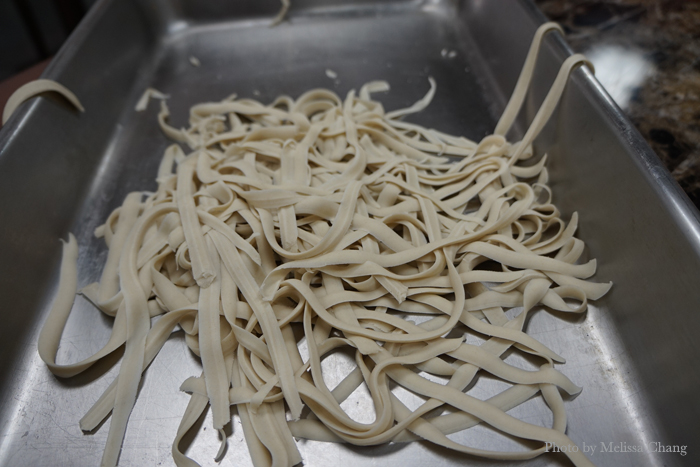 Chef/owner Mr. Zhao showed us the log of dough he uses, and did a demonstration of shaving noodles to order. The edges are thinner, causing a bit of a ruffled edge and supposedly enabling it to hold the soup or gravy better. Since the middle of the noodle is thicker, it may be too al dente if you dig into it right away. I like to let the noodles rest a bit after they come to the table, to get to the right consistency.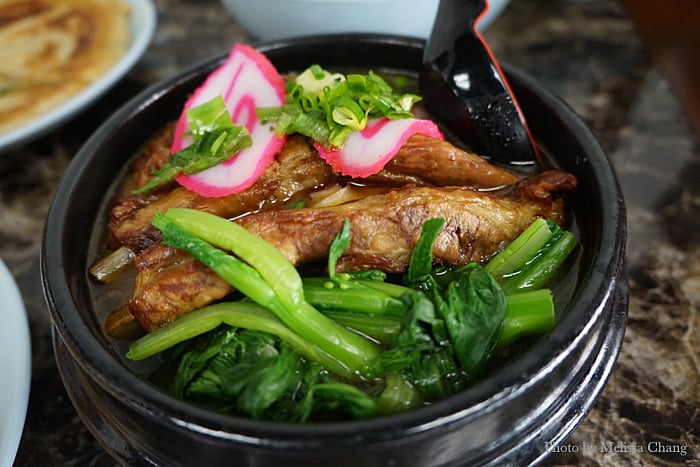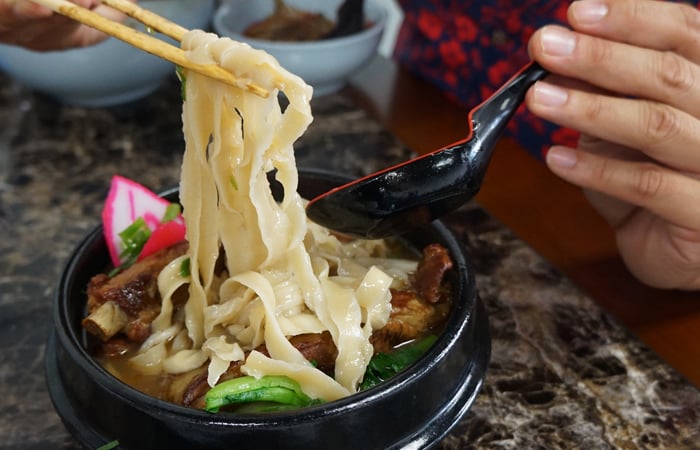 Here's what they look like in the fried rib casserole ($10.99). Three large pork ribs marinated and braised then flash fried to order and served over the shaved noodles. The ribs were tender, meaty and easy to eat. The broth was light but flavorful, and didn't detract from the pork ribs. The one oddity was the addition of "kamaboko," the Japanese-style fish cake. It wasn't terrible, but certainly not a traditional condiment found in northern Chinese cuisine.
The original Chinese spicy chicken is one of the more popular items on the menu, and I can see why. It's spicy, but not so much that you can't taste the other layers of herbs, spices, and chicken skin. The green onions actually give a perfect squirt of freshness to finish the end of each bite, so if I eat this again, I might ask for a little more of that sprinkled on.
I made the mistake of eating the beef shaved noodle after the spicy chicken, so it tasted a little plain by comparison. Don't get me wrong, it's good, and it's got that familiar beefy broth flavor that you'll find in the back streets of Taiwan. All the children in the restaurant were slurping this one down.
There will be some items on the menu that will give you the option of "machine fresh made noodle," which simply means skinnier noodles made by machine, and not shaved by hand. (We're hoping that they eventually incorporate hand-pulled noodles, when they get busy enough.) The Beijing soybean paste noodle (Zha Jiang Mian) is one of them, and it's a cheaper option, too.
The soybean paste noodle requires you to mix everything to get the ingredients evenly distributed. On this day, we thought the noodles were a little overcooked, which can happen when you're dealing with fresh instead of dried. It had good flavor, though, so hopefully they get the quality under better control soon. When I went back the next day, my friend's dad said the noodles were fine but the sauce was oily (as he slurped down the whole bowl).
The menu said "Chinese chicken sandwich," but the filling here is pork … on both days that I went, they ran out of chicken. No matter, it's still tasty, and served in pita-like bread that Muslims use for sandwiches. Remember, this is from Northern China, so the Muslim influence is strong. I liked that this was well-seasoned and moist.
One of my favorite sides is the cong you bing, or green onion pancake. The dough is layered, so it's lighter and a little flaky, then pan fried. Nuff said.
In true Chinee fashion, Will barged into the kitchen and asked to see the shaved noodle operation. Chef Zhao takes the loaf of dough and shaves them into a boiling cauldron of water to cook. Here's how they make it:
Jing Du Noodle
119 N. Hotel St.
808-537-9757
Open Monday through Saturday 9:30 a.m. to 9 p.m.; Sundays 10 a.m. to 9 p.m.