Something new: Ichiriki in Kaimuki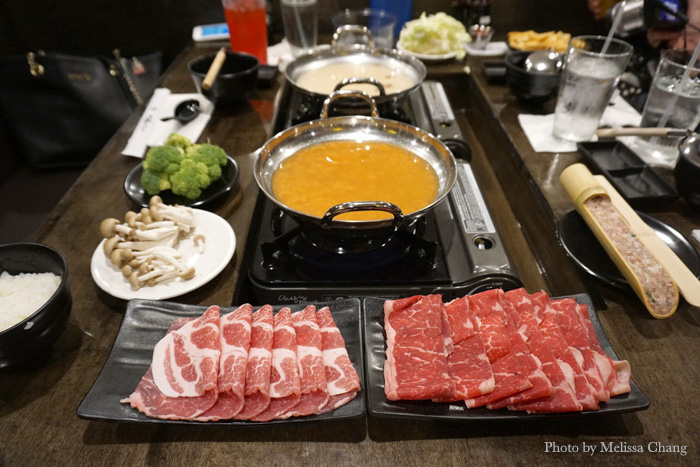 I don't understand Hawaii's obsession with hotpot.
Okay, I like it and I think the whole communal cooking experience is fun. I especially enjoy the places that let you make your own dipping sauces, as I'll go to town and make as many custom versions as I have room for. But obsessed? It's not like we have cold weather here all the time. My social media reached a new level of crazy last night over the new Ichiriki that opened in Kaimuki, and I'm still scratching my head about it.
I posted a live video on my and Frolic's Facebook pages showing the new hotpot venue's fancy conveyor belt set up. Then I posted on my and Frolic's Instagrams. At this writing, the Frolic live video generated more than 9,300 views, 304 likes, 59 comments and 103 shares. On Instagram, Frolic generated 2,270 views, 107 comments and 310 likes. My Instagram generated 940 views, 225 likes, and 23 comments. None of these are a record by any means, but the brisk spike in activity surprised me. It was like pandemonium broke out online. And during my dinner, the place filled up quickly. The manager asked people how they heard about it, and some said through Frolic's Instagram!
Here's the deal: Ichiriki opened its fourth hotpot restaurant in Kaimuki on April 5. They weren't sure when they were going to open due to permits, the contractor, and power going out last Friday. But the power went back on, so the owners decided it was time.
It is the first of the four Ichiriki restaurants to be kaiten style, which is a conveyor belt with the various hotpot offerings moving past you to choose as you please. The veggies are $2 per plate, tsukune (chicken sausage, their specialty) is $3 per tube, and deluxe sides like shrimp, calamari, beef balls and assorted mushrooms are $5. You can order meats for $5 to $6 per 6-ounce serving; ribeye and combo meat plates are $9 each.
You can choose from about a dozen different broths for $6 each; the lunch special from 11 a.m. to 4 p.m. offers broths at $3 each. No matter which meal you eat, the broth is refillable until you are done. Each initial pot of broth comes with a bowl of rice.
There's no official closing time, but Sundays through Thursdays, last call is at 10:30 p.m. On Fridays and Saturdays, last call is at 11:30 p.m.
How was it? I liked the paitan broth because it was neutral — it went well with anything we threw in it without masking the flavors. I also liked its saltiness. I was afraid to try the angry goma at first because it's supposed to be at the spicier end of the spectrum, but the waitress assured me she could adjust the spiciness level. That was also good, since it had more flavor than just plain heat, and the more you ate the more the spiciness grew in your mouth.
How was the price? I'm not sure if we were typical, but there were four of us and we had 17 veggie plates, four meat plates, French fries, four ice cream bowls, four fruit punches and a glass of wine and it came out to $106. That's about how much it would cost in regular hotpot restaurants, so I guess you pay the same amount but get a different experience.
Finding the place may be a little difficult. You park in the same lot as Big City Diner and Happy Days in Kaimuki, but then you need to walk out to 11th Avenue. As you face the basketball courts, turn left, and walk toward Subway.
Now you know. So let me know: Other than the fact it's been freezing in Honolulu the past few days, tell me why you are crazy for hotpot!
Ichiriki
1127 11th Ave.
808-735-2299