Something new: Hopika Bake Stop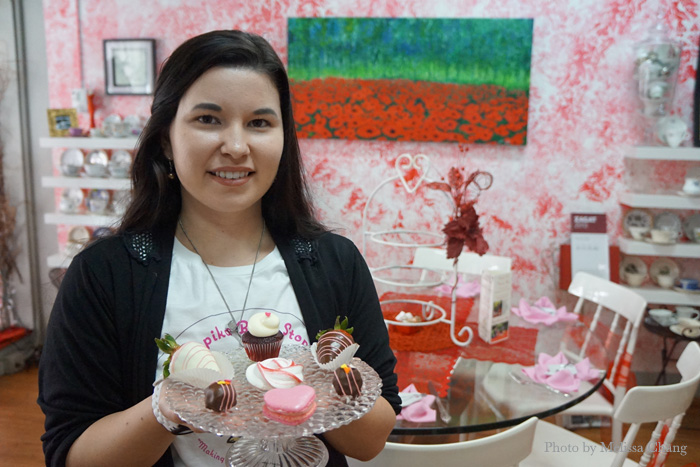 It's First Friday! You're probably headed to Chinatown tonight for the big monthly street party, so here's a civilized option for you as you weave through the crowds and art galleries looking for a place to sit and eat.
Tea at 1024 will be open, so make reservations to get tea and dessert featuring Hopika Bake Stop, a sweet new company by three local girls bringing their culinary skills together. Kimmy Harbin (pictured above), Amber Weatherford and Hope Gonzalez will be serving platters of their baked goods only on First Fridays at Tea at 1024, offering seven sweets and a pot of tea of your choice for $15. Reservations are required.
All three young ladies are graduates of the Gros Bonnet Culinary Institute with emphasis on pastry. Why Hopika? They chose it based on Hope's name, thinking they were making it up, but they found that it actually has various meanings in other languages, one of which is "to enjoy the finer things in life." They liked that , so it stuck.
Why Tea at 1024? Kimmy has been an employee there since high school, and owner Michele Sorensen wanted to give them a brick-and-mortar platform to showcase their skills (currently you can only get their goods online).
"A personal vision of mine is to empower young women to pursue their own dreams," Michele said. "There's such a great satisfaction when I see my workers blossom and grow. I love helping them take their first steps in the business world."
I talked story with Kimmy to get to know her a little, as you can see in the video below. But you can meet her yourself tonight at Tea at 1024, and get a taste of her skills.
Hopika Bake Stop at Tea at 1024
First Fridays, 5 to 9 p.m.
1024 Nuuanu Ave.
808-521-9596 (reservations are required)