Something new: Harbor Restaurant at Pier 38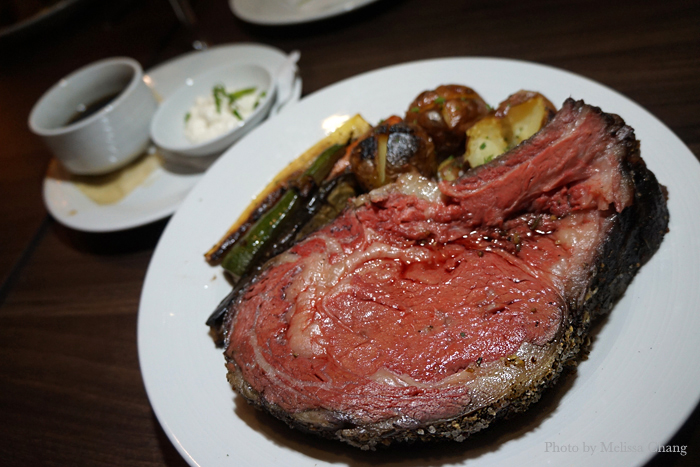 With most restaurants now, there is no such thing as a soft opening. They open their doors and BOOM! everyone's busting down the doors and picking apart the food and service within the first hour, and posting it online for the world to see.
With Harbor Restaurant at Pier 38, a soft opening was possible, since they are hidden in the second floor space above Nico's at Pier 38. (You've seen us cover events there in its former life as Harbor View Center, like the Joy of Sake kickoff and Awamori Festival.) Their chef, Rob McDaniel, is also not a flashy big name (various staffers weren't even sure about his name or where he was from), but has worked for more than 30 years in food and beverage, of which 20 were in Hawaii, including at La Mer at the Halekulani alongside Donato Loperfido and as a corporate chef for Macy's.
Word leaked out slowly through the grapevine when they opened three weeks ago, and it's been gaining traction ever since. When we've gone for lunch, it's still fairly empty, but dinner seems to bring a larger crowd. Interestingly enough, each time I've gone it's the diners, not the staff, who emphasize that they're in soft opening mode. Don't get me wrong — the food is good and the service is nice, but there are definitely some kinks that are still being worked out as they find their groove.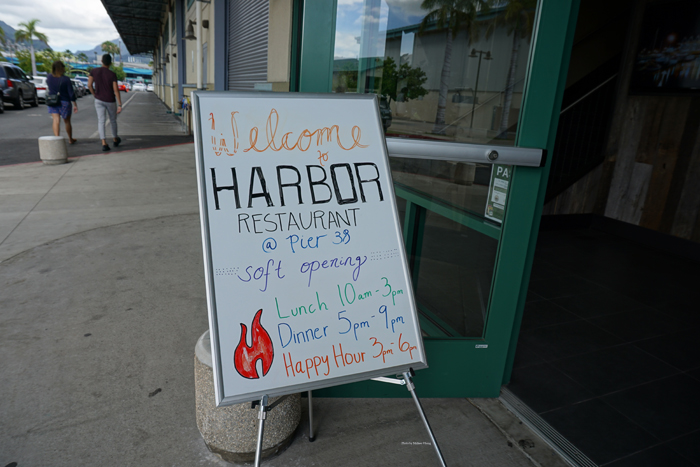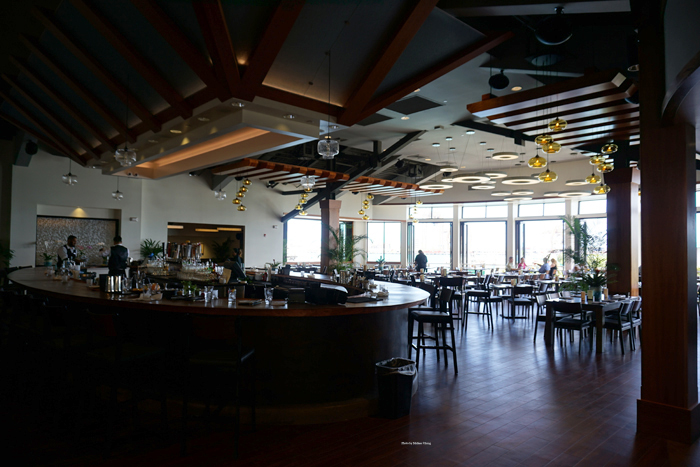 The old Harbor View Center space has been transformed into a cavernous restaurant with a huge bar, which seems to be the trend with new restaurants. The bar has a copper top and the restaurant boasts "16 beer taps chilled at 29 degrees, fine bottled and tap wines, and craft specialties."
There's also a private room on the side for special events, but I didn't peek in since everyone seemed pretty busy.
The big bragging point is the kitchen, which has two Spanish brasa ovens. These charcoal-burning ovens are made to envelope the intended dishes in extremely high heat, like a smoky flash roaster. (That's my best definition.) Not everything is cooked in the brasa, but you'll see markings on the menu so you know what is.
This is especially good for cooking meat, so although this restaurant is on the harbor and next to the fish auction, it's really more of a carnivore's dream.
We liked the brasa mushrooms, which are topped with a soft egg, cheese and herbs. When it gets to the table, mix it all up and eat it with the bread. This is good hot, lukewarm and cold, but for some reason the bread pulled all the flavors together. When we ate it without bread, it was just okay. I'd still recommend it, but don't skip on the carbs.
For us the roasted eggplant wasn't as good, mostly because the meat of it was still very hard. Maybe it's one of those things that needs to be tweaked, since it has a lot of potential as a vegetarian dish.
The grilled vegetable chowder was one of our favorites at lunch, not just because it had a lot of flavor, but it was full of vegetables and abundance of fresh corn. The chowder is topped with a huge hunk of cheese, which makes it even richer than it already is, but that makes it even better with the bread.
I personally liked the onion soup. The first time we had it, it wasn't scalding hot, which some people don't like. The next time we had it, it was. The soup is chock full of onions, bread, and cheese, so it is almost a meal in itself.
We didn't know what to expect with the Spanish grilled octopus, since it came to the table looking like tako salad. But lo and behold, it was warm and tender, with a light, fresh salad dressing that brightened up the meaty, smoky octopus.
The ceviche style poke was good; not much to say about it if you have had poke before except that there is a squeeze of lime to give it the ceviche flavor.
The Crush tastes exactly how you think it might — with press oranges, Ocean vodka, aperol, vanilla, and lemon — a refreshing citrusy, vanilla cocktail. It doesn't really taste like a creamsicle because there's nothing creamy in it, but it's good and different.
On the night I ordered this, I got a strawberry daiquiri delivered to me first by mistake, but I didn't know because I'd never had The Crush before. The waitress spun by and realized it was wrong, brought me the right drink and comped the daiquiri. They're quick to catch their mistakes and handle it well, but that seems to be part of the soft open dance.
I didn't get to try the steak kebabs, which are available at lunch, but my carnivore friend said that these were very good.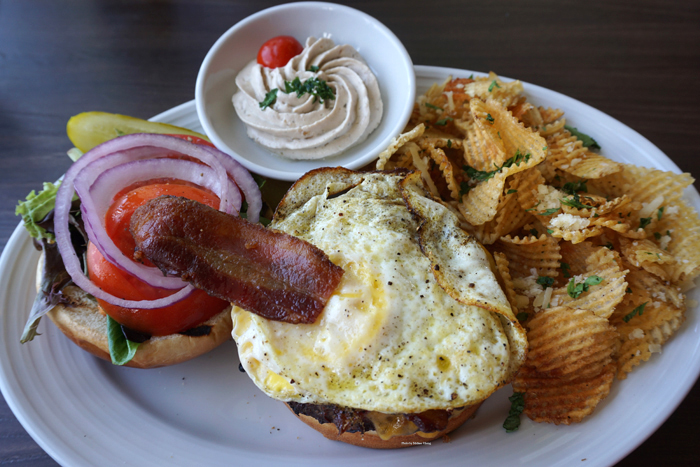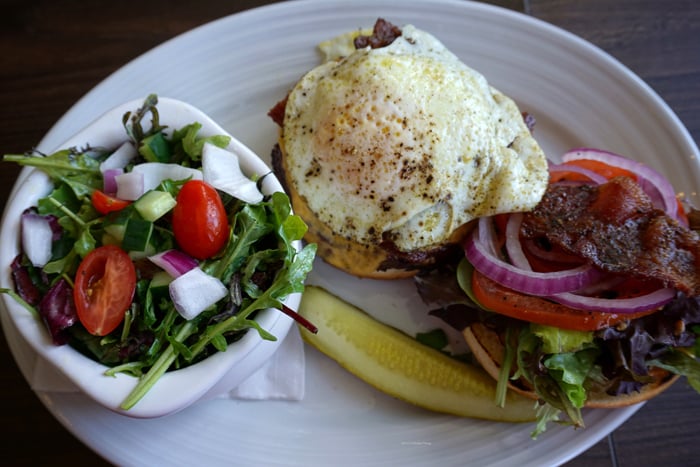 His friends each ordered the bourbon bacon cheddar burger ($16), which they said was good. One with chips, the other with salad. I didn't realize that that "parmesan chips" listed on the menu were potato chips with parmesan cheese; I thought they would be crisps of parmesan. So keep that in mind before you order.
If you know my business partner Russ Sumida, you know he doesn't eat anything fancy. The sweet ginger shoyu broiled pork shoulder was plated pretty fancy, but it was simple enough for his tastes. I liked it, too — the meat was tender and very smooth, almost like chicken, and the sauce was just the right balance of sweet and salty. I probably would order this if he weren't around, but since I knew I could steal food from his plate, I didn't have to.
The waitress said their pastrami would melt in our mouths, and she was right. This super-savory, moist, tender Reuben sandwich is a winner. Oh, and that pate-looking dish on the plate is a Maui onion dip for the chips, not a spread for your sandwich, but it actually worked well on the sandwich, too.
We were a little disappointed in the lobster mac 'n' cheese, in which the lobster was overcooked and the spices a little too overpowering for the overall dish. I don't know if it comes out this way every time, so they may need to keep tweaking it.
If I'm going to call a signature dish, I'm going to name the prime rib. You can't tell in this photo, but it's a gigantic slab of meat that looks like it came straight out of a Flintstones cartoon. My friend had it before and had it with the bone in; mine was served the same way. It was so good, I went back the next night to have it again and it didn't have a bone (so I can't guarantee that part). This was cooked perfectly rare each time, with a perfect herb salt crust. Our waiter wasn't sure they could deliver it this rare, so he was relieved when they did. Another friend ordered his medium rare and was impressed, as well.
Unless you're a big eater, I'd recommend splitting this or expect a doggy bag. Although it's mighty tasty, it's too huge to finish, I think.
You can't go wrong with misoyaki Chilean sea bass if you want something lighter. This is super moist and is very salty (due to the miso) so consider that if you're cutting carbs — because you'll need the rice.
If you're not getting the prime rib but are still carnivorous, the bone-in ribeye is another good choice. We ordered this rare, and it came perfectly cooked and perfectly seasoned. That knob of garlic butter is a great touch, too.
The brasa smoked pork chop is served on a bed of baby spinach and lentils, which is a different twist, but no matter — these were probably the moistest pork chops we've had, so we were focused on that. I was surprised, too, since the chops were so thick, but they were cooked all the way through and were miraculously moist.
The cast iron skillet s'mores are a staff favorite, and I liked the ice cream to give it a contrast of hot and cold. It was surprisingly not as cloyingly sweet as we expected, so that was good, too.
The chocolate cobbler was pretty much just a brownie with ice cream, so keep that in mind if you order it. Not that it was bad; it wasn't what we expected.
The affogato is also a popular way to end the meal, and it's served in a martini glass for (in my opinion) easier sharing. If you plan on taking a photo of your dessert, be sure to inform your server. The first time we had it, our server poured the coffee over the gelato immediately at the table, before we could stop her. The second time, our waiter instinctively stepped back so we could do our thing.
At the end of my last visit, I was busted and recognized, so the manager sent out a cocktail called the Marilyn Monroe. I couldn't find it on the menu, but it's a creamy, lemony blend with chocolate, and a basil leaf. It sounds like an odd combination, but it was actually pretty good.
Harbor Restaurant is definitely worth a try, especially the meat dishes. As everyone is saying, the place is still in soft opening mode, so although it's not flawless, it's still good enough that you'll want to return. (And maybe once they're out of soft opening mode, they'll do something about their social media, too.)
To see more photos, plus the menus, click here.
Harbor Restaurant at Pier 38
1129 N. Nimitz Hwy.
808-550-3740