Something new: Ginza Sushi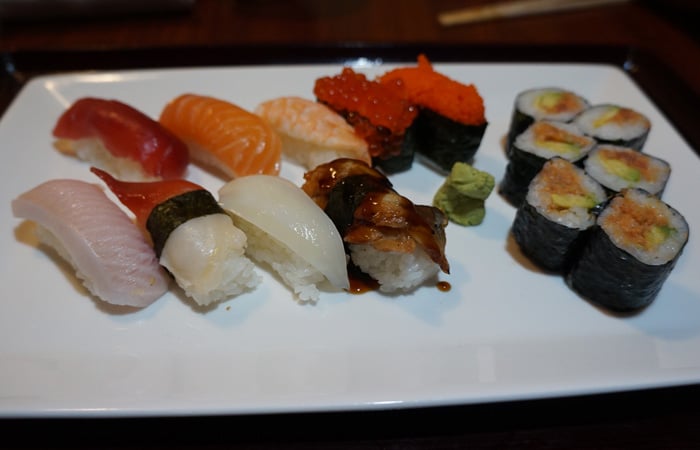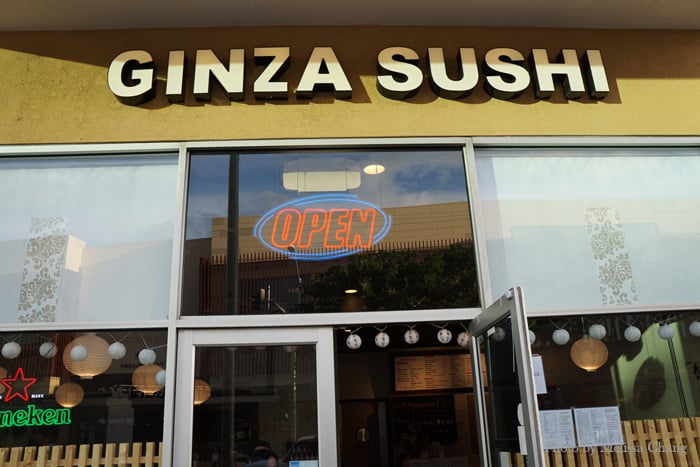 If you went to Ward Centre recently, you probably didn't notice that Ninja Sushi — facing Auahi Street next to Z Pizza — has a new name. About three weeks ago, the take-out sushi joint turned into a sit-down restaurant called Ginza Sushi. The owners, Russell and Chong Won, are the same; they parted amicably with the Ninja franchise to be able to present more creative sushi rolls.
The Wons have been in restaurants for the last 30 years, so they may look familiar. They were the original owners of Liliha Inn, a little business with reasonable and tasty take out Korean food. After burning out and finding themselves, they ended up with Ninja Sushi, which started downtown and eventually moved to Ward.
We got to try some of their offerings last night, and found them to be perfect for the local palate … and budget. Shown here is the Ginza Special, Won's signature roll. It's shrimp tempura maki topped with firecracker poke, a nice combination of spicy and crunchy.
The aloha roll was a nice surprise. Seared salmon, asparagus, tobiko and tempura flakes are rolled up with rice, then topped with spicy sauce and tereel sauce. What? The Wons make their own sauces, so "tereel" is their proprietary teriyaki-unagi sauce. We all liked this one, as well, with so many flavors and textures.
You can't go wrong with a simple sushi plate. The fish is fresh, the slices are generous, and … well, that's it. That's all you want from raw fish!
The salad is a pretty good deal. It's a basic spring mix for $5.95, but you can add things on to make it more palatable or fun. This one had poke ($4) and avocado ($1.75). Now, the salad is nice, but the miso sesame dressing is amazing! We asked for seconds and told them they should bottle it. The dressing is light and full of umami.
They have some teishoku sets, which is nice for families. This one also comes with rice, salad, and miso soup, which was good, but not like the rolls. This was the only thing we felt was overpriced, and the flavors reminded us of teishoku sets our parents used to order. Now, it's not necessarily bad, just basic, especially after having some innovative sushi rolls.
If the triple combo is too big, you can order a single entree teishoku that comes with rice, salad and miso soup. This salmon was moist and tasty, especially with that tereel sauce.
You can't go to a sushi place without ordering nigiri! This is the omakase, which of course changes from time to time, depending on what's available. You get nine pieces of nigiri with spicy ahi-avocado maki. This was pretty filling — I'll probably get this for dinner next time, if I don't try the garlic crunch or Captain Crunch sushi rolls.
For now you can order mochi ice cream for dessert, pending availability of flavors. This is a nice, small sweet treat to end the meal.
Overall, we felt this place was a good value and the dishes are delish. We can't wait to try others there!
Ginza Sushi
1200 Ala Moana Blvd. (Auahi Street)
808-593-9797