Something new: Franky Fresh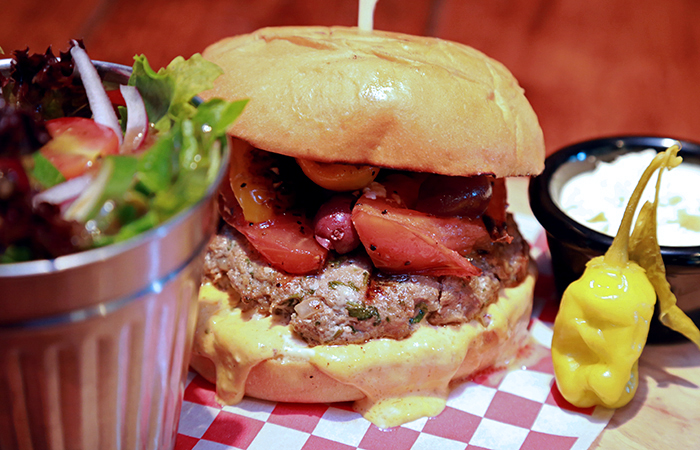 Franky Fresh is the culmination of Darien Provenza's love for burgers, his dad, the 80s and hip-hop. The new burger shop near the top of Waialae Avenue features five burgers made from Big Island beef, four sandwiches on toasted French bread and three thick cereal milkshakes (yes, cereal. More on that later).
The walls, as notable as the menu, are lined with boomboxes found on eBay, street art and memorabilia including a Fresh Prince poster and Kid 'N Play's '2 Hype' album. Provenza even set up a Super Nintendo with a ton of games like Mortal Kombat, NBA Jam, Mario Kart and Bomber Man.
Provenza grew up in a family with a long history in the food industry. Even though he's only 27, he has over a decade of experience in restaurants, including his family's Fat Greek eateries. He named his burger shop after his dad, Francois (Franky).
Provenza found a challah bun for the burgers that was soft and pliable but stood up to the toppings and sauces he was piling on each burger. For the sandwiches he found a toasted French bread that had just the right amount of crispiness.
Relive the best parts of your childhood with housemade milkshakes loaded with your choice of Cap'n Crunch, Cinnamon Toast Crunch or Trix.
My favorite burger is the Fresh Prince ($12.95, comes with fries or a salad), a burger stacked with Swiss cheese, onions, baby portobellos and bacon. I love mushrooms and onions on my burger and I can't say no to perfectly melted cheese tying all the ingredients together.
The newly renovated space has dine-in tables and a bar awaiting a liquor license.
Franky Fresh
3040 Waialae Ave.
808-734-0404
Monday to Sunday 4 to 10 p.m.