Something new: Fortune Noodle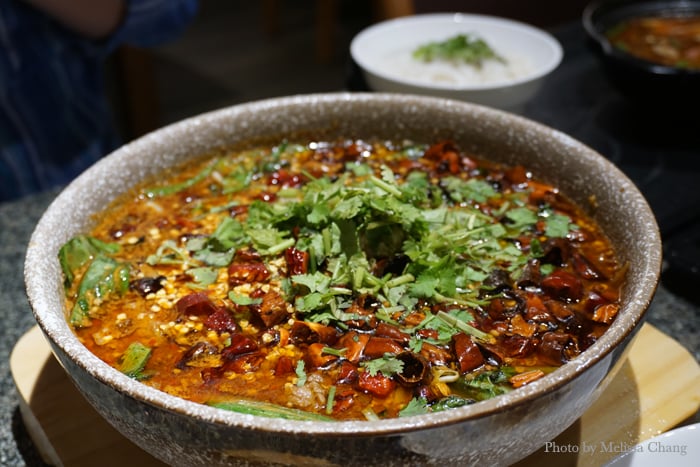 What comes to mind when you think of Chinese food? Orange chicken? Egg rolls? Peking duck? Well, one of those three actually hail from the Middle Kingdom. Recently Honolulu got an injection of some authentic regional Chinese cuisine, and we went to scope it out. Welcome to Honolulu, Fortune Noodle.
This is the first Fortune Noodle in Hawaii — it's a chain in China with more than 100 restaurants — and the first restaurant to offer authentic Sichuan cuisine in the islands. So we have to wonder: Do Hawaii people even know what Sichuan cuisine is?
Sichuan, which literally translates to "four rivers," is a province in China whose cuisine is most famously known for being "MA" numbing, and "LA" spicy. Sichuan peppercorns are used frequently and generously in a lot of the food and is certainly no different here at Fortune Noodle. If you've never experienced Sichuan peppercorns before, they are quite unique, and known for producing a slight numbing sensation on the tongue with bright citrus and floral notes.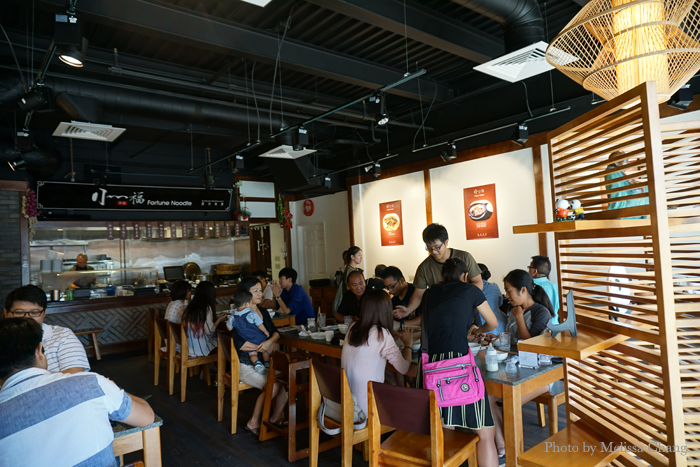 The restaurant opened just two weeks ago, so we were surprised to see it was already filled with mostly Chinese nationals. Most, if not all the patrons could speak Cantonese or Mandarin. But that's a pretty good sign.
Owner George Qiu, who explained a little about Sichuan cuisine and Fortune Noodle's chain in China.
To start: Get some veggies. You can order a combination platter of four vegetables ($8.99) or a single order ($4.99 each). The combo is the best way to try them all; our favorites are (clockwise from top left): pickled cabbage with shredded potato, fried egg with tomato, spicy sautéed string beans, and especially the wood ear mushrooms.
Melissa: I always like wood ear mushrooms, but this is the first time I had them tossed with chilis. I liked that a lot — it gave a nice kick. I also liked the shredded potato; for some reason that tasted very Chinese, even though I'd never had it before.
Will: It's very traditional to start your meal with some cold dishes. The wood ear tossed with chili and Sichuan peppercorn are delicious as is the shredded potato, thinly sliced and perfectly crunchy and savory. I do wish they offered bitter melon somewhere on the menu.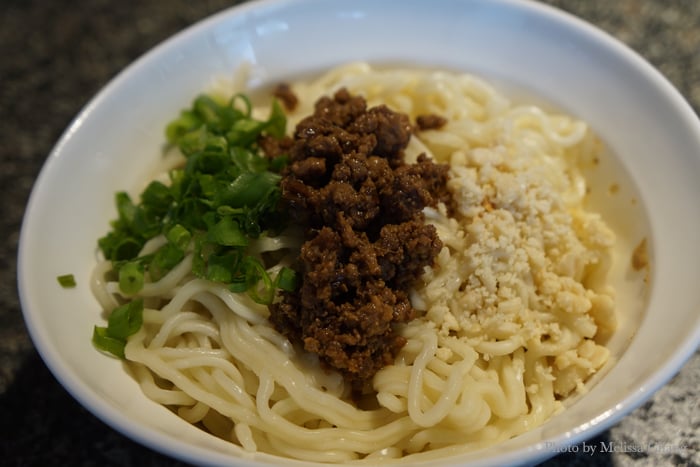 Dan Dan noodle, $6.99. Noodles with spicy ground pork, garlic and onions.
Will: Probably one of the most famous dishes from Sichuan. Ground pork, freshly toasted sesame, chili oil, Sichuan peppercorn and a handful of chewy noodles to toss it all together.
Melissa: The menu says spicy, but it's not really that hot. I still liked it, though. It had a nice balance of flavor and texture.
Melissa: The spareribs are more sweet than sour, but that's okay. My palate tends to prefer things to be sweeter, so this was good for me. If you like the flavor, keep the sauce on the side for other items. Not pictured: flour-steamed spareribs (too much flour).
Will: I didn't try these sweet and sour spareribs, but did like the flour steamed spareribs. Tasted just right, with short pork ribs, dusted in flour, then steamed and tossed in sauce.
Will: I'm a dumpling snob. Not sure if they put these on because they thought every Chinese restaurant should, but they are not necessary for your meal. Our table found these…missing something. Wait, is it really called fried gyoza? Le sigh….
Melissa: At $4.25 for six pieces, the price is right for the gyoza. It wasn't anything special, but probably good to order for the kids to munch on while you eat the spicier items.
Melissa: I'm not sure what hot stone noodle is, and the press release did not describe it, but the tureens that these soups come in seem to be made of stone. Is that it? Anyway, the tomato soup is not very exciting, but it's probably good for people who don't want it too spicy.
Melissa: By contrast, the spicy beef soup was tastier and more complex. I didn't think it was too spicy for the average person, either. I'd probably order this again with friends. The one thing that I didn't like with either soup was the noodles. They seemed a little soggy, and when you ladle the soup over it, they became too slippery, like chicken long rice.
Will: I don't have the official word, BUT I am choosing to believe this is the restaurant's take on Guo Qiao Mi Xian, which is actually the regional dish of Yunnan, located south of Sichuan. So not sure why it's here. But fret not, it's super tasty. And like volcano lava hot. So don't burn your mouth! Guo Qiao Mi Xian translates to Bridge Crossing Rice Noodles. The folklore states that Mr. Husband used to work a distance away across the bridge, and every day Mrs. Wife would need to bring him lunch. So dutiful! For a while, the food would arrive cold, so Mrs. Wife crafted a way to keep it piping hot. By keeping it in stoneware and finishing the soup with a heavy layer of oil, the meal was still hot when she arrived. Noodles and garnish were kept separate and added at the last minute to avoid overcooking. (Mic drop.)
Will: The sheer sight of this might have most people running for the hills. It honestly just makes my mouth salivate. Tender slices of beef, seasoned and poached in a deeply seasoned broth and then smothered in a sea of chili and chili oil. Herbs, lettuce and soy beans swim freely for color and texture. I'm a little disappointed that they aren't offering this dish with a fish variation, but this beef one is delicious.
Melissa: When I ordered it, the restaurant turned it down from level three to level two on the heat index. I know local people who like spicy food will want to try this, but I'm not sure everyone will like it. I didn't care for the Sichuan peppercorn overload, as it gave the broth a bit of a Pine-sol aftertaste for me. The whole thing about Sichuan spice is the way it numbs your tongue and makes your taste buds crawl, but I wasn't into that. I will admit, I enjoyed the way it changed the taste of everything I ate after that, though. (Will said this tastes like China, which makes me think my China tastes like Taiwan.) Recommended pairing: Yuzu sake from the Sake Shop on King Street.
Melissa: I loved the red chili oil dumpling. It was moist and tasty, with all that Asian flava you expect from such a dish. I wish they would give us the option to make it spicier, though.
Will: I wish they would have made wontons as opposed to dumplings. Wonton skins are thinner and hold the chili sauce a lot better. Could do with a touch more seasoning.
Melissa: At first I wondered what we ordered, because this doesn't look anything like the menu picture. Aside from that, this was quite dericious — who doesn't love fried pork strips? I liked this dipped in the sweet sour sparerib sauce, too.
Will: Wait what did she say? Mine came with chili powder. I thought it was okay, but my table gobbled it up like hungry hungry hippos. It's literally dusted and deep fried bacon.
Melissa: Mine came with chili powder! (Not pictured.) I just liked it with the sparerib sauce.
Melissa: I didn't have this the same night as Will. Mine was okay, although a little soft. It was kind of like chawan mushi.
Will: Mine were a bit over cooked. No one really should enjoy the sight of grey eggs. Nice flavors and could really be a great offering with just a few small adjustments made to the pick up of this dish.
Melissa: Those who know better, know that these dishes are not served with rice in China. The restaurant is called Fortune Noodle because they serve all noodle dishes! But when they were planning to open in Hawaii, some restaurant consultant told them that they needed to serve more rice. Anyway, you can order these dishes without the rice and/or substitute noodles. The kung pao chicken is pretty universal; it's tasty and has a nice little spice kick.
Will: Diced chicken thighs with chilis and peanuts. I liked this, but some of the gang thought it was a tad too sweet. Not sure if I would pick it up again for $11.
Melissa: Okay, this had the same Sichuan peppercorn sauce that was in the boiled beef soup that I didn't like, but I liked this one. It wasn't overloaded with peppercorn and I got some tongue numbness, but I could also taste my food. I think it did change the taste of other things, but it wasn't dramatic.
Will: I with this had a bit more ground pork in it, because again for $11 it's a bit steep. But the flavors are correct. Perfectly spicy and just enough peppercorns to make it taste authentic.
Will: Melissa made us order this. JK. I'm not a huge oxtail fan, and this reminded me why. A lot of work for not a lot of gain. It was incredibly tender though.
Melissa: Shaddap. It was decent, but for $12.99 I don't know if I would order it again.
Melissa: Dessert reminded me of ai-yi from Taiwan! The waiter said it was similar, but not ai-yi. This is light and refreshing, and a nice way to end the meal.
Will: In all my travels around China, I have never had this before. And am mad. This is super delicious. Melissa says it made her think of Ai Yu, but without the lemon flavor. Served with a scoop of strawberry sorbet, you mix it up and break up the gelatin for a delicious cooling finish to a spicy meal. I'd go hang out to just eat this.
Overall assessment:
Will: For me this is a good introduction to Sichuan cuisine in Hawaii. BUT the offerings do leave me scratching my head, mainly due to the fact that a lot of "classic" Sichuan dishes are missing and some of the offerings seem a bit…odd. All in all, tasty and a welcome addition to the 808 neighborhood.
Melissa: I'm not sure how non-Chinese locals will like it, but it seems to be doing okay with Chinese nationals. As an ABC, I like having a different kind of Chinese cuisine in town. Since it's called Fortune Noodle, though, I hope they do more with noodles in the future so we can see how they really serve things in Chengdu. Side note, I was super impressed with the service, which was so good that I had to say something about it.
Fortune Noodle
808 Sheridan St.
808-349-3711
Lunch daily from 11 a.m. to 3 p.m., dinner from 4:30 to 8:30 p.m.
BYOB for now