Something new: Flyin' Ahi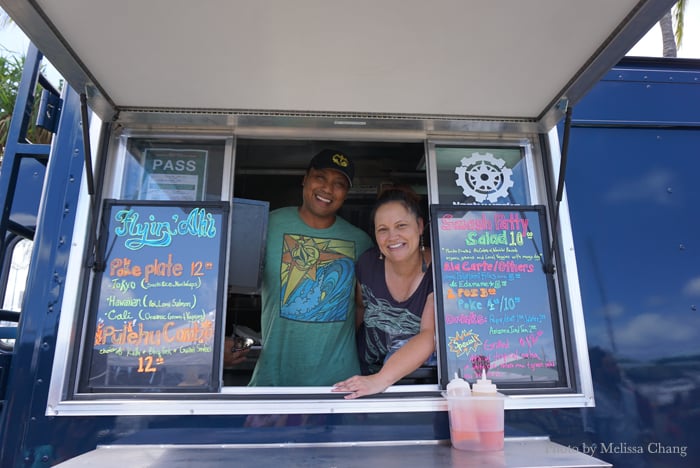 There are a few places in town that we haven't been able to preview — like Central Bakery and Menya Musashi — because they were just too unready for us to tell anyone to try. (Which is weird, because they are chains from Japan so they should get it right.) But at this writing, the new food truck Flyin' Ahi is starting their second week in business, and despite it being their debut in the food industry, the owners are making us 'ono for more.
Leroy Melchor was previously a nurse and had wanted to start a food truck for a long time. This truck, in fact, is at least several months in the making, with research, consultations with Poni Askew at Streetgrindz, and finding the right truck. Poni suggested poke as their focus, since there aren't many poke trucks on Oahu and none at Kewalo, the newest food truck venue. So Leroy got a nice truck that has a refrigerated window in front to display the poke, and outfitted with a shower so they can clean up after work. Loke is a teacher at Kamehameha Schools, so she and their kids help out since it's now summer break.
My friend Bruce Watson, who also teaches at Kamehameha Schools, introduced me to the truck and I liked it so much that I went back. He ordered the one non-fish item, the pulehu combo, which has skewers of kalbi, barbecue pork (looks like chicken) and guava smokies. One word: Mean! It's got just the right balance of sweet and savory. You'll notice that there is both mac salad and tossed salad in the plate, because Leroy didn't want to make it an either-or choice for people.
And if you think you need to be a big dude to eat this plate, think again. This young lady didn't even blink when she ordered the plate after a long day of fishing.
The smashed patty salad is comprised of panko crusted ahi cakes with wasabi ranch dressing, organic greens and local veggies with a mango drizzle. I didn't try this, but it's been pretty popular with people looking for a lighter meal.
There are three poke plates, or you can get the fish ala carte. You first choose the kind of plate, then the kind of poke. I tried the Tokyo poke plate, which comes with Korean nori so you can make mini temaki while you eat. Then I chose the "Flyin' Ahi" poke with ahi, salmon, tako, taegu, cucumber, green and white onion, limu, and…did I miss anything? I think there's more, but you get the picture. I liked this one a lot, partly because it's so different from other poke in town. It's fresh, with lots of textures in each bite, and I loved the little crunch of salt every so often.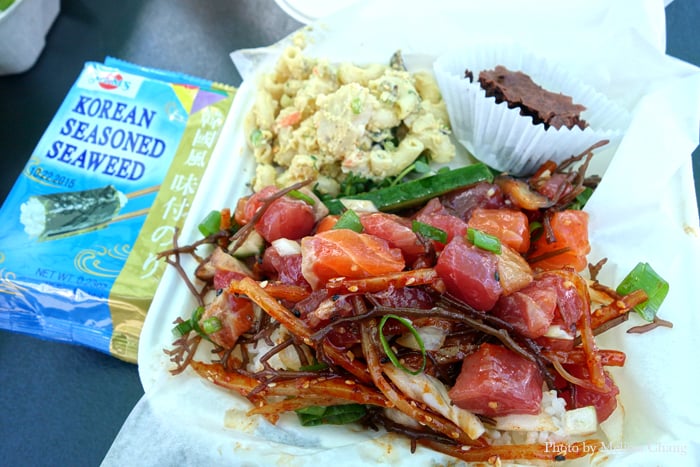 Also note the nice touch in the upper right corner? Every plate comes with a half-slice of brownie. I was surprised when I opened my box and saw that, since no one else does that on their plates. Leroy wanted a little taste of something sweet to finish the savory meal, and it kind of puts a "mommy loves you" touch on the whole thing. Stay tuned, though, as Loke may change it up with a cookie next time.
The Hawaiian poke plate comes with poi and lomi salmon. I believe this one is the "Koloa Boy" poke. I'm sorry I didn't get to ask what was in it before I left, but they'll give you a little flyer to help you order the poke of choice.
The Cali poke plate comes with organic greens and local veggies — a simple, straightforward plate. This person has ordered it with the simple, straightforward ahi limu poke. Just a reminder, you can order any of these plates with any of the pokes they offer, so your plate may look different.
Next time, I'll probably try their Tsunami Fries, which are tossed in the wasabi ranch. I wonder which poke I should try? Let me know what you think and I'll try it, too!
To see more, check them out on Facebook, Twitter or Instagram.
Flyin' Ahi
1011 Ala Moana Blvd. (the Streetgrindz street food pod)
Lunch: 10 a.m. to 3 p.m.
Dinner: 5 to 10 p.m.