Something new: Encore Saloon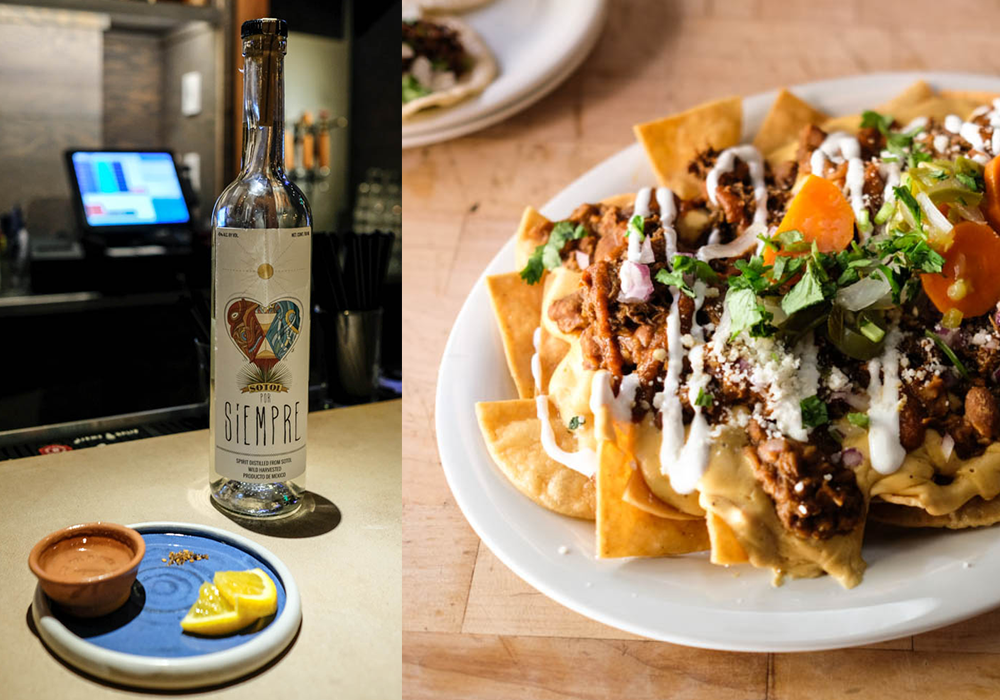 When you think of Encore Saloon, you imagine a bar full of dusty people on a dusty street in a western boom town. Not so fast, pardner. Turns out Encore was the name of the original establishment in this spot on Hotel Street, and the Kakaako restaurant formerly known as Cocina has just set up shop here, so it's a fitting name after all.
The revitalized block between Nuuanu Avenue and Smith Street is also home to Fete, Brick Fire Tavern and Downbeat Diner. Encore Saloon, set between Brick Fire and Fete, is a mezcal and tequila focused bar serving Mexican inspired fare. It's a welcome addition to the fast-changing culinary scene in Chinatown.
Encore has more than 30 selections of tequila and mezcal, with more on the way. If you're into vertical tastings, snag yourself a spot at the bar and ask for Quinn, the resident mezcal enthusiast.
Mezcal, for the unfamiliar, is a Mexican liquor distilled from agave plants. Technically speaking, the more popular tequila is a type of mezcal, although it is region-specific and uses the blue agave only.
Whether tequila is your jam or you're a newbie to mezcal like myself, bartender Quinn can point you in the right direction. We asked for a vertical tasting that would best pair with food. The three choices worked well with the beef barbacoa and chicken mole tacos.
Encore also offers a menu of handcrafted cocktails with a separate list of margaritas and slushy specials. Think backyard mango margarita slushies that'll keep you happy. Cocktails are about $10 and have some kick to them. The Orta Salon puts a citrusy twist on your standard marg while the Madre Medicina, made with whisky and a turmeric and ginger elixir, offers a dose of healthy with your poison.
If you're familiar with the kitchen offerings of Cocina, then you might be thrown through a lasso loop. Gone are the tortaguesas, migas and headcheese tacos. Instead you'll find Mexican staples like tacos, nachos and sides to complement the bar's focus on mezcal and tequila. Ole!
Small plates range from a bowl of achiote rice ($3) to a not-so-small Grime Time Nacho platter with barbacoa beef ($15.75). The house chips and salsa for $4 are nice to munch on if you're going the light route.
There's a reason the nachos have been on my table every time I've gone. The grime time cheese sauce has the right amount of ooze without being too runny, so it coats each chip without making them soggy.
I love Mexican rice and refried beans – something I used to order all the time at King Taco in L.A. The combo at Encore is legit and will add some heft to your meal. The achiote chile-spiked rice has the right amount of heat and the vegetarian beans are wholesome and flavorful for beans cooked without lard.
My order of two barbacoa beef tacos ($5.75) was gobbled up in mere seconds. The beefy flavor shines, especially against pops of cilantro and onion. The chicken mole tacos ($5) are my second favorite for their roasted poblano flavor and saucy disposition.
Encore Saloon
10 N Hotel St
Chinatown
Monday – Thursday 11 – 12 a.m.
Friday – Saturday 11 – 1 a.m.
www.encoresaloon.com