Something new: Egan Inoue's Cryo Therapy Hawaii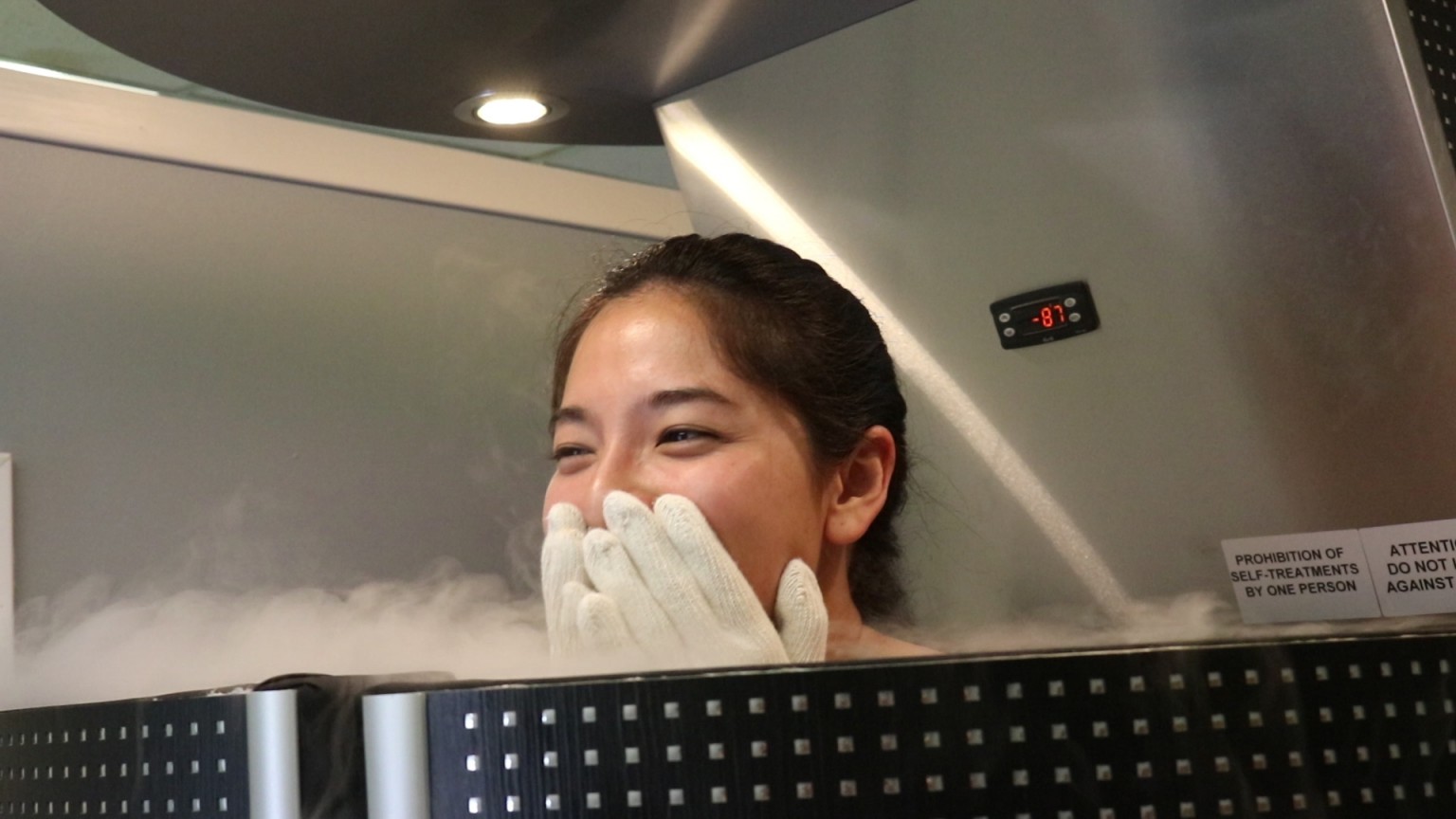 When Tea Farm Cafe at Puck's Alley closed at the end of November 2015, I wondered what could possibly replace the shop and their frozen fondue. Enter CRYO Therapy Hawaii, where you can treat yourself to a dip in freezing cold air instead. Ninety seconds is all it takes for a cryosauna chamber to drop the temperature to negative 250 degrees Fahrenheit and it's one of the newest trends in pain management and recovery.
The idea behind the machine is that extreme cold triggers anti-inflammatory responses for those with chronic pain or injuries, helps oxygenate and increase blood flow for healing, increases metabolic rate that continues after exposure to burn more calories, and even releases the happy hormone endorphin to improve your mood. Could you do all the same things with an ice bath? Yup. But if you want to cut the time and skip the soaking mess, cryotherapy makes for a fun alternative.
If you're worried about safety, CRYO Therapy Hawaii starts with a medical questionnaire; conducts a blood pressure test; and provides protective gloves and socks. The attentive staff, who are CPR, AED (defibrillator) and cryosauna certified, always keep an eye on you (in a non-creepy way).
Egan Inoue, known for his local Fit Body Bootcamps, brought cryotherapy to Hawaii after experiencing it himself from Hollywood cryotherapy doc to the stars, Dr. Jonas Kuehne. Inoue brought the exact same cryosauna back to Hawaii with him, trained and certified his staff, and has had quite a few local celebs and athletes visit his new biz for treatment, including Hawaii Five-O stars Alex O'Loughlin and Scott Caan, but it is open and available for everyone.
If it works for the stars, could it work for me? I've had left knee pain for a few years and a tendency towards skepticism, so I figured why not give it a try. Check out the video to see how it went:
Did it work? Kind of. By the time I was done with my whole body cryo session ($40 first treatment for Hawaii residents; normally $65), spot treatment for my extra sore knee ($40) and skin therapy cryofacial ($55), my face felt refreshingly taut and my knee actually did feel surprisingly better. Where it had hurt to bend before, my knee felt nearly normal afterwards.
Inoue explained that the lasting effects of cryotherapy vary based on your particular pain, some people needing more frequent treatments than others. He suggests coming in frequently to start and tapering off as your pains or injuries subside.
CRYO Therapy Hawaii
Puck's Alley
2600 S King St, Suite K106
Honolulu, HI 96826
808-397-6407
www.cryotherapyhawaii.com