Something new: Dean & Deluca's first Hawaii store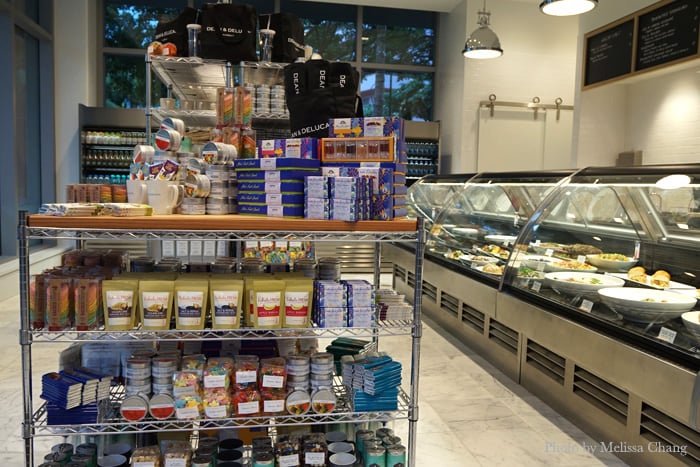 That's right, at noon today, the long-awaited gourmet food chain Dean & Deluca will open its first Hawaii location at the Ritz-Carlton Residences Waikiki. This will be their 11th store in the U.S. and 17th worldwide.
Foodies around the world know about the casual-chic store, which originated in New York City's SoHo district in 1977. They feature specialty ingredients for cooking, epicurean treats for snacks and entertainment, and elevated ready-to-eat deli choices. The Waikiki store is an abbreviated version of their usual blueprint, but you still get a good taste of what they have to offer.
You can get coffee and pastries on one side of the first floor, with a deli and a boutique of Hawaii products as well as their private-label items.
You definitely want to go to Waikiki for the unique, Hawaii-branded bags.
If you just want something quick, they have lunch boxes at about $10 each and fresh cut fruit — perfect for lunching on the beach. I'm just showing beers here, but they also have a variety of upscale soft drinks.
Upstairs, they have a wine lounge, with cheese and charcuterie to purchase for home use, or to eat there. The Sweet Land Farm goat cheese from Hawaii is (for now) exclusive to the Waikiki location.
They also have a nice selection of gourmet panini, about $15 to $16 each. (I didn't include photos of those as they were cut into sample sizes for us.)
The menus are still morphing a little as they get used to the production flow and customer demand, but overall this will add unique flavor to the hustle and bustle of Waikiki.
Dean & Deluca
Ritz Carlton Residences Waikiki
383 Kalaimoku St.
Open daily from 7 a.m. to 9 p.m.