Something new: Crackin' Kitchen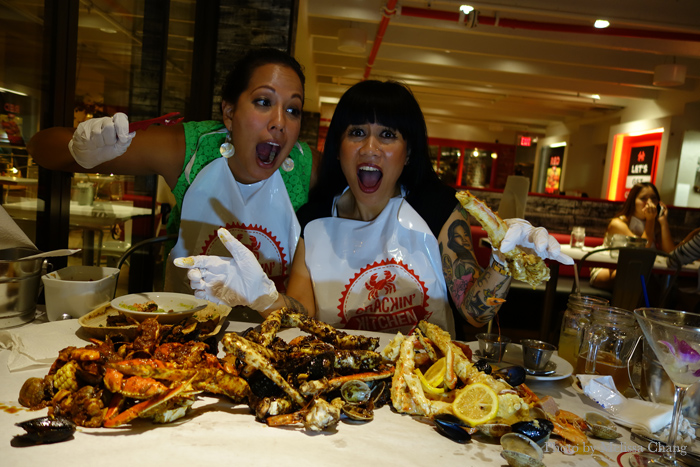 At this writing, there are only five crab boil restaurants in Honolulu (and a sixth in Aiea). The newest to hit the scene is Crackin' Kitchen, which is in the spot formerly known as Blue Marlin. Not familiar with Blue Marlin? It had operated for less than a year in the old Matteo's space on Seaside Avenue in Waikiki, owned by Toridoll and run by George's Corp.
At first glance, the menu looks like it's a Cajun-style crab boil spot, but it's more "Hawaiian-Cajun," with a combination of the crab boil elements with more contemporary offerings, like salad, soup, poke, chicken wings, lobster dip and more — but all using local ingredients. You can see more in the photos below, but basically, even if you aren't there for the crab boil, you can still get a nice meal with some Hawaii products.
Our friend Biancha Yalung was waiting all day to get this signature seafood platter. You get six raw oysters, ahi poke, jumbo shrimp cocktail, and snow crab legs. You can choose to enjoy it plain with a squeeze of lemon, with cocktail sauce, mignonette sauce, or their special vinegar sauce.
Here's another view so you can see the oysters. The nice thing about this is not having to do a lot of peeling or cracking; the shrimps are shelled and the crab legs are cracked and sliced. You do a little work, but not a lot.
What the heck are chowder fries? French fries and regular potatoes are mashed into a bowl and drenched with chowder (including carrots and onions), then topped with cheese and bacon. This one is topped with a fried egg for an extra $2. These are rich and savory, definitely something to eat with a fork! We didn't quite taste any difference with the egg, so although we do recommend this app, we think you can do without the egg.
I thought this was a seafood joint? For a little variety, we do recommend the guava-soy wings, which are super moist and have a nice sweet-salty balance. I think the Hawaii macadamia nuts are supposed to add to the local-ness of this dish, but we didn't think it was necessary. The wings are good as is.
You can't tell here, but the shredded lobster sits atop a creamy guacamole. This is a nice dish to share, especially with the house-made chips being so easy to eat.
If you like original cocktails, try the ones that Crackin' Kitchen has developed for the new restaurant. From left: Crackin' white sangria ($10), with white wine, kaffir lime, pineapple and orange; White Satin ($12) with vodka, St. Germain and lychee; and the Pele ($10) with chipotle infused tequila, lilikoi and lime. The first two are lighter and more feminine — good ones to contrast the spices in the crab to come. The Pele is, of course, more for people who like spicy drinks and food.
You can order the seafood by the pound, a snow crab combo ($40), or a king crab combo ($55). We ordered the Ultimate Combo ($70), which includes three bags, each filled with clams, mussels, calamari, shrimp, snow crab, king crab, spam (instead of sausage), potatoes and corn on the cob. Each bag features their signature sauce, from left: spicy red, using Hawaiian chilis; black, using Hawaiian cacao and cracked black pepper; and white, a Maui onion-based, non-spicy lemon butter.
Now, we had to think about the cost compared to other crab boil restaurants: One bag at another place with a combo of clams, shrimp, crawfish, crab, potato, sausage and corn has cost me about $40 to $60. The Crackin' Kitchen spread you see above is three bags for $70. The portions may be smaller to accommodate — we aren't 100 percent sure, pound for pound — but overall it's a pretty good value. Especially if you are with good little eaters.
As for the sauces: Biancha, who loves spicy food, not only liked the red sauce best, she asked for extra Hawaiian chili sauce to kick it up farther. We preferred the white sauce, because we were able to taste the seafood.
Many of the staffers seem to like the black sauce, which sort of makes sense — it's different and unique. It was interesting to crunch on the Manoa cacao nibs right in the sauce, but it was not our favorite.
Nothing highlights an end to a great meal better than something sweet. With all the food we ate, and the combination of rich and unique flavors, it's nice to know they offer one dessert to compliment the food, and it is light, fresh and colorful. The presentation is also memorable, as one of the staff artfully creates this colorful concoction of fresh seasonal fruits, homemade malasadas, locally grown and then crafted fruit puree and topped with sugar sprinkles and chocolate sauce. The personalized message spelt out using chocolate adds a nice touch to the finale of the meal.
Since opening last week, this dessert was the obvious end of the meal showstopper with many posting photos and videos of the wait staff presenting the dish on your table. It's not a complicated or fancy dish but was the perfect end to the evening as it was sweet, refreshing and a bit of a palate cleanser. The menu concept is inspired by Michelin-star Chef Takeshi Omae, who is known for his Japanese cuisine. The dishes are not very Japanese in flavor or portions but perhaps the whimsical, colorful and fruitful dessert created shows his playful side.
For locals to head into Waikiki, you must have a few things: Free/validated parking, of which they validate for up to four hours at the Waikiki Trade Center, good food, and excellent service. From the moment you walk-in the staff is friendly, approachable, eager and well informed of the menu and all of its ingredients. If you can't decide what to order from the bar or the menu, ask anyone and they will give you a recommendation with a smile.
Crackin' Kitchen
364 Seaside Ave.
808-922-5552
For more photos, click here.