Something new: Chubbies Burgers
Burgers, crinkle-cut fries and a shake: That's all you need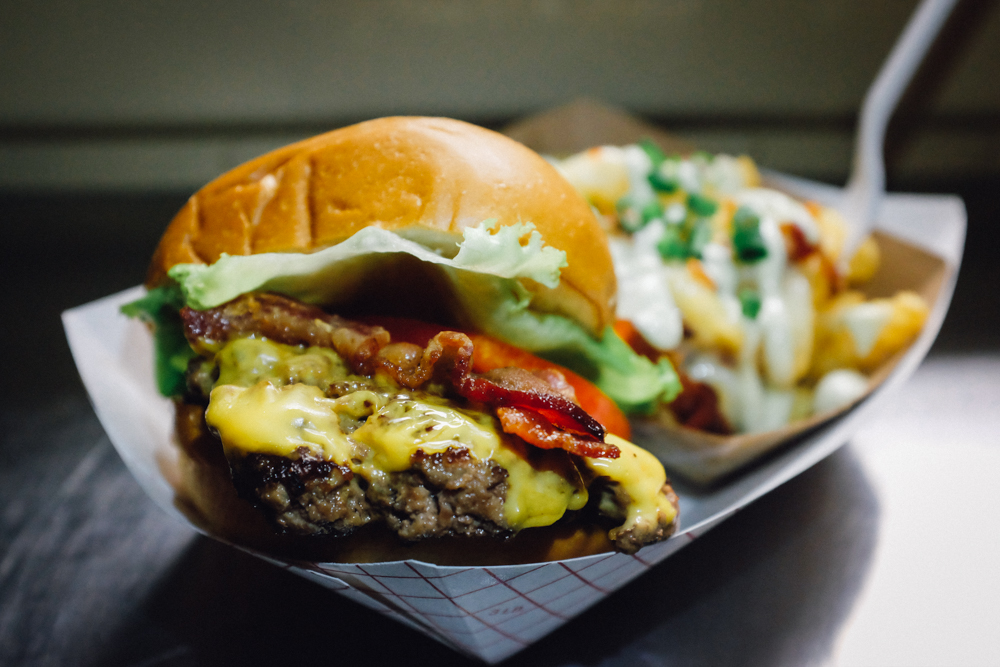 By the time you've caught your fiftieth voltorb of the night and your phone battery is down to 20 percent, a familiar feeling creeps up from your stomach. Pounding the pavement in search of rare Pokemon has taken its toll and you could eat a rapidash or two. Thankfully, at least one food truck has found an outpost on Auahi Street by Jamba Juice in Kakaako.
This is Chubbies Burgers.
The scents of burgers charring and onions caramelizing on the flattop are enough to pique my appetite. I give Chubbies a gander on Instagram and am intrigued by a striking resemblance to Shake Shack's Shackburger, my hands-down favorite. I line up for a taste.
Service is fast and friendly. They accept major credit cards on their Square terminal. Prices range from $9 for a single 50's Burger to $11.50 for a Ten Gallon. Fries run $2 to $6.50 and they're crinkle cut, which means more surface area for cheesy toppings.
As a chubbie myself, I go for a single 50's burger and add on bacon for $1.
For the fry situation, I indulge a bit and opt for the bacon fries ($6.50); they come topped with pepper jack cheese, green onion and jalapeno aioli. They're not spicy by any means but have a good amount of heat and peppery flavor.
Because they're crinkle cut, the crispy fries have lots of surface area to catch cheesy goodness.
Chubbies Burgers' full menu includes a lemon slush drink, soft serve ice cream ($3) and blended milkshakes ($6). If you're wondering if it's Hawaii's coming of Shake Shack, it's not. It is, however, a dang good burger and I can't deny that I'll be frequenting Chubbies when hunger comes a-knocking. The truck also parks outside the Brewseum on trivia Wednesday nights, answering a substantial food deficit on Waimanu Street.
If one truck can pull all of this off, it'd be as rare as a lapras … speaking of which, I need to get back to Pokemon hunting at the Kak Block.
Chubbies Burgers
960 Auahi St.
Kakaako
291-7867
@chubbieshawaii