Something new: Chengdu Taste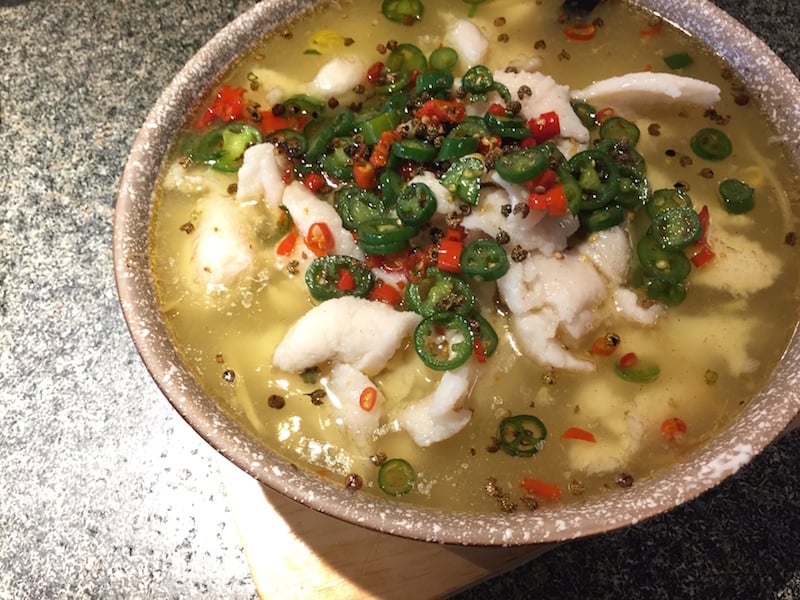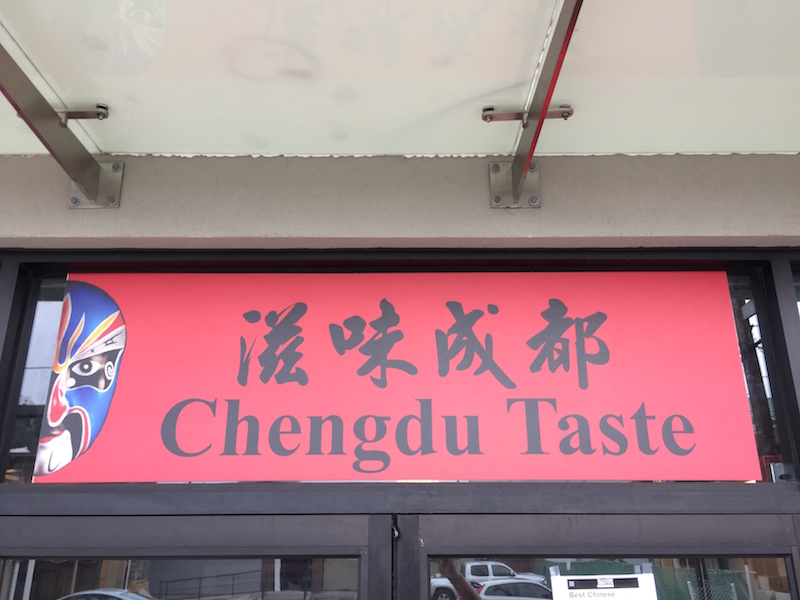 Chengdu Taste in the new 808 Center on Sheridan is one of the many Asian-focused eateries popping up in town. A California-based chain, Chengdu Taste is renowned for serving authentic Sichuan cuisine. This region of China is famous for foods that not only are spicy, but leave your mouth with a mildly numbing and tingling sensation, thanks to the notorious Sichuan peppercorn.
More often than not, dishes here are finished with a layer of red chili oil and/or a generous helping of fried chilis. If you're not familiar with Sichuan food, don't let appearances fool you. The oil isn't as spicy as it appears and you can just eat around the chilis. If you want an extra kick, take a nibble of chili with each bite of food. And don't worry if you start sweating a little, everyone else is sweating, too.
The menu is pretty straightforward. By that I mean there's no rhyme or reason to the layout, no pictures, no descriptions. So A) it's super Chinese, B) if you don't know, you don't know, and C) godspeed. Let's see if we can assist.
These three are classic Sichuan dishes. The mung bean jelly noodle in my opinion is a little too soft; I wish it had a bit more chew or texture to it. The Couple's Sliced Beef is one of my favorite Sichuanese dishes, and they do it well here: sliced beef tossed with beef offal mixed with vinegar, chili, garlic and herbs. And the last is thinly sliced pork belly with heaps of raw garlic and finished with blistered chili oil. Extra chili oil on the side for you daredevils.
Another signature Sichuan cooking technique is "shui zhu," which literally translates as water cooked. The most popular versions use a white fish, aka Boiled Sliced Fish in Hot Sauce, and beef (not pictured). Chengdu Taste offers both as well as other stone pot specialties like Boiled Fish with Green Pepper Sauce. I really liked the green pepper dish.
All the stone pots start with huge bowls filled with a bed of mung bean spouts, cucumbers (a little weird) and cabbage. The Hot Sauce version is finished with red chili oil and a couple of handfuls of crushed Sichuan peppercorns, while the Green Pepper Sauce is finished with a clear green peppercorn oil and fresh chilis. The difference? Hot Sauce starts hot, stays hot, but doesn't linger on the palate. The Green Pepper Sauce is a slow burn, gradually building heat in your mouth and throat the more you eat. A third option comes with a tofu pudding; I want to go back to try.
As previously mentioned, a lot of Sichuan cuisine relies heavily on red chili oil or a variation of it. The chicken was poached delicately, with a silky smooth skin and tender meat, but is served on the bone. Both the wontons and dumplings (not pictured) are house-made and delicious, thin wrappers stuffed with moist pork filling.
We sampled a few stir fries as well. Pretty standard issue, tasty, value-priced and authentically Chinese. (They aren't shy on the oil.) If you've never heard of Arden lettuce, neither have I. I call it A cai, or A vegetable. Think of it like a more tender Romaine lettuce. Not pictured but also sampled was Twice Cooked Pork, one of the few not spicy dishes, and Sautéed Shredded Potato with Green Pepper, which is done so well here. The potato has a nice crunch, which is how it's supposed to be. Don't send it back because you think it's undercooked!
People I was with enjoyed the Beef Noodle, though it was a bit too salty and the noodles too soft for my liking (we were busy talking so it sat for a minute before we dove in). Sichuan Tan Tan Noodle (not pictured) is more of an individual portion and is delicious.
Having been to Chengdu Taste a few times now, I am 100 percent a fan. Granted I love Sichuan food to begin with – there's something about the chili and the Sichuan peppercorn that is almost addicting. It's also encouraging to see more regional Chinese cuisine popping up on the island, and I selfishly hope this is a trend that continues.
Chengdu Taste
808 Sheridan St.
Suite #105
Honolulu, HI 96814
589-1818