Something new: Cafe.gg for gamers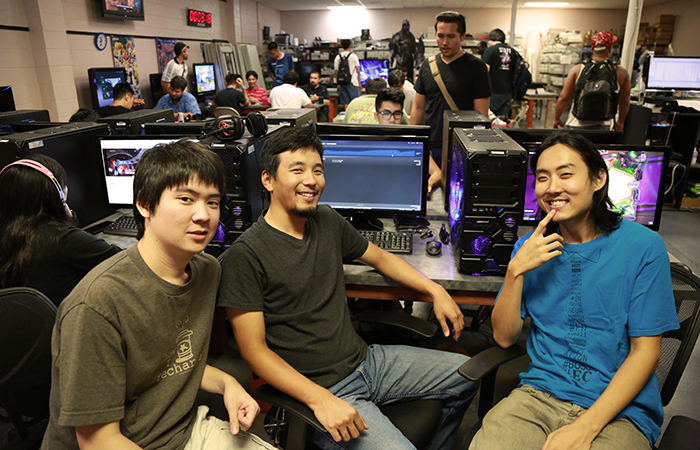 When I started getting into PC games in middle school, my game of choice was Starcraft. This was a real time strategy (RTS) game pitting the human Terran, futuristic Protoss and hive-mind Zerg against each other in an intergalactic tug of war. My friends and I quickly learned the advantages of each race and battled each other for bragging rights.
But my computer had the slowest internet connection and my friends complained every time I slowed down the game. So we started meeting at gaming cafes like E-topia, Netwerks and the Zone. We spent hours there, taking a break after every match to rub our victory in our opponent's faces (or wallow in our defeat) and grab a Hot Pocket and some Gatorade before sitting down for more.
Those were good times. But those days are now gone, and pretty much the only PC cafe left on Oahu is PC Gamerz. So when I heard of a new gaming cafe in Moiliili, I had to check it out.
Cafe.gg opened in July inside Da Planet, in the building behind Sushi King and next to the post office. It's a friendly environment that is really buzzing on Sundays, when a weekly Magic the Gathering tournament brings together dozens of players. There are 20 custom-built computers plus Wii U, Xbox 360 and business-class internet. They're still building a game list, but current hot games like League of Legends, Hearthstone and Dota 2 are installed on the PCs.
The timing was perfect: My laptop's motherboard died a week ago and I was without a personal computer, so I spent a good amount of time at Cafe GG testing out their setups (i.e. gaming). That's how I got to meet the owners. Entrepreneurs Quincy Solano and Jordan Takemoto have a history in the gaming landscape here in Hawaii: They founded eSports Hawaii and are involved with Hawaii Gamer Expo, Team Brult and the High School Challenger Program.
Avid gamers, they held planning meetings for Cafe.gg on League of Legends, but that devolved into hours of gaming without any work getting done, so they switched to Skype. Now they hang out at the cafe or next door at Izakaya Naru on Tuesday nights having pupus and beers.
At $20 for 8 hours of playtime, their rates are a bargain for an entire day's worth of play. And here's an even better deal: Frolic readers get a special rate of $10 for 8 hours of play. Just let them know you read about them on Frolic! This offer cannot be combined with any other promotions. Limit one per customer, offer valid through September 19, 2015.
I'll be back this weekend. Cafe.gg has monitors that play movies and occasional eSports tournaments at the request of customers. While I was there the International, the biggest international Dota 2 tournament with a prize pool of over $18 million (you read that right), was being broadcast live. I'm hoping to catch ESL Cologne, a huge Counter-Strike tournament, this weekend with other CS:GO fans.
Now, what does the "gg" in the name stand for? For the unitiated, it means "good game." It's what you type at the end of a game, usually when you've lost.
Cafe.gg will celebrate their grand opening Aug. 29 with tournaments and extended hours.
Cafe GG
2700 S. King St. Building A
791-2345
cafe.gg
Monday-Friday 1 p.m.-9 p.m.
Saturday-Sunday 11 a.m.-6 p.m.