Something new: Bread + Butter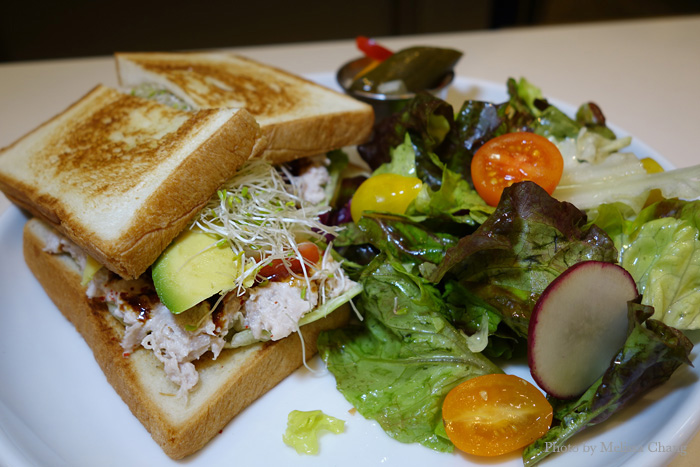 I am always nagging people to read my blog, but today … well, I'm kind of hoping they won't. Bread + Butter, a new cafe/restaurant/pinot bar in the spot on Kapiolani where Angelo Pietro once occupied, has only been open a week but I'm already a regular. And I'm going to be really sad on the day that it gets so busy that I can no longer kapu "my" table.
It's already busy at lunch, even with no fanfare, so I know that day is coming fast.
Bread + Butter is owned by Diamond Dining, the same company that owns Shokudo next door and Buho Cocina y Cantina in Waikiki. (Disclaimer: My company does the social media for Buho.) It's distinctly different in various ways: One, there are more healthy options; two, the place offers breakfast, lunch, and dinner; three, it's got many grab-and-go takeout items.
Senior marketing manager Justin Mizufuka said the concept is generally a focus on simple things, simple flavors. "Simplicity is the root of a lot of things, so we're going back to the basics. If you think of the context of bread and butter, we often refer to it as the foundation of what we learn," he said.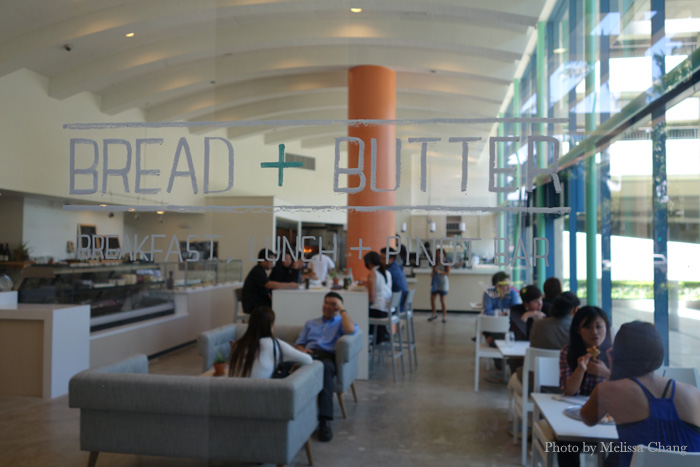 Most of the restaurant is tables and chairs, all for self-service. There is a raised bar in the middle and a set of couches, both good places for meetings. As you can see, there's a counter to buy meat and cheese by the pound, and eventually bread. To the left of that is a bar, and at dinner you may be served by their chef, who also makes wine recommendations. Who's the chef?
They brought in chef Arnoldo Masa Gushiken, who is originally from Argentina but has been working in Japan for many years. (He has bonded with chef Arturo Silva of Buho!) The menu is very American and local, but you see his Japanese and Spanish influences in many of the items. Warning, there are a lot of photos to follow because I've already eaten half the menu this week.
Let's start with breakfast, since they open daily at 7 a.m. The taro pancakes are a popular choice, and my coffice mate eats them every day. While the pancakes by themselves are not life-changing, taking a bite complete with fruit and whipped cream is wonderful — in fact, the whipped cream is the big enhancer, making the sweet, tart, even savory flavors come alive.
I like the breakfast pizza, since the crust is chewy and moist and the ham, pesto and egg are so flavorful. I took this photo before they cut it so the yolk would be intact. It's definitely a breakfast for a knife and fork, though.
The beef short rib loco moco comes in a small skillet, but it is super filling. The beef is fork-tender and the gravy is more of a sweet-savory glaze than the thick brown gravy from Hilo. We loved the crispy shallots, too, for extra crunch. This is definitely a must-try when you are hungry!
There's no way to photograph the breakfast dashimaki tamago nicely, or clearly articulate what it is. It is basically a frittata of egg and rice, topped with a thin but very savory slice of ham. The skillet comes to you sizzling, so by the time you cut into it, the rice on the bottom is nice and crispy. It's good for kids or people who don't like surprises.
As you read this blog, I'm probably eating one of the grab-and-go musubis they offer. I haven't tried either yet, but took a photo anyway so you could see what they look like.
If you like a nice jolt of caffeine but need mellow flavor, try the cortado. It's a shot of espresso cut with a little milk — I call it the Spanish version of a Flat White. I've had three coffees now at Bread + Butter and they have all been smooth Kona blends.
Do you want to know what my favorite thing on the menu is? The smoked ahi sandwich is probably the best tuna sandwich of my entire life. Yes, life. Chef Masa smokes the tuna himself and then flakes it; it's super labor intensive, which is probably why he doesn't sleep. The sandwich is stuffed with lettuce, tomatoes, onion, avocado and sprouts, then served with a green salad from a local farm and pickled vegetables. Justin likes to have a pickled vegetable in each bite, which is good, but I think the sandwich can stand on its own. You get an earthy, smoky flavor from the ahi against the fresh, bright, mellow and woody flavors of all the vegetables. I dream about this sandwich now.
Note, it was so good that my coworker Crystal Yamasaki gobbled up her half instantly. Also, it went well with the sparkling wine that chef Masa is holding above, the Segura Viadas Brut Reserve.
Most people know about beet salads, but beet salad with peaches? This one, with arugula, candied nuts, and sprinkles of Gorgonzola cheese gives it an unusual (and delicious) twist. There are many sweet flavors swirling around the spicy, bitter arugula, and the cheese mellows it all out. It's definitely one of my top picks for lunch or dinner. (I'll probably try the mango + quinoa salad today.)
Hawaii people don't really know about Japanese red beans in sandwiches, but my friend Izumi Nagahama said sweetened azuki beans with butter are an amazing combination. Here, they serve it with brie cheese on a butter roll, which is also a genius idea. Who would have thought? It tastes almost dessert-like, kind of like taiyaki waffle cakes. I ate it for lunch one day, though.
There are currently four pizzas on the lunch/dinner menu: Margherita, four cheese + honey, fig + prosciutto, and French dip (above). They use thinly sliced Kobe beef on this and pop it into their state-of-the-art pizza oven. It's drizzled with a special wasabi cream and served with their own French dip sauce. I'm not sure why no other specialty pizza places here have thought of this, but it is a fun, hearty pie!
The staff seems to favor the firecracker Gouda cheese dip, which is a mix of chopped, roasted peppers and a dollop of cheese. It's a little spicy and a nice snack, but I felt like the other menu items were so much better that I couldn't waste precious stomach space filling up on this.
At the time we tried the dates + bleu cheese mousse, it was good but a little sweet. We loaded up on the bleu cheese, and that made it more balanced. So the next time you see this, you'll have much more cheese on your plate. It's a lovely dish and great with the pinots they offer.
The hand full of olives is a cute presentation of various varieties (some pitted, some not). I think many Hawaii people will get to eat olives that they've never seen before, in this dish.
Another of my favorites is the chicken liver pate with truffle oil, a light mousse in a recipe developed by chef Masa. It's still got rich flavor, as pate does, but is well-balanced and not too oily. The truffle oil, of course, is what bumps it up a notch. We liked that it was served with that chewy pizza bread, too.
Chef Masa smokes his salmon, then serves it with dill cream and a melange of vegetables and orange chunks. The salmon is so moist you can almost drink it, and is good on its own, but the vegetables help make its flavor pop.
Everyone loves lobster bisque. And everyone loves macaroni and cheese. But together? That's just crazy talk. This is served bubbling hot in a personal skillet, so be careful! It has all the simplicity and comfort you would want in mac and cheese, but the lobster bisque element makes it richer and more complex. It's a definite must-try. Maybe split this and a beet salad with a friend?
Solo diners like me can never order paella in restaurants because it's always served in a big pan for a party of two or more. But at Bread + Butter, you can get a personal-sized portion, complete with clams, mussels, and a giant shrimp. IMPORTANT: See the garlic aioli under the mussel? Be sure to mix that in the rice or get some of it on your fork with each bite. At first, we thought the paella was just okay. But when we found out we were supposed to eat it with the aioli, that changed everything. This was great with a Chardonnay.
And, finally, the last of my favorites (so far): chef Masa makes his own pasta, so these squid ink noodles are soft and silky but still al dente. His light sauce on this is quite spicy, though, so it's more for people who prefer the heat.
Overall, the prices are good and it's a good value. The fare is light and mostly healthy, with something for almost everyone.
These were just the highlights. For more photos, click here.
Bread + Butter
1585 Kapiolani Blvd.
808-949-3430
Open daily from 7 a.m. to 9 p.m.; validated parking available