Something new: Billy's Killer Southern BBQ
Okay, Billy's Killer Southern BBQ is actually not new. If you know the food truck, you've had Billy Zimmerman's BBQ at the Lot of Food Trucks or Best Buy, or at his restaurant in Mapunapuna. But most of you don't know that he's moved to a little spot on Queen Street in front of the Still & Moving Center, with plans to open an indoor/outdoor brick-and-mortar venue in the building behind it in about four months.
This little … truck? shack? opened quietly about three weeks ago and already has a loyal following. The first day I tried it, a man in front of me confessed that it was his third time there in a week. (To see the menu and more photos, click here.)
This is Billy Zimmerman, right, the namesake of the business, and Alex Arango, who provides the latino side of the menu. Does the interior of that food truck look a little fancy? Turns out Zimmerman's day job is remodeling homes, so he was able to pull this cookspace together in two weeks, with quality cabinets and other materials.
My first taste: The smoked barbecued pork ribs lunch plate (dinner plates cost more, and have more). My first thought was, "That's it?" — but it filled me up, so I would say it was worth it. Someone in line said that fast food burger joint meals cost about the same, but these are made fresh. Good point. The meat was tasty, peppery, and super tender, so I didn't need a knife to eat this. The cole slaw was a little bland, but I think that depends on your preference.
The next time I went, I was with one of my trainers, Ryan Pang. He had the Cubano sandwich: hot pressed French bread filled with slow roasted pork, honey ham, Swiss cheese, pickles and mustard. I just had a bite and made sure to get the pickle, and liked it enough that I'll probably try a whole one next time. I know, you can't see much in this photo since the sandwich is pressed pretty tight.
The southern style smoked brisket is a popular item. This is the lunch plate with dirty rice, and like the ribs, it filled me up. I don't normally care for brisket, but this one was exceptionally soft and moist, with good flavor.
I tried the La riena on Arango's recommendation, and this was definitely hearty. The arepa (corn cake) is filled with homemade chicken salad, avocado, and pickled red onion. He layers the avocado and pickled onion so you get bites of it throughout, not just on the top. Although I really liked this, it was messy, so I recommend you eat in the privacy of your own home, rather than at your desk or on a date. Best of all, this is gluten-free.
For a quick meal on the go, try the home made empanadas. Zimmerman was quick to recommend the Colombian beef and potato with aji sauce, which was nicely spiced. Arango is experimenting with dessert empanadas, as well.
Ryan and I tried the two rice puddings, which we liked because they weren't too sweet or too rich. I thought the dulce de leche (left) would be cloying, but it was actually just right. I preferred the lilikoi, right, for its tangy contrast to the creamy rice. Not pictured: the aqua panela con limon, a homemade compressed sugar cane juice with fresh lemon. We loved that it was not too sweet or tart, but very refreshing. The best way to describe it would be to compare it to Lipton's Brisk iced tea, but without all the sugar and preservatives.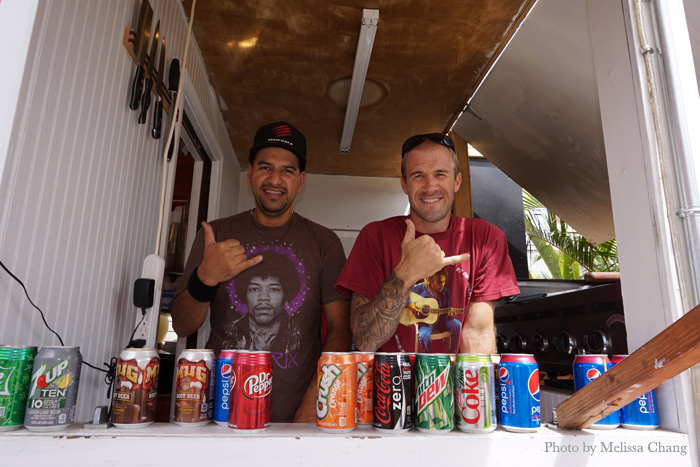 Billy's Killer Southern BBQ is open 10 a.m. to 10 p.m. Mondays through Thursdays, and 10 a.m. to midnight on Saturdays. During the day, parking can be a little challenge but I park right in front of it, or across the street. Lunch can take a while as we saw many people coming by with orders for six plates at a time, so plan ahead. For more photos, click here.
Billy's Killer Southern BBQ
Near 1024 Queen St.