Something new: Bee & Tea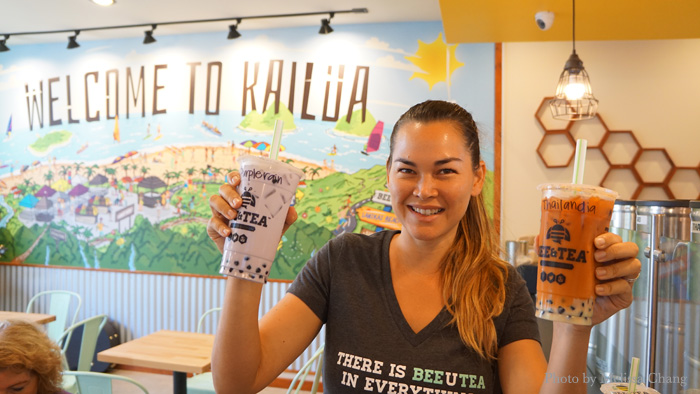 There are about 19 boba tea spots in Kailua, and more than 100 on Oahu, so it's not really news that a new boba spot has opened in Kailua. But the story behind this one is definitely different … especially if you're a University of Hawaii Rainbow Wahine volleyball fan.
Nohea Tano, shown here with University of Hawaii classmate Ryan Kalei Tsuji, is originally from Kailua and a Kamehameha Schools graduate, but is best known for playing UH volleyball from 2001 to 2003. She got married, moved away, and had three athletic boys. While living in Chicago, she discovered Bee & Tea, and immediately loved the branding. And the product.
"My kids would make me drive into town for it every day," she laughed.
It's her Nohea's first business, but everything seems to be falling in place to show that this was all meant to be. This shop enabled her to move home and be in Kailua, where she's from, and provide for her family. Bee & Tea is a new Chicago franchise, an offshoot of Forever Yogurt in California. Since it's so new, Nohea was not only able to connect easily with them, but get them to allow her to make some Hawaii-exclusive additions to the menu.
Here's a quick look at the menu they're known for, and the prices. On the mainland, Bee & Tea serves boba drinks, mini bao buns, acas bowls, lemonade, and cold-brewed coffee.
The teas are all from Taiwan and are brewed fresh daily at the Kailua shop. The boba is made fresh to ensure consistent quality, and in small batches because they have to throw out unused tapioca balls after four hours.
Thailandia is Nohea's favorite; her oldest son likes Purist, which is the most popular boba tea they serve. My favorite was Purple Rain, the taro milk tea with white chocolate (they have three taro milk teas).
Since her youngest son loves strawberry smoothies, Bee & Tea allowed Nohea to develop a line of six fresh fruit smoothies for the menu. Her middle son loves Oreo milkshakes, so she offers six ice cream milkshakes, as well. Both are $5.50 for a small and $6.50 for regular. You can also get boba smoothies, $4.75 for a regular and $5.50 for a large.
There are currently four fillings for the "closed bao," but Nohea said she plans to bring in more, since the mainland franchise has a wider variety. You know which filling you get by the label on the bottom. Miso steak is the best seller; I liked the shiitake and vegetables best. Shown here from left are the Japanese curry chicken, and char siu (note, no red food coloring!). These are $2.49 for one, $6.99 for three, $12.99 for six and $21.99 for 12.
The acai bowls come in two sizes: keiki ($5) and regular ($7.50). You get two toppings free with the keiki bowls, shown here, or three toppings with the regular bowls. It's 75 cents each for extra toppings beyond that.
The "open" kalua pig baos are a Hawaii exclusive, at three for $8.99. They're filled with kalua pig, shredded cabbage, green onions, carrots, cucumbers, and a drizzle of hoisin sauce. Smart move for Hawaii! I think I liked these best because they were so familiar to me.
Bee & Tea is open daily from 10:30 a.m. to 9 p.m., but the hours may change as they figure out the flow of business. They're located across from Pali Lanes and up the street from Boots & Kimo, for those familiar with the area.
Bee & Tea
131 Hekili St.