Something new: b. patisserie in Waikiki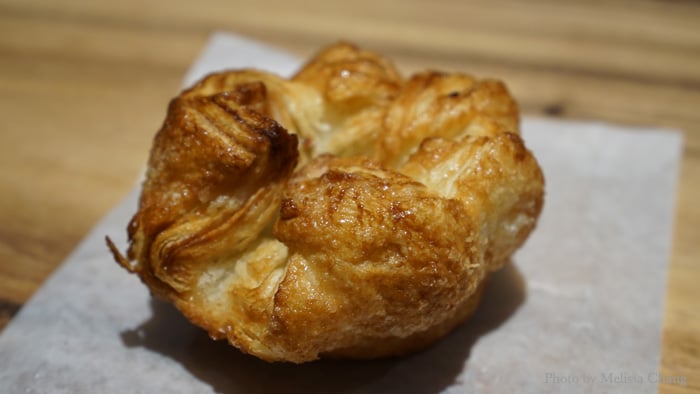 I told pastry chef Belinda Leong how her b. patisserie baked goods made me sick. She beamed and said, "Aw, thank you!"
You see, I had my first of her famous kouign amann (pronounced "queen a mon") two years ago at her San Francisco spot, and although I fell in love with it, I never had a fresh one again until last Friday. My foodie friends Sean and Lena Morris — who had introduced me to b. patisserie — would bring it home as omiyage for me, but I had forgotten what a fresh one was like.
Kona Coffee Purveyors just opened on the Kuhio side of the new International Marketplace and serve b. patisserie items, so as soon as I had time, I had to go. I bought a fresh, plain kouign amann and took a bite, fully intending to save the rest for later, but that's all it took to send me into a frenzy. I am a slow eater, but suddenly I was voraciously inhaling it, crumbs flying everywhere. I ate it so fast, I made myself sick.
You'll do the same thing, too, if you're not careful. Those perfect, beautifully lightly crisp layers of butter, sugar and flaky dough are pure evil, and it took Belinda years to develop the right formula that she could sell to the masses and get them so hooked that they'd keep coming back for more, no matter how long the line.
If you've never had it, think of a palmier cookie, only fluffier.
Kona Coffee Purveyors is the actual tenant, and they serve great coffees and teas (caffeine is my drug of choice) — but their b. patisserie feature is something no one else in Hawaii has, which I think will give them a huge advantage over the competition.
Belinda and her business partner, Michel Suas, brought in special marble countertops and state-of-the-art commercial appliances that you won't see anywhere else in Hawaii.
You'll find other San Francisco favorites, like the madeleines and chocolate-banana croissants. They also developed some items that are unique to Hawaii, like the Kona coffee tart (of course) and lilikoi- and coconut-based desserts.
Hawaii customers get an added bonus: In San Francisco, you can only get their black sesame-filled kouign amann twice a year: Chinese New Year, and National Kouign Amann Day — June 20 (which is not just Belinda's birthday, but the day she and Michel signed the lease for her San Francisco locations). But in Waikiki, we can get that black sesame kouign amann every day. If you haven't tried it, it's supposed to remind you of black sugar jin duei.
After I confessed my shameless devouring episode, I turned around and bought more kouign amann. I shared some with a friend yesterday, someone who limits her carbs. She took one bite of the wicked pastry. Then another. And as she started ripping it apart in that same familiar frenzy, I felt a little guilty getting her hooked. But mostly, I wanted the kouign amann back.
Be careful, my friends. And eat slowly.
Kona Coffee Purveyors featuring b. patisserie
International Marketplace, ground floor
2330 Kalakaua Ave
Daily 7 a.m. – 11 p.m.