Something new: Auntie's Kitchen on Maui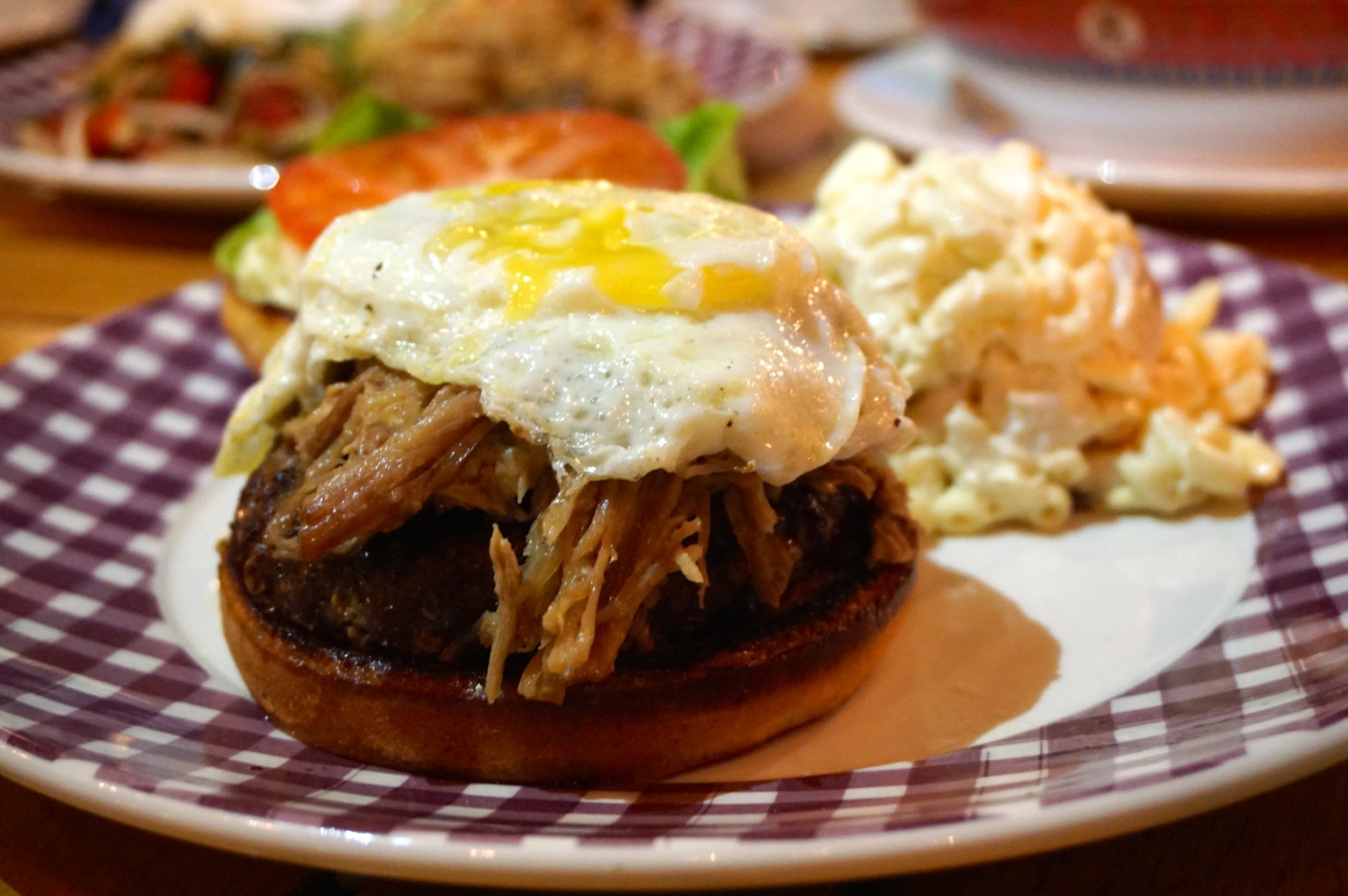 Driving through Maui's west side, the last place I'd look for Hawaiian food and local kine grinds would be in one of the glamorous resorts. Which is exactly why I was excited about Auntie's Kitchen, a new poolside restaurant at the Westin Kaanapali Ocean Resort Villas that opened on Oct. 28. I'm all for supporting resorts that make an effort to attract local clientele, and food is one of the best ways to do that. Resort dining can be a mixed bag, but happily, kamaaina-friendly Auntie's Kitchen didn't disappoint.
First off, the menu offers a good selection of local items like plate lunches, musubi and seafood stew.
A standout was the giant bowl of Island Saimin ($18), topped with melt-in-your-mouth roasted pork belly. How is it so tender on the inside and crispy on the outside? This question really kept me up at night, along with dreams of another slurp.
Auntie's Papillote ($31) was an interesting preparation of fresh mahimahi with lemon, butter, garlic and vegetables, all cooked together in a steamy bag. The fish was lightly flavored and a great lighter option. Another big hit at the table.
We grinded on the Hawaiian Plate ($21), made up of a generous portion of kalua pork, ahi poke, pohole fern salad, mac salad and white rice. The pohole salad was an unexpected treat that balanced out this plate.
Not able to resist a good burger, we tried the Valley Isle Burger ($23), a half-pound of grilled Wagyu beef with kalua pork and a fried egg. It was over-the-top delicious. Portions here are huge, so best to dine family-style, order lots and share!
As for beverages, daily special cocktails like the Lilikoi Breeze and Sunrise Lemonade run just $7.
Those seeking a cold beer should ask for the Kai Ala Brew, a seasonal farmer's ale from Kohola Brewery. Light and lemony, this beer is crafted especially for the Westin Kaanapali and will change every season depending on available ingredients.
For dessert, our server recommended the Hana Fruit Split ($10), essentially a banana split with a Hawaii twist. Haupia ice cream, macadamia nut gelato and chocolate ice cream were topped with bananas, Kula strawberries, pineapple and coconut shavings, then drizzled with chocolate sauce and whipped cream.
The vibe of Auntie's is upscale casual, with open-air seating and TVs for sports watching, if that's your thing. Kamaaina perks include 25 percent off food and free self or valet parking. With seriously generous portions, no one will leave hungry. Auntie would never allow that.
Auntie's Kitchen
Westin Kaanapali Ocean Resort Villas
6 Kai Ala Dr.
Lahaina, HI 96761
808-667-3200
www.westinkaanapali.com