Something new at The Bar Honolulu
The Bar at the Honolulu Club is actually not new, but the menu is, and so are the people behind it. If you remember Oahu's Hajji Baba and Beau Soleil restaurants from the 1990s, you'll remember the fresh, unique balance of flavors of a continent half a world away, but with enough universal appeal for Hawaii's palates (we took my mom there for her birthday one year). Moumen el Hajji and his wife, Holly Hadsell, ran those restaurants until 9/11 changed everything for businesses, and they eventually closed.
They had strong contacts in show business, however, so they bounced right back and became familiar faces providing food on the sets of "LOST," "Hawaii Five-0," "The Hunger Games: Catching Fire," "Godzilla" and more — not to mention they have private gigs for celebrities and royalty. Every so often, regular people get to enjoy their food, like when they popped up at Taste in Kakaako last year. I follow them on social media and I see their food … their talent has not gone unappreciated.
They ended up catering the opening of the new Honolulu Club (same place, different owners) and the new owners were so impressed that they asked them to take over the restaurant. It's not like they're hidden away, either; non-members can enjoy the venue. Just pop out of the elevator and turn left — you don't even have to check in at the reception desk.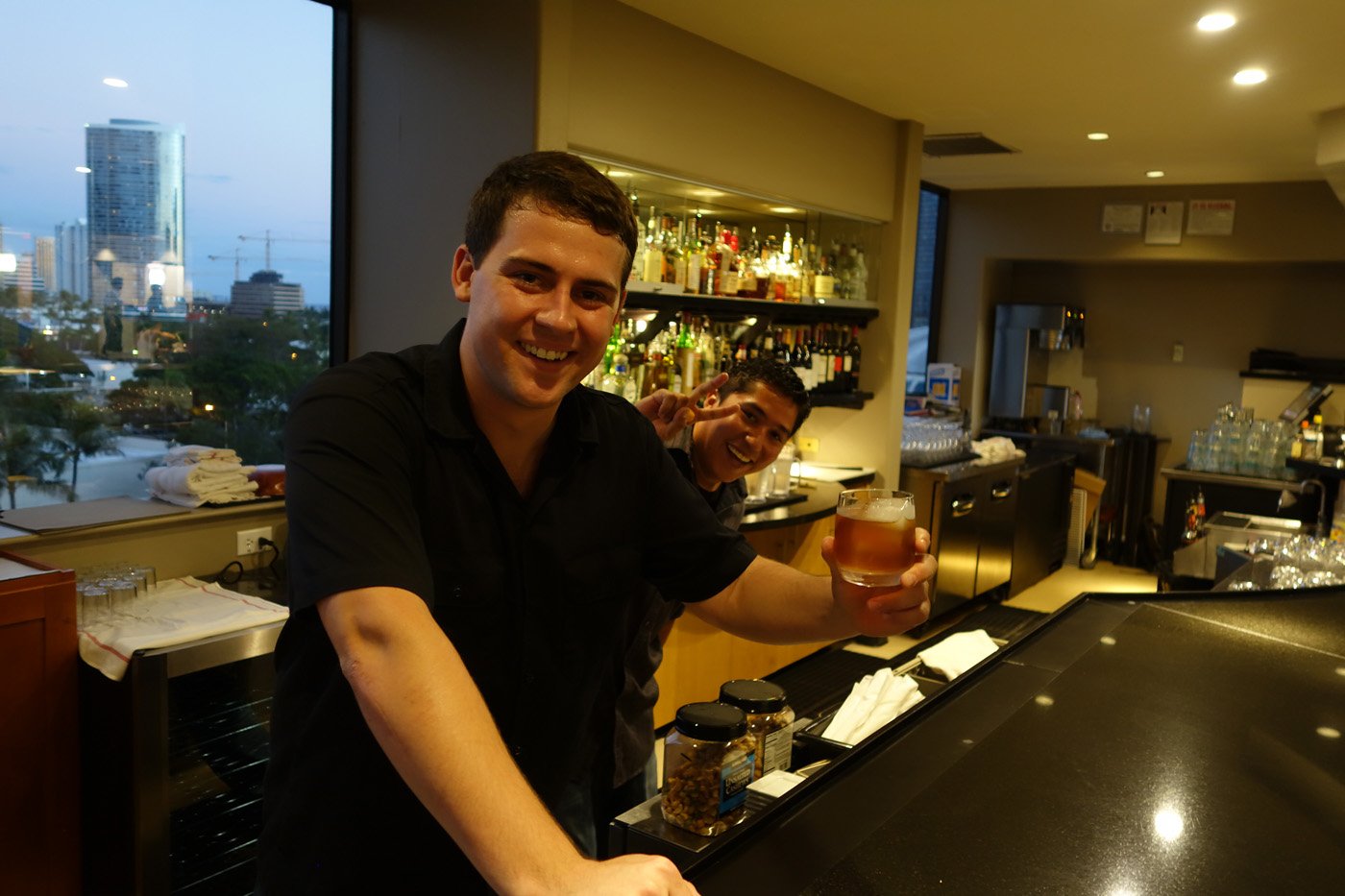 Here's a look at some of the food offered, which is constantly changing as Hajji and Hadsell tweak the menu to what the members want (within reason). The food is fresh, light, and — best of all — pretty reasonable, since the Honolulu Club member dues subsidize part of the cost.
The cocktail menu is constantly changing, too, as bartender Jeramy Tronson experiments with new concoctions. He's gotta keep up with the cocktails, too, since the menu features creations from Honolulu mixologists like Chandra Lucariello of Southern Wine and Spirits, Dave Newman of Pint + Jigger, Kyle Reutner of The Pig and the Lady, and Nobu's JJ Anchetta.
The Bar Honolulu
Be watching for their weekend brunch offerings (or just "breakfast," since Hadsell hates the word "brunch"). For more photos, click here.
The Bar Honolulu
Honolulu Club – 932 Ward Ave., 7th Floor
808-585-9626