Something new: Angelo Pietro opens in Kaimuki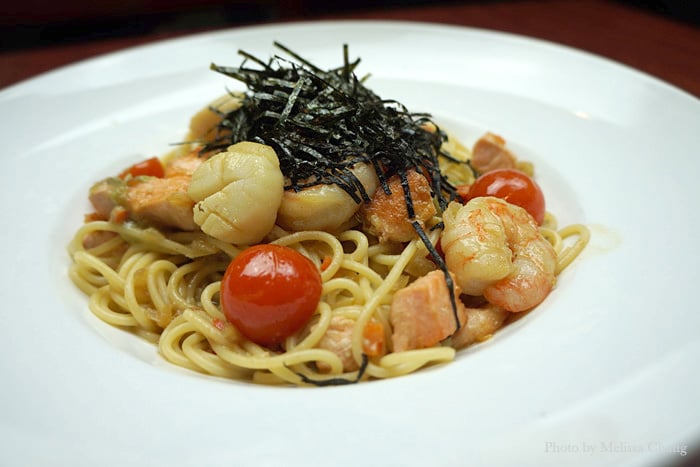 It's been about a year and a half since Angelo Pietro closed its Kapiolani Boulevard location and disappeared for a while as the owners looked for a new place. Well, as you may have heard, they finally reopened, and are now located in the former Kaimuki Grill space on 12th Avenue.
They still serve many of the more popular pasta and salad dishes that became classics on the original menu, but have added 16 new items in their new location. I went in with some friends to try some of them — not all, there weren't enough of us to try that many — and was pleasantly surprised at what they served. Here's a look:
I was surprised that I liked the cheese cheese tomato pasta, since it looked so plain. The tomato sauce is super tasty, though, and the cheese gives it enough richness that you can, indeed, make this a meal if you are a vegetarian or not.
One of my new favorites is the pork and eryngii spicy cream sauce pasta. It's not very spicy, actually, but there's just enough of a kick there to take it up a notch from a regular cream sauce. The garlic chips are a great addition for adding some crunch to the dish, too. The mushrooms lend some earthiness, and of course go well with the pork. It's really filling, though, so be prepared to take home leftovers.
Another new favorite would have to be the five cheese basil sauce pasta, which is tossed in a light pesto sauce with bacon. I promise, the bacon isn't overkill on this dish! The freshness of the basil and the rich saltiness of the bacon are perfect together. (I'm not sure if having five cheeses really adds to the dish, but it's a nice gimmick.)
To be honest, the smoked salmon dish does have a lot of potential. It has all the right ingredients, from the salty salmon to the mushrooms to the capers and cheese. But the lemon cream sauce was too lemony for me. It's a popular dish, so there's definitely a market for it, but I think they need to tone down the lemon a bit.
This is a dish that they had at their old location, a bowl full of seafood and a light wasabi cream sauce. The wasabi isn't too spicy, but like the pork dish above, it's just enough of a kick to get you salivating. The seafood is tender, so it's easy to eat.
This is a classic from the original menu, and very popular. You can't say much about spinach and mushroom … it is what it is. But it's good, and a nice vegetarian option.
One of the new additions is the meat sauce and eggplant gratin. Under the eggplant and sauce, you'll find pasta, and this is a nice surprise since the whole dish is reminiscent of baked spaghetti. The sauce is a little sweet, which is nice against the more savory cheese.
Here's a quick peek inside the new kitchen, with a brief on what they've been doing since closing on Kapiolani:
To see more, visit HawaiiIRL.com! We are actually tasting the dishes and watching for Wedge's bloopers.
Angelo Pietro
1108 12th Ave.
808-941-0555