So, How's Distance Learning Going In Your Own Homes?
Five moms with kids in public and private schools share distance learning triumphs, tricks and tips.
Thousands of children in Hawaiʻi haven't attended school in over a month, as they follow stay-at-home orders to slow the spread of the coronavirus. But how are they learning at home? HONOLULU Family asked five moms—with children in public and private schools on O'ahu—to share their distance-learning experiences.
Mom Marissa Schultz and daughter Lia, 4th grade, Mililani Waena Elementary School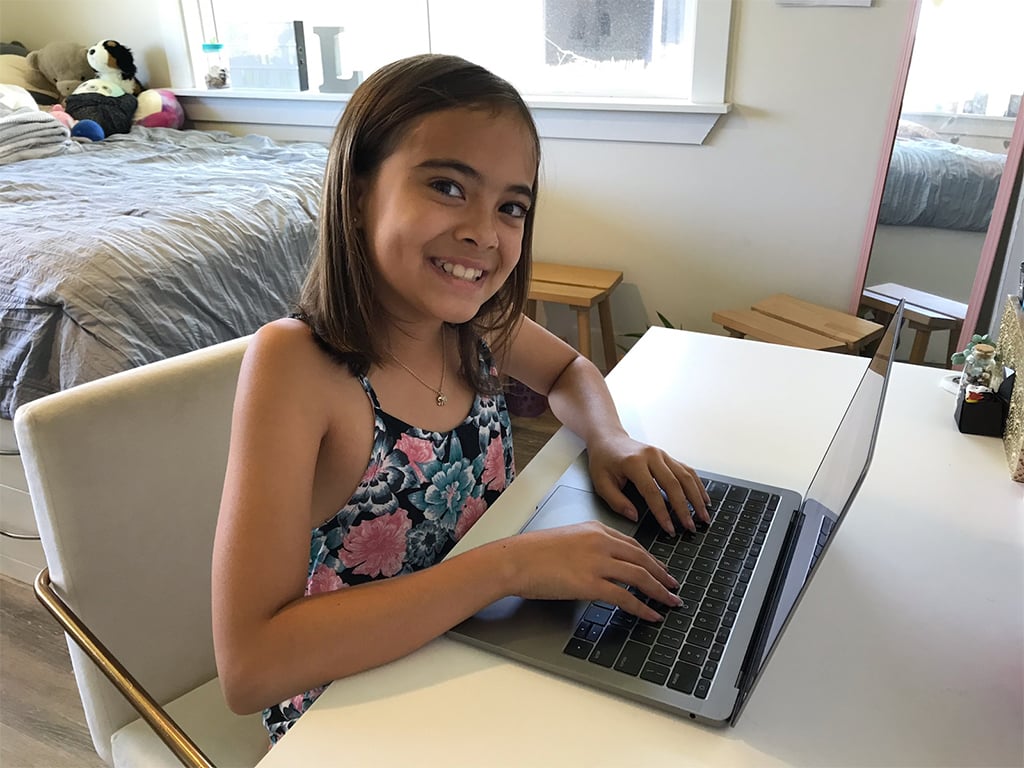 Photo: by Marissa Schultz
Lia, a 4th grader at Mililani Waena Elementary School and a HONOLULU Family Cover Kid 2020 winner, is among thousands of keiki now learning from home.
Technology and Programs:
"Distance learning has been going great. We try to stick to the same schedule as school, 8 a.m. to 2 p.m., but being at home has allowed us to be more flexible with our time.
So far, Lia has been using the same programs as she would in school, including i-Ready, KidBiz and IXL. She also has been able to do a few fun experiments on the side for art and science."
Learning Moments:
"For science, she learned about "surface tension." The experiment calls for a bowl, pepper, water and soap. She first filled the bowl with water and pepper, then she covered her finger with soap. When she dipped her finger with soap into the bowl, the pepper flakes scattered to the sides of the bowl.
This is because soap is able to disturb the surface tension of the water. The water molecules move away from the soap taking the pepper with it. Perfect for learning about the importance in washing her hands.
For art, she was asked to fold any origami design of her choosing. At first, she chose an elephant. We had no idea how intricate it would be and ended up spending almost 30 minutes on it! We eventually opted for a boat, something a little less complex."
Mom Jennifer Muāgututiʻa and son Manu, kindergarten, Punahou School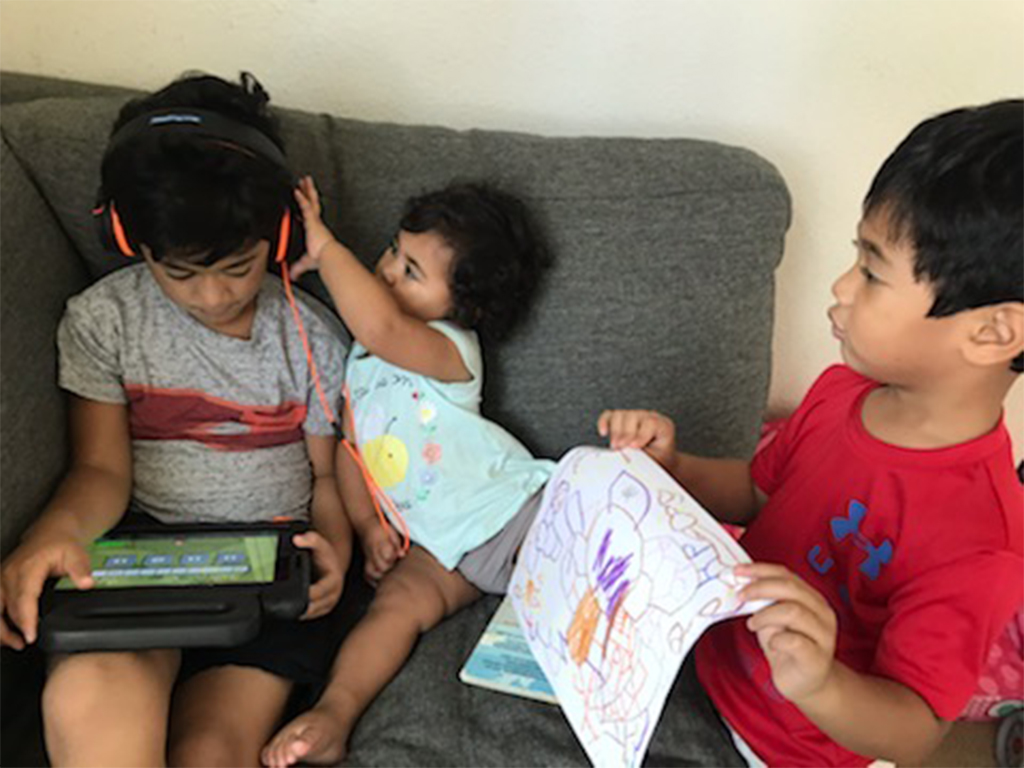 Photo: by Jen Muāgututiʻa
Technology and Programs:
"Manu's school-issued iPad came with a distance learning packet sent home to help families download apps, keep in contact with teachers, and record their work through the week.
The apps he uses on the iPad are Seesaw, Kids A-Z, Dreambox, Lexia, Brain Pop Jr., BookFlix and PebbleGo.
Their weekly schedule is reading, writing and math workshops that include videos from his teachers, and apps on the iPad—flexible to the child's schedule at home. There are K-1 specialist videos and resources from the school librarian, PE teacher, art teacher and music teacher."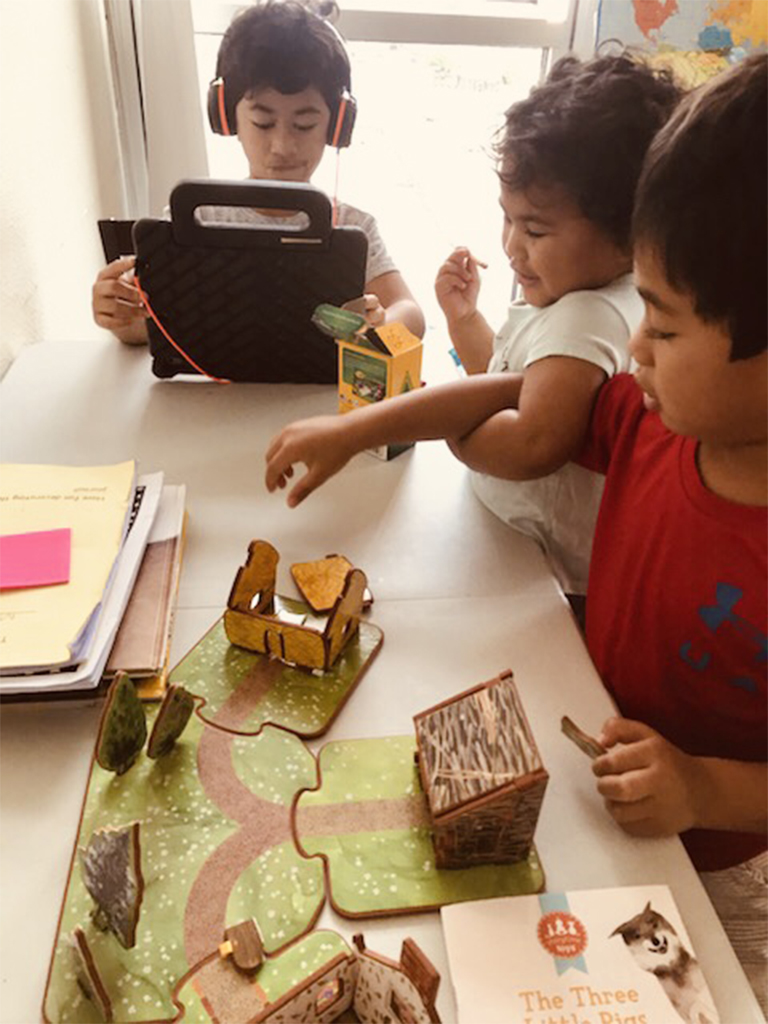 Photo: by Jen Muāgututiʻa
Learning Moments:
"The work was very familiar to him, but doing it at home was not. It was a struggle to get him to have the same mindset he has at school.
Last week, I tried something new. To help him feel more motivated, I moved him from his desk in his room to the dining table with his younger brother, Tautai, so Manu could have that 'classmate feel.'
It worked!
Even though they were both working on different things and at different levels, it helped motivate them both to get through their work, enjoy the learning process and finish the day strong.
Definitely, a special moment for me to watch my boys bond as brothers at a young age."
Mom Musings:
"During this quarantine, and as a mom of a kindergartener and two toddlers, I was reminded that, as parents, we will always be our children's first teachers.
Each day has its trials and triumphs, and as a family we are going to get through it together by learning from each other and supporting one another."
Mom Cathy Cruz-George and daughter Crystal, 4th grade, Sacred Hearts Academy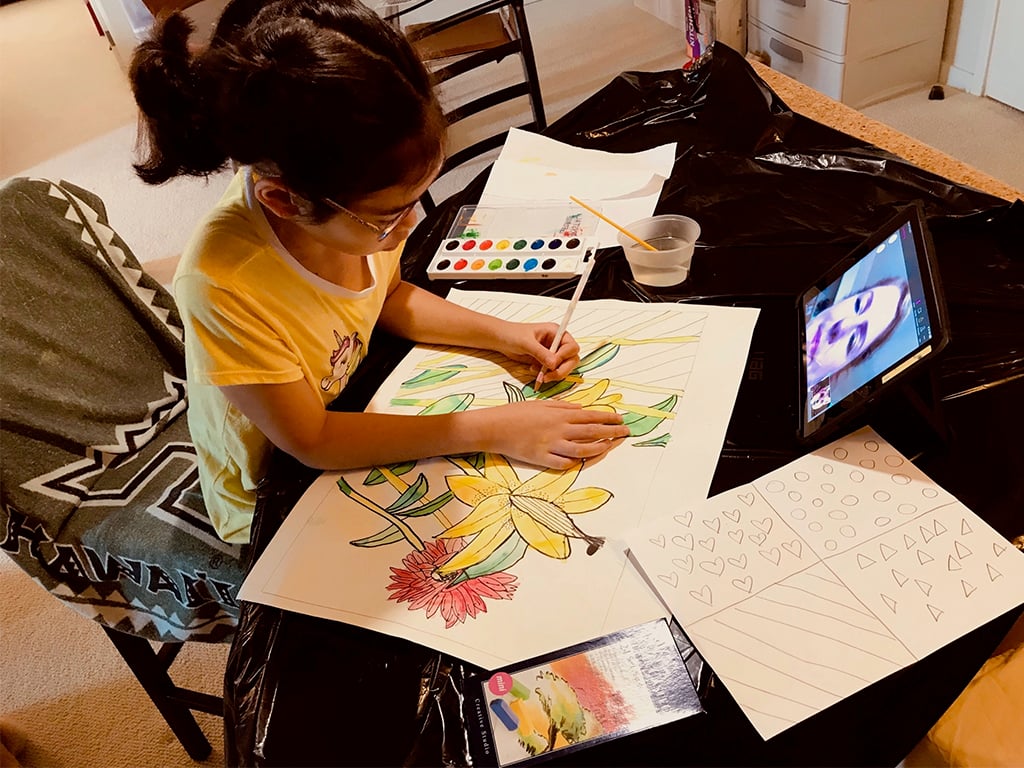 Photo: by Cathy Cruz-George
Technology and Programs:
"Crystal's school requires students (third grade and up) to have their own iPads for tests, homework and lessons. The infrastructure for distance learning already existed—the only difference is that teachers now hold live classes on Zoom.
Students meet on Zoom four days a week for science and math, language arts, P.E., music and art, plus some after-school clubs. They also use Facebook Live for the morning flag ceremony and prayer held on campus.
Crystal attends an all-girls' school. When 40 fourth-grade girls gather on Zoom, I'll hear giggles and shrieks, see cute customized backdrops, and catch the occasional pet dog or cat walking across their screens.
These are bright moments in our children's isolation."
Learning Moments:
"The first two weeks of distance learning were incredible stressful for many families—keeping track of class start times, resetting Zoom addresses and passwords to thwart hackers, helping kids submit homework through various portals. I'm grateful that the families in her grade are close-knit. Text messages fly around daily as parents support other parents.
For the first two weeks, I set up my workstation near Crystal, so I could help her with tech-related issues, meet deadlines for HONOLULU Family and answer work-related calls and emails. What finally drove me back to my home office was her singing and shaking maracas during music classes."
Mom Musings:
"This generation of children is expected to fall behind academically, due to school closures.
If they lag, so what? Parents worldwide are in survival mode, struggling to keep their kids healthy—physically and emotionally. We need to be realistic.
While in lockdown, keiki are developing new skills they can't get from homework and standardized tests, anyway.
They're strengthening relationships with family. They're navigating new technology. They're suddenly interested in global health and politics. They're becoming frugal, compassionate, creative human beings.
And, in Crystal's case, she's deep breathing more and solving her own problems before running to me and my husband for help."
Mom Michelle Tano and son Ranier Jr., 4th grade, Kaimiloa Elementary School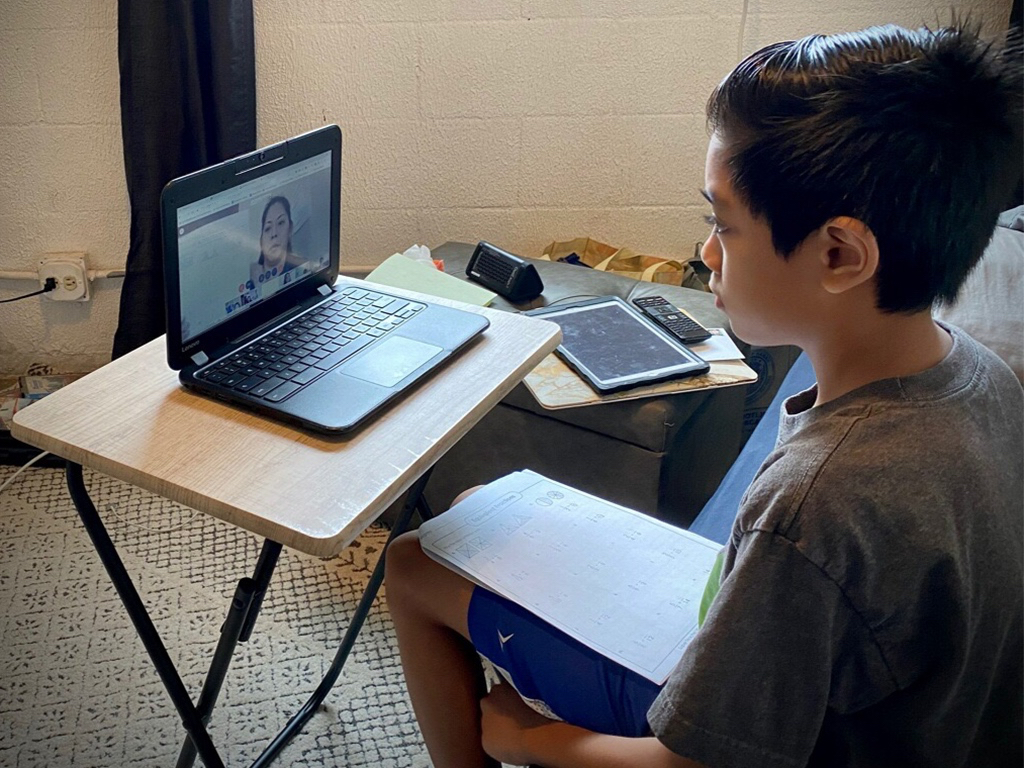 Photo: by Michelle Tano
Technology and Programs:
"R.J. borrowed a Chromebook from school and uses it to go online. The teacher gave him worksheets in a paper packet that we picked up last month in a school auto-line. He uses WebEx to attend live classes with his teachers and classmates.
Sometimes, there is a lag in the Internet connection, and sometimes it freezes, and he has to log in again. He does get frustrated.
His school is very organized and on-top of things. If we have questions, we use the program, Remind, to text directly to the teachers. My son's teacher has been so good. I had a question the other day, and she got to back to me right away.
I feel for parents that have English as their second language. It must be hard for them to distance learn with their kids. Our school provides teachers who can speak different languages, and they communicate with the parents."
Learning Moments:
"There is so much distraction! I learned that we need to have a schedule because if we don't, things don't go well. I keep telling my son, 'You're at home, but you need to think you're in school from 7:45 a.m. to 2 p.m.'
We have lunch breaks, and 15-minute breaks in between lessons, so he doesn't get overwhelmed.
Distance learning is a good experience. When I was younger, I was raised doing schoolwork a certain way, especially for math! I understand what he goes through now."
Mom Musings:
"I asked R.J. what he'd rather have—homeschool or go to school—and he said he'd rather go back because he misses his friends and his teachers. He likes to get out, run around and play outside.
It's a challenge, but we're getting better each day. I just hope that he doesn't get too frustrated. When I see that he does, we'll take little breaks, even a five-minute break to have a little snack."
Mom Tammy Hamada and son Chace, 5th grade, and daughter Paige, 7th grade, Kaimukī Christian School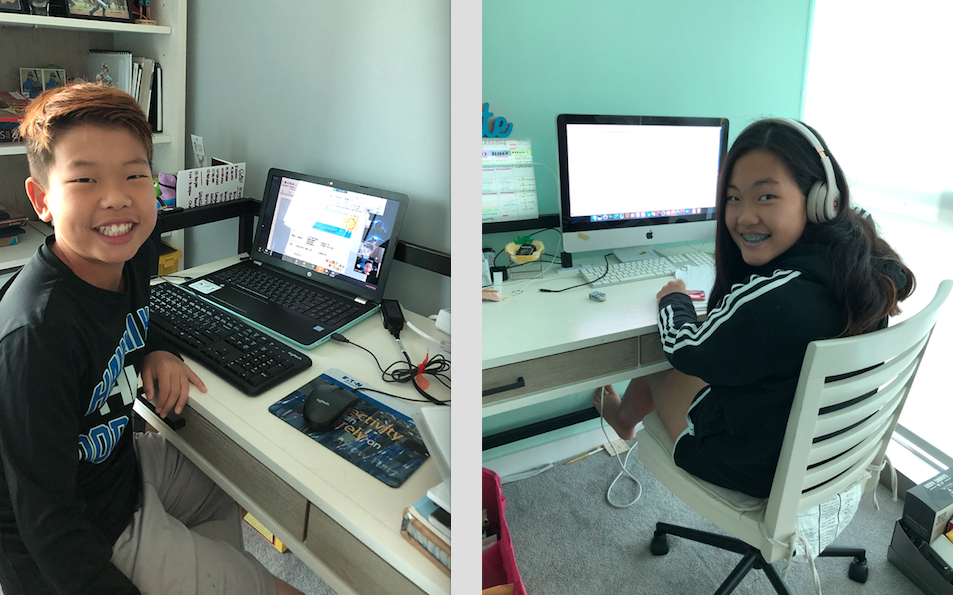 Photo: by Tammy Hamada
Technology and Programs:
"Make sure your WiFi's modem is on 5G and not 2G. That makes a big difference. Also make sure, if you have Spectrum services, to reboot your box on a monthly basis. That helps with any updates that occurred.
You will run into some technical problems, but those will eventually take care of itself. Once you become familiar with how all the platforms work, you will be fine."
Mom Musings:
"I have to say this experience is life-changing. I can't complain of the way things used to be. We're adapting to the new changes in distance learning and appreciating the things we could do before the stay-at-home mandate."
Learning Moments:
"If you have children who are online learning, you need to plan out a schedule. Kids need repetition and some type of normalcy. Make sure you stick to your schedule. That will help your kids, as well as the parents.
Being at home takes a lot of discipline and focus to get the work done. But don't forget to also have fun!"