Snout to tail: Pigfest in Manoa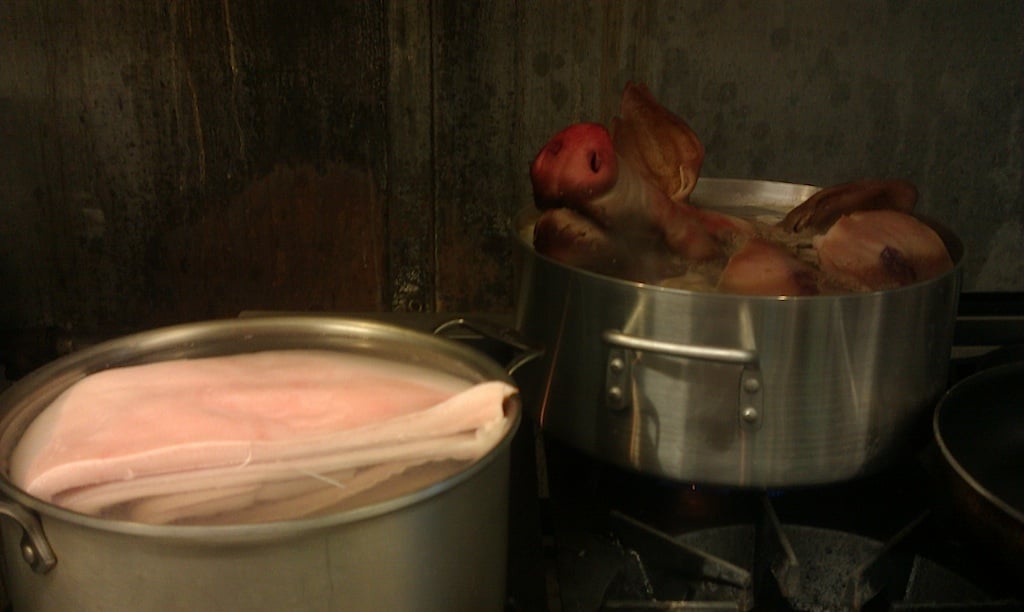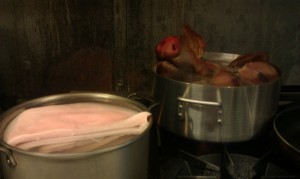 Hello, pig.
I'm feeling very close to you tonight. Meeting you face to face, in a sense, reminded me of how much we've lost in how far we've come. When I lived in a Third World country, I ate your intestines, skin, feet, kidneys and brains without a second thought, only to come home to a First World country that finds all these things adventurous.
It's more puzzling because many of our ancestors ate all these parts and more. Since when did we mainstream you down to chops, bacon, ribs, belly, ham and butt/shoulder? Such a short list for such a big sacrifice, don't you think?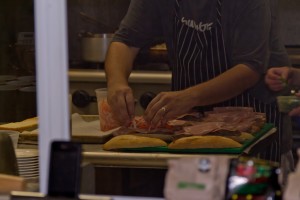 So it was extra-special, the snout-to-tail dinner cooked for us by Bob McGee last night at his new pop-up, Plancha at Morning Glass Coffee, because none of the 20 of us knew much about your adventurous parts. We set up this dinner to taste, learn and not waste you. I'm even hoping that one day, the snout-to-tail dinners that we're seeing on the mainland (and now, in Manoa) won't be so special any more, and maybe one day we won't need to get 20 people together to plan a whole-hog dinner, because things like pork liver pate and snout ragout and rolled spleen will be on restaurant menus.
Here's what I learned about you:
Your liver packs a huge flavor punch compared to chicken, duck and goose liver, more gamey and earthy
"Pasta" made of pigskin simmered in head stock, then scraped, rolled and sliced, looks like translucent udon and bounces back against the teeth, but is at once unctuous and rich in a way no real noodle can be
Ragout made with your snout, head and tail is melty-tender and intensely porky, and a dish I will remember until I die
Your spleen tastes iron-rich like liver but has a slight crunch like chicken gizzards
A chop cut on the spare-rib side of your rib and cooked sous-vide in butter for 28 hours is a revelation, meat layered with fat all caramelized and crisped together.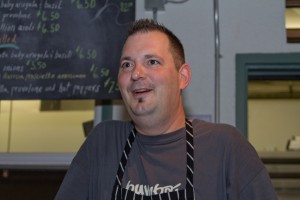 All that's in my belly right now, so as I say, we're close, you and I. Late in September I'm hoping for a reunion when McGee cooks a second series of snout-to-tail dinners, this time spreading two of your friends over three nights and 60 diners. This time we'll see your legs, he says, and the menu, instead of the $55 seven-course affair of last night, will feature four or five courses for $45.
But I can't think about that right now. I really have to go and digest you. I ate so much I still can't bend over. For that feast I thank you, and Bob McGee, and all the capable, friendly hands that came together to prepare and serve you, and the 19 old and new friends who enjoyed you literally from snout to tail.
Plancha at Morning Glass Coffee + Cafe
2955 E. Manoa Road
808-457-0997
www.planchahonolulu.blogspot.com
— Photos courtesy of Bob McGee and Noah Tom