Sneak peek: Koko Head Cafe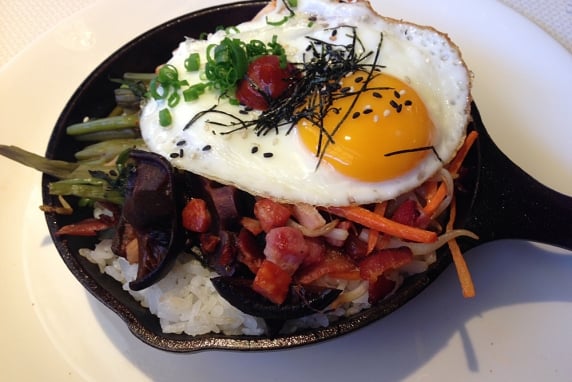 I consider it serendipity that my colleague Melissa Chang couldn't make it to Thursday's family & friends sneak peek of Koko Head Cafe, a much buzzed-about brunch/breakfast spot in the former 12th Avenue Grill space in Kaimuki. You see, it was Melissa who was deemed a family or friend, but a work trip to Maui led her to transfer her invite to me.
Not much arm twisting needed. Owner Kevin Haney, who also is at the helm of 12th Avenue Grill, had told me many months ago that he planned to open a gourmet breakfast spot in the space. And as soon as "Top Chef" Lee Anne Wong was tapped as chef, I knew it had the making of something intriguing.
Because my sister and I only tried a few dishes during this sneak peek brunch, my musings below should hardly be considered a review, but more an early look of a highly anticipated new eatery that's set to open in the next few days. Overall, there are lots of whimsical Asian (particularly Korean) inspirations infused in the dishes, which as a Korean, is welcomed. Another theme — fresh, local ingredients that showcase what breakfast and brunch can aspire to in Hawaii.
Koko Head Cafe
Koko Head Cafe
1145C 12th Ave.