Sneak peek: Goodwill Goes GLAM 2016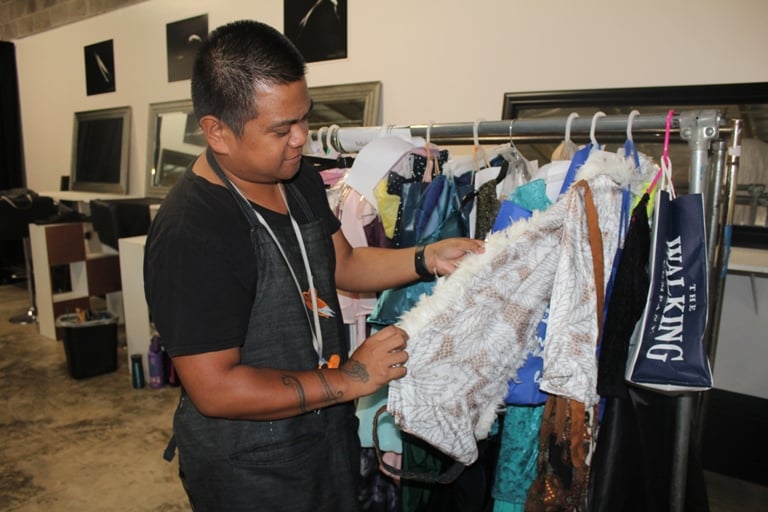 In 2012, Goodwill Hawaii made a bold move to drop its dime store image by revamping into a vintage-glam treasure hunting destination with a large-scale fashion show and shopping event at the Blaisdell Exhibition Hall. Well it worked, Goodwill Goes GLAM! has major fashion cred!
Tonight, "Project Runway" all-star Kini Zamora will return again to produce a fashion show on the opening night. The theme this year is "Doll Me Up," and local aspiring designers, including students from the UH Manoa, Maui College, Honolulu Community College and Kaimuki's ME+U Sewing auditioned to work under Zamora's guidance.
Adult designers created three looks, while the junior designers designed one look each to be showcased on tonight's runway. Each designer had a budget of $200 per look to purchase the Goodwill merchandise and create upcycled doll-inspired designs. Following the show, Zamora will award $1,500 in scholarships sponsored by Goodwill Hawaii to the most promising designers he feels has the most industry potential in the years to come.
"Each year the fashion show was about styling items from Goodwill, but this year, I wanted to take it to the next level and add a design element," said Zamora. "It was so meaningful to mentor designers, especially the kids, it reinvigorated my creativity and gave me great satisfaction to know that the future of design and sewing is strong here in the islands."
I had a sneak peek at each of the runway show designs, here's one of my favorite looks:
Here's a look at some of the looks that Kini and his team put together that will be sold during the GLAM! Retail Sales Days following the fashion show.
GLAM! fashion show and Preview sale, Thursday, July 21 – 6:30 p.m. $25
GLAM! Retail Sales Days: $2 at Goodwill stores, $4 at the Blaisdell box office
Friday, July 22 – 10 a.m. – 8 p.m.
Saturday, July 23 – 10 a.m. – 8 p.m.
Sunday, July 24 – 10 a.m. – 5 p.m.
Blaisdell Exhibition Hall
Free parking at McKinley High School
www.higoodwill.org