Sneak peek: Five Guys Burgers and Fries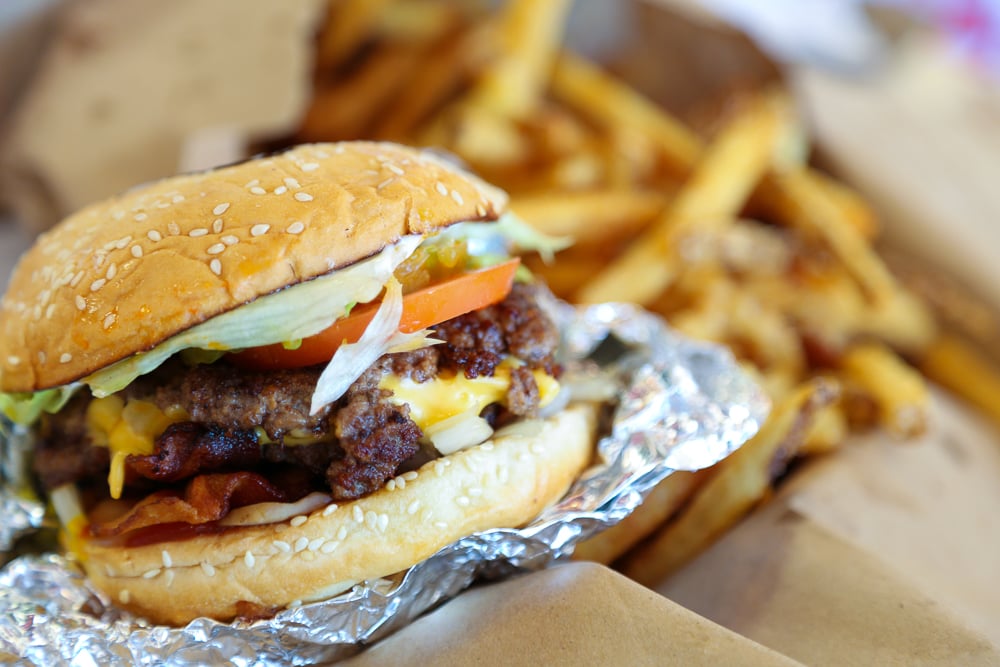 Five Guys Burgers and Fries is opening their first Hawaii restaurant in Mililani this Tuesday, June 28. This is momentous, at least to me. I love Five Guys. It's more than just another burger spot, it's an experience that starts with peanuts while you wait and ends with a huge burger, a mountain of fries and a milkshake.
I was introduced to Five Guys while in college up in Chicago. A friend dared me to order a large fries and watched me devour a mountain equivalent to two large portions at any other fast-food joint. That was also when I discovered big, hand-formed patties of fresh beef with more surface area than your classic fast-food burger puck, paired with quality toppings of your choice. Five Guys likes to say there are more than 250,000 ways to customize your burger.
When you enter the red-and-white checkered restaurants, you always find a big box of peanuts with little snack trays so you can help yourself while waiting in line. On the mainland, patrons discard their peanut shells on the ground. You can do the same in Mililani.
Five Guys stacks their potato sacks to keep the line at the counter orderly. Owner Amannda Schneider says they'll have even more sacks for their opening at 11 a.m. on Tuesday.
When you order fries, remember that in addition to the cup they're putting them in, they're also dumping another scoop straight into your paper bag. So the small is actually a very large serving.
I'd recommend the cheeseburger with everything on it (mayo, lettuce, pickles, tomatoes, grilled onions, grilled mushrooms, ketchup and mustard, plus whatever options: relish, onions, jalapeno peppers, green peppers, A1 steak sauce, bar-b-q sauce and hot sauce), a little order of fries to share and a chocolate shake.
The portions are huge, so make sure you underestimate your hunger.
Five Guys is finally here and not only that, they're planning a second location in Kapolei late this summer or early fall. I may just miss my Waipio exit on the way home this week and end up in Mililani. I think I'll do that.
Five Guys Burgers and Fries
95-1249 Meheula Parkway
Daily 11 a.m.-10 p.m.
625-4897
fiveguys.com